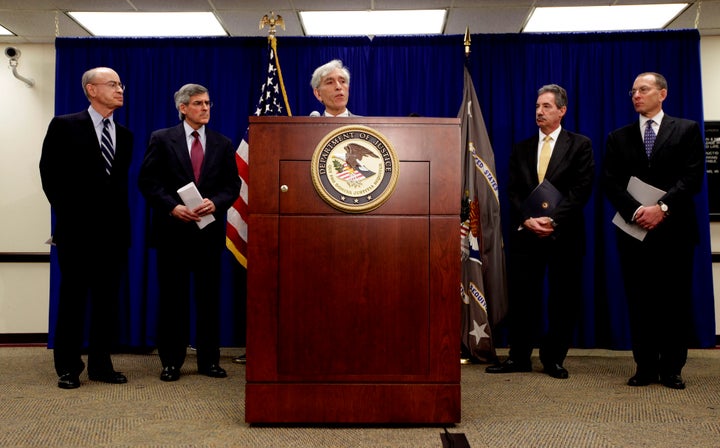 Between August 2009 and January 2010, Roy wrote five checks to the Our Country Deserves Better PAC, associated with the Tea Party Express, according to Federal Election Commission records. Roy also gave $300 to the PAC for the Texas Medical Association, which opposed the health reforms enacted in March 2010 by President Barack Obama and Democrats in Congress. Those contributions also are listed in FEC records.
According to federal law enforcement agencies, Roy's financial support of Tea Party causes also took place in the middle of his nearly six-year campaign to bilk government health programs. Federal agents arrested Roy and six others Tuesday alleging they worked together to file $350 million in bogus claims to Medicare and another $24 million to Medicaid. Louise LaMarre, who shares a home and business address with Roy, donated $710 to the Republican National Committee in 2008 and 2009, records show. LaMarre was not charged in the fraud case.
Spokespeople for the Tea Party Express, the Rockwall County TEA Party, the Dallas Tea Party, and the Rockwall County Republican Party did not respond to emails requesting comment.
The Department of Justice said Roy and his alleged conspirators charged taxpayers for home-health care services that were either unnecessary or never provided, in some cases giving patients cash, groceries and food stamps, in exchange for their cooperation. The indictment charges home-health agency representatives recruited patients door-to-door and at locations including a homeless shelter and a church in Dallas. Authorities said Roy had employees forge his signature on forms approving medical services.
Roy, a 54-year-old native of Canada, runs Medistat Group Associates in DeSoto, Texas, and worked with nearby home-health agencies to produce the allegedly false claims. The owners of three home-health agencies also were arrested Tuesday and, because of their connections to Roy, 78 other agencies had their payments cut off by the government agency that administers Medicare and Medicaid.
Roy signed off on services by more than 500 home-health agencies for 11,000 patients from January 2006 through November 2010 and "had more purported patients than any other medical practice in the United States," according to a Department of Justice press release.
Public records from the Texas Medical Board show Roy has been in hot water before. The board suspended his medical license for 30 days in 2001 and placed unspecified conditions on his practice until August 2005. The Dallas Morning News reported that the sanctions against Roy stemmed from a 2005 incident when he was an emergency room physician. According to the report, Roy provided "dozens of prescriptions" for painkillers to a woman with whom he was having an affair. The woman died in a car crash and an autopsy revealed high levels of the drugs in her system. Roy subsequently took a job caring for Dallas County jail inmates but was fired after six months, the newspaper reported.
Federal agents said they raided Roy's home and office last June and seized what they claim is evidence he created a fake identity and is a flight risk. An illegitimate Texas drivers license, a Quebec identification card, and a Canadian birth certificate all under the name Michel Poulin along with applications for a passport and Social Security benefits from Canada were also found. Authorities also found books entitled Hide Your A$$ets and Disappear, A Step-By-Step Guide to Vanishing Without a Trace and The Offshore Money Manual, according to the indictment.
Among the assets targeted for seizure by the federal government bank and investment accounts were two cars and two sailboats. Roy and one of the boats, "One Trick Pony," placed fifth in the July 2010 Dallas Race Week, according to the Rockwall County News.
Calling all HuffPost superfans!
Sign up for membership to become a founding member and help shape HuffPost's next chapter
BEFORE YOU GO