Former Florida Gov. Jeb Bush (R) would have authorized the 2003 U.S. invasion of Iraq, putting the likely 2016 presidential contender on the same page as his brother George W. Bush, the president who actually did so.
"I would have [authorized the invasion], and so would have Hillary Clinton, just to remind everybody. And so would almost everybody that was confronted with the intelligence they got," Bush told Fox News' Megyn Kelly in an interview scheduled to air Monday.
But he acknowledged that the "intelligence that everybody saw, that the world saw, was faulty," adding that after the invasion, the U.S. ought to have focused on securing and stabilizing Iraq in order to shield its people from sectarian violence.
"By the way, guess who thinks that those mistakes took place as well? George W. Bush. Yes, I mean, so just for the news flash to the world, if they're trying to find places where there's big space between me and my brother, this might not be one of those," Jeb Bush said.
While the former governor has admitted mistakes made by his brother's administration during the Iraq War in the past, his public comments affirming his support for the 2003 invasion appear to be a first. They also mark a shift in how Bush has spoken about his brother amid criticism of his costly legacy abroad, which could hinder Bush's likely run for president in 2016.
Addressing the Chicago Council on Global Affairs in February, for example, Bush attempted to distance himself from his brother's and father's record in the Middle East.
"I love my father and my brother ... but I am my own man -- and my views are shaped by my own thinking and own experiences," he said.
His circle of advisers, which includes many of the same men and women who worked for his brother and father, and his citing of George W. Bush as his main adviser on the Middle East, seem to belie that statement.
Democrats responded to Bush's comments on Iraq in a statement Sunday morning.
"The difference between the Bush brothers and most Americans is that most people believe we were misled into invading Iraq. Knowing now what we did not know then, Jeb Bush still would have gone in," said Democratic National Committee Communications Director Mo Elleithee.
Before You Go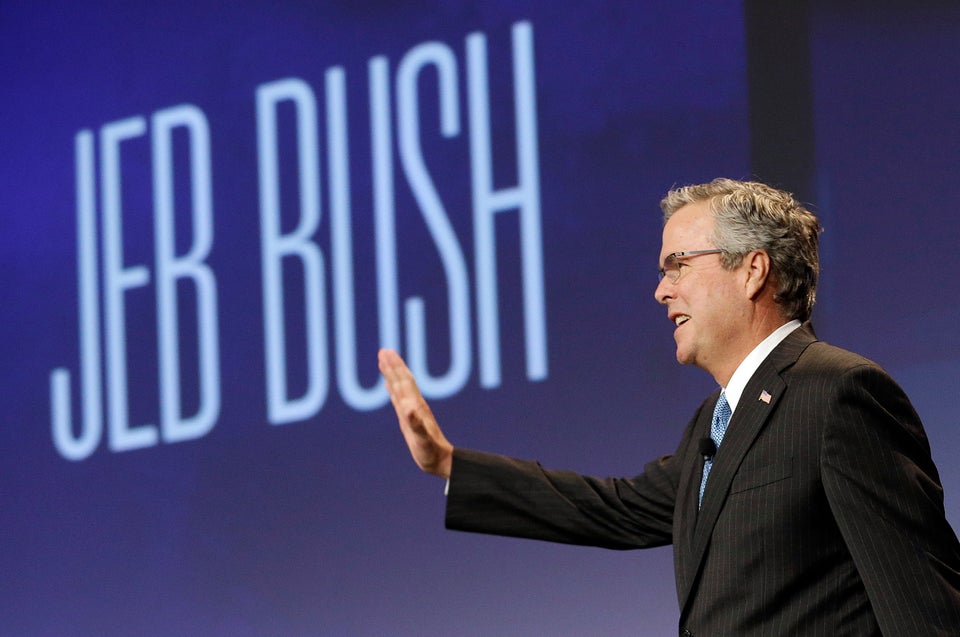 Jeb Bush
Popular in the Community