As the stunning photo of the hero in the cowboy hat aiding a critically injured man after the Boston Marathon blasts went viral, a concerned dad learned of his son's grim fate.
While Jeff Bauman tried reaching his son, also named Jeff, on Monday after the explosions, the distraught dad got a call from his stepdaughter asking if he had seen "the picture," The New York Times reports. It was then that Bauman signed onto Facebook and saw a photo of his 27-year-old son's gruesome injuries. The image of the critically injured man who had gone to the marathon to see his girlfriend race has gained traction not just because of its gruesome nature. It also signifies just how much selfless heroism emerged in the face of one of the most heartless attacks on American soil.
As soon as Carlos Arredondo, a peace activist who came to the race to honor his two dead sons, saw just how hurt Jeff was, he tore away the snow fence and scaffolding and raced to his side, according to the Portland Press Herald.
Arredondo had been waiting at the finish line to cheer on the National Guard runners who were racing in honor of a number of fallen servicemen, including Arredondo's son, Lance Cpl. Alexander S. Arredondo, who died at age 24 in a firefight in Iraq, ABC reports. The mourning dad was also there supporting Samaritans, a suicide awareness group. His other son, Brian, committed suicide in 2011 after years of battling depression after his brother died.
In the moment that a bomb claimed Jeff's legs, Arredondo raced into the carnage. The father who had lost his own two sons and quit his job to commit his life to protesting war said he didn't hesitate for a moment. As another volunteer helped wheel Jeff away, Arredondo can be seen seemingly pinching closed a severed artery from Jeff's thigh.
"My first reaction was to run toward the people," he told ABC. "There was so much commotion and a lot of people running away. I was one of the first to help people and God protected me. It was horrific."
Learn how you can help survivors of the tragedy here.
Before You Go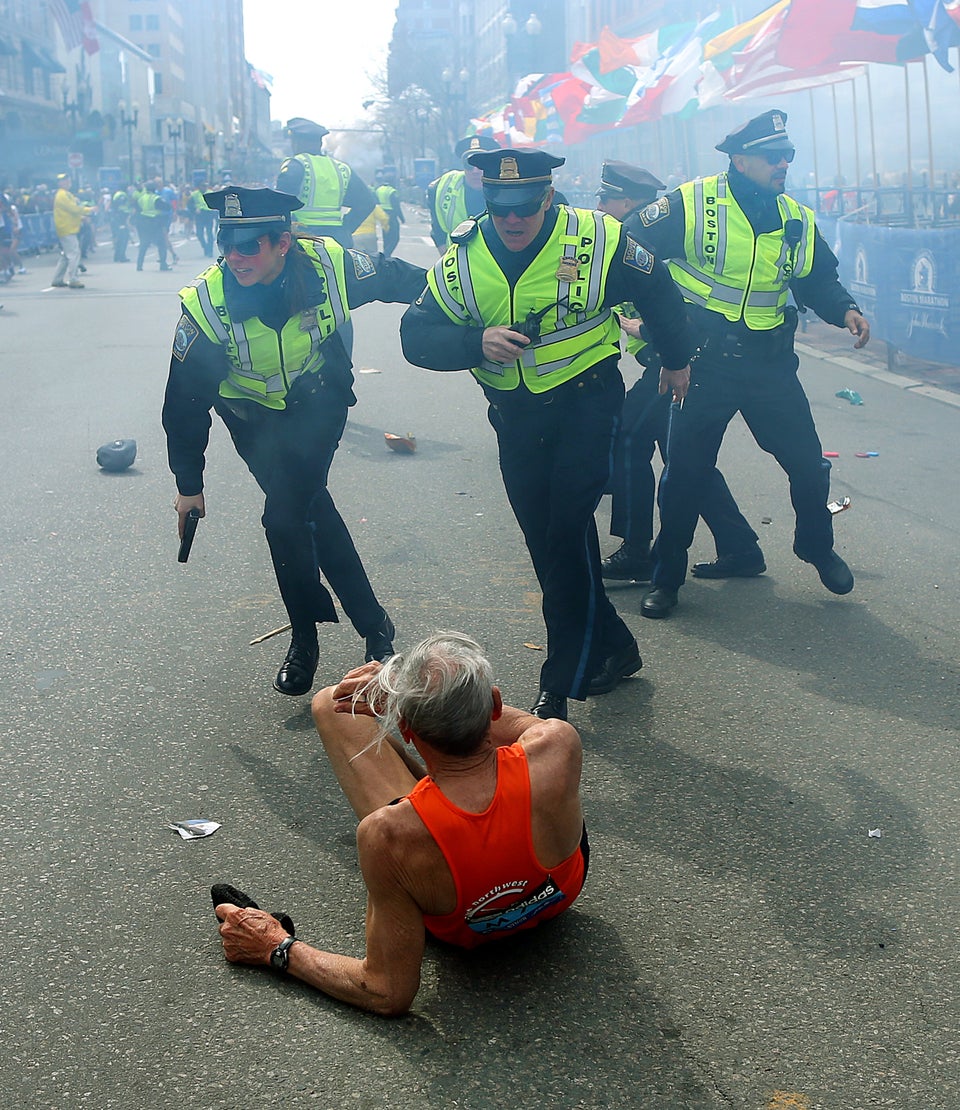 Boston Marathon Explosion (GRAPHIC PHOTOS)
Popular in the Community