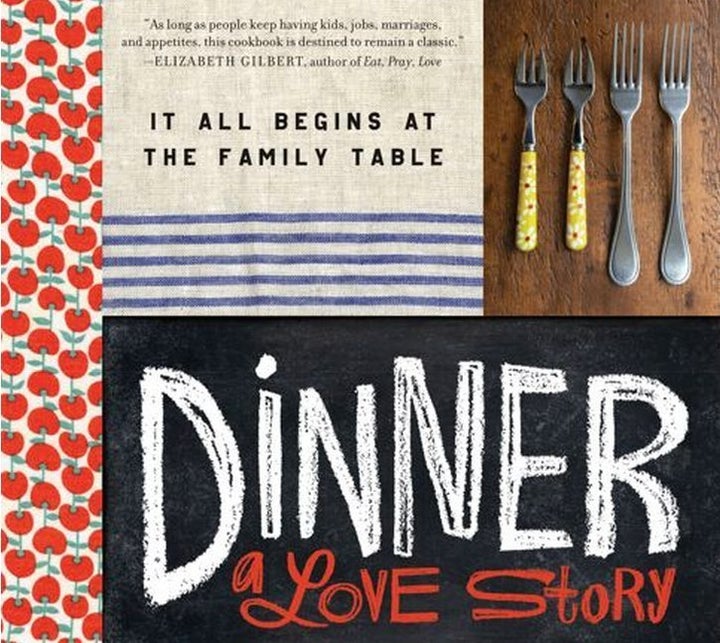 Over the past few weeks, I've had the pleasure of cooking recipes from Jenny Rosentrach's new cookbook Dinner: A Love Story for my family. I've tackled Turkey Chili (spicy kick), Apricot-Mustard Baked Chicken (divine) and Greek-Style Shrimp with Feta (opa!). We also discovered recipes my daughter loves to help prepare like Playdate Cookies (little hands can dole out the dough or push in the M&Ms) and Pork Dumplings (your mini sous chef will happily fold the wontons with you). As a devoted reader of Cookie (remember the diagram with the many different ways to prepare a take-away chicken like tortilla soup?) and then her clever blog, I think Jenny's appeal lies not only in her endless enthusiasm and joy for meal planning, but that she makes cooking every night seem totally doable. As a reluctant home cook, I've taken great comfort in her writing. She's so organized and on-top-of-it, she makes you feel as if you are, too.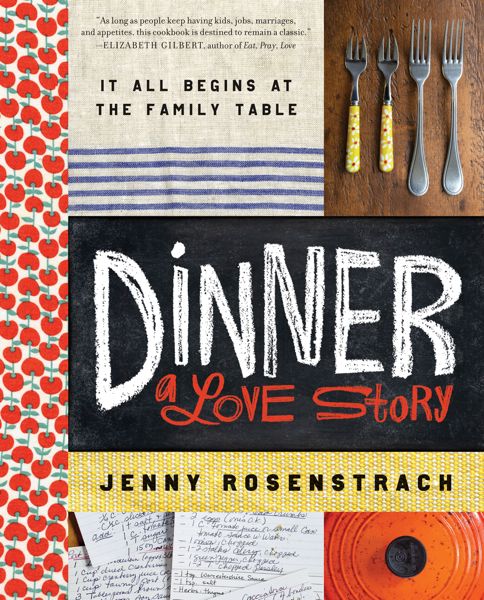 Nicki Richesin: Like many of your fans, I began reading your blog Dinner: A Love Story for tips and inspiration when I was in a cooking rut and dinner was beginning to feel a bit like Groundhog's Day. Where do you turn for inspiration? Are there any blogs you rely on?
Jenny Rosenstrach: I rely heavily on Bon Appetit's website and magazine. I'm a contributor there and the people who staff their kitchens are geniuses, I'm convinced. I get so much inspiration from them and the recipes they talk about every time I'm in the office. Other than that, I tend to like food coverage from blogs when it feels like the recipe really truly came from someone's life and was really truly prepared by the blogger and not tested and retested and then shot in a million different ways with a fancy camera. So Devil and Egg, Momfilter, inchmark, Dash and Bella. I try to check in with them as often as I can.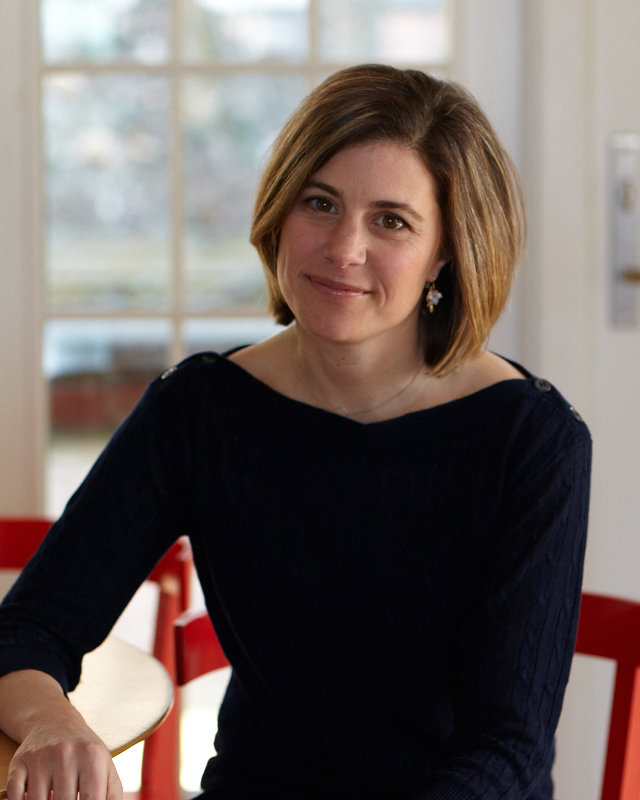 NR: Your book, Dinner: A Love Story, is divided into three sections: "Rituals, Relationships, Repertoires" (pre-kids), "New Parenthood" (when your children were quite young), and "Family Dinner" (now your children can finally sit with knife and fork at the table). Do you have any inkling what "Cranky Teen Years" and "Empty Nest" will encompass in the way of future meals? Do you hope to become even more adventurous with your culinary experiments?
JR: You know I often say that this whole family dinner thing is just a way for me to wire my childrens' bodies in a way so that they automatically show up at the dinner table to talk to me when they are teenagers. They won't have a choice in the matter. They'll just start feeling this magnetic pull to the pork chops at 6:30.
NR: Dinner: A Love Story felt very intimate to me. You share email correspondence with your husband and book editor Andy Ward about what you'll make for dinner. You even offer dinner conversation starter tricks with your daughters like the "Mad, Sad, Glad" game. You've employed this technique to stimulate thought-provoking conversations, but also as a way of taking your daughters' emotional temperature. Is this in part what you were trying to achieve when you first began DALS?
JR: Not really. We talk at the table but it's not like we are having these in-depth discussions of the debt crisis in Europe or the latest Jonathan Franzen novel. (If we are lucky on the culture front we will have an in-depth discussion of Wall-E vs. Up.) For the most part, we've just tried to cultivate a ritual around dinnertime, and create a space where the girls will always know they can be themselves. It's really nice when they have emotional or intellectual epiphanies while eating chicken Milanese, but all we really care about is that they feel safe at the table, that we've created a place where they can say anything and be anyone and know they'll be accepted.
NR: I love how the book follows your transformation from pre-kids to your current family dynamic. You're now a seasoned home cook with mad knife skills and more confidence. You have documented all of your meals in your dinner diary since 1998. Do you feel as if your journey has given you the sense of control you were originally seeking?
JR: When I started the diary in 1998, I had no idea what I was originally seeking. I was just recording what I cooked because it was insane how much time we spent discussing, shopping for and preparing dinner -- so writing it down somehow gave it more weight. Otherwise I had nothing to show for my days! I was never formally trained in any way. I learned how to cook simply by cooking every night and though I am much better now than I was 14 years ago (especially in the improvisational part), there are still so many things I don't know how to do. Like cook for a large group of people. I am like summa cum laude in the confidence department when it comes to cooking for four, but as soon as we're talking "parties," I panic. Good thing I married someone who knows how to cook.
NR: You and Andy have also written 121 Greatest Kid Books of All Time. Which titles did your daughters select for the collection?
JR: My 8-year-old is very obsessive with books -- with everything actually -- but especially with books. So once she discovered Roald Dahl that was it for her -- she was in love. Every entry on there from Roald Dahl is from her. Also Lemony Snicket. If you appreciate the dark genius of Roald Dahl, it's not a huge leap to Lemony Snicket (or Phillip Pullman or Neil Gaiman, for that matter). My 10-year-old is much more diverse in her taste. She loves graphic novels (Bone, Amulet, Tintin, Amelia Rules, Marvel's Wizard of Oz) but will disappear for days when she gets her hands on a meaty series like The Secret Series by Pseudonymous Bosch or a heartstring puller like Out of My Mind, by Sharon Draper. (That last one is not in our book, but boy do we now wish it was! She read it the week after we printed.)
NR: If you could invite any historical or present-day figures to dinner, who would you choose and what would you serve your guests?
JR: Well, I know who the first four would be -- my four grandparents, none of whom I ever met. (The last one died eleven days before I was born.) Since I never knew my grandparents, I never knew enough to miss them. Now that I see how special the relationship is between my kids and my parents, I feel it much more. While they were there, I'd make them do the cooking. (Can't go wrong with an Italian and a Jewish grandmother cooking for you.) The fifth person would have to be either Alex Morgan (so she could teach my kids to shoot) or John Lasseter. We are obsessed with Pixar and we would just chain him to a fifth chair at our table (we'd buy a special one just for him) and not let him ever leave. He'd have to tell us how every single Pixar movie was made before he was allowed to be dismissed.
NR: What are your future dreams for DALS? Which projects are you currently tackling?
JR: DALS the movie, DALS the TV show, DALS the romantic comedy! There is no stopping the DALS Empire. Well, that's not true. There's my daughters' fall schedule which needs to be worked out (I'm hoping to hire a five-star general to help with the strategizing) but as soon as I take care of that, I am going to start on all these projects. Or at least start dreaming about them.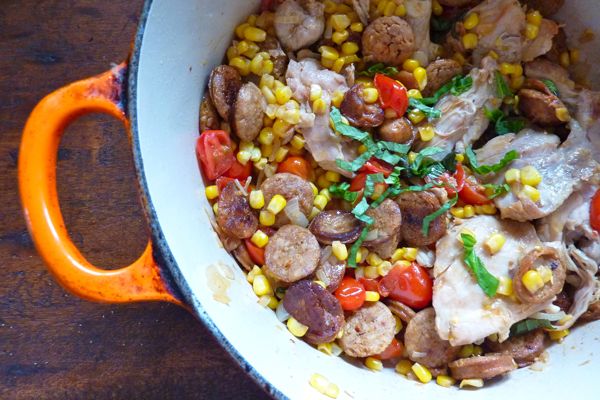 3 links chorizo sausage (I used chicken), sliced into coins
2 tablespoons olive oil
6 or 7 boneless chicken thighs, salted and peppered
1/2 medium onion, chopped
red pepper flakes (optional)
2 to 3 cups corn, cut off the cob
1 cup cherry or grape tomatoes, halved
basil, chopped
In a Dutch oven or large pot, brown sausage in olive oil over medium heat until crispy. Remove. Raise heat to medium-high and brown chicken (in batches if necessary) on both sides until mostly cooked through. Remove. Turn down heat to medium-low, add onion, salt, pepper, pepper flakes and a little more oil if necessary. Stir until slightly wilted. Add corn and tomatoes and stir until vegetables release their juices.
Nestle chicken and sausage back in the vegetables, cover and simmer another 5-10 minutes until chicken is cooked through. Serve with basil and crusty bread in bowls, or separate into individual components for the kid who doesn't like things "mixed" and serve on a plate.
Nicki Richesin is the author/editor of four anthologies Because I Love Her, Crush, The May Queen, and What I Would Tell Her. She is a regular contributor to Sunset, Daily Candy, 7x7, The Huffington Post, Red Tricycle, San Francisco Book Review, and The Children's Book Review. Find her online at www.nickirichesin.com