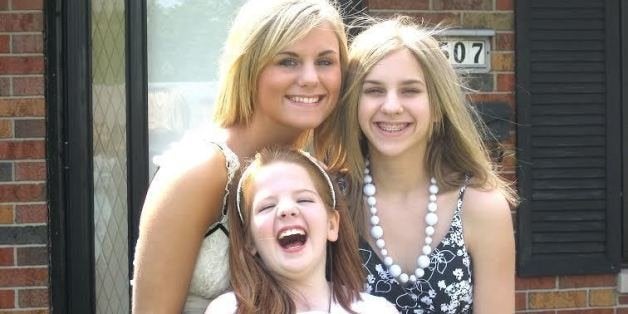 On a late afternoon in 2007, the day after Thanksgiving, Kimberly Schlau of O'Fallon, Illinois told her 8-year-old daughter Maddy to put on her coat so they could go for a drive. She was fighting to contain her growing alarm over the whereabouts of her two eldest daughters -- Maddy's half-sisters Jessica, 18, and Kelli, 13 -- who had gone to their father's to take family photos earlier in the day. She did not tell Maddy about the numerous times she'd already tried, unsuccessfully, to reach Jessica on her cell phone.
"I didn't want to scare her, but I needed to get out of the house. I needed to go find them," Schlau, 46, told The Huffington Post. "I thought, 'Maybe Jessica's cell died. Maybe she had a flat tire. Maybe she's sitting at a friend's house.' I was in the process of getting ready to leave when I heard car doors shut in my driveway and thought, 'Oh thank God, they're home.'"
But when she looked out the window, she saw two police officers, a chaplain and a coroner walking toward her home. Schlau's heart sank. "I didn't want to open my door," she said. "I did not want to hear what they had to say."
The police officers ran through their questions. Did Jessica drive a white Mazda? Who was she traveling with that day? Hearing Schlau's answers to these questions, the officers told her that that afternoon, both Jessica and Kelli had been instantly killed on Interstate 64 in southwestern Illinois when a state trooper lost control of his vehicle, crossed a median and slammed into their car.
"I didn't want to open my door ... I did not want to hear what they had to say."
"Because of the nature of the crash, the roof of the car was ripped off and my kids were unrecognizable," Schlau said. Police officers were able to identify Jessica by her license. Kelli was too young to be carrying ID, Schlau said, but they could tell she was a child by the braces in her mouth.
In the following days, weeks and months, details began to emerge about the circumstances of the deadly accident. The trooper was driving at over 120 mph when the crash occurred. He'd reportedly been responding to another crash scene.
At the time of the crash that killed Jessica and Kelli, the trooper was reportedly on the phone with his girlfriend and using his car's computer system to get directions. (Various news reports differ on whether the trooper was speaking or texting on his phone, and the trooper himself maintains that he'd stopped using both his phone and his computer some time before the actual crash.) He later said he did not hear a dispatcher say that the initial crash had already been secured, Schlau told The Huffington Post.
"We did not find everything out all at once," she said. "Every time we would think, 'What else could they tell us?' You just go back to the beginning again, thinking, 'How did this happen? How did this happen? How did this happen?'"
There was a coroner's inquest, followed by a grand jury investigation. In 2010, the trooper pled guilty to reckless homicide and aggravated reckless driving as part of a plea bargain. Schlau said she and her husband wanted the trooper to go to jail -- but they thought that if they went to trial, there was a chance the trooper might be acquitted and allowed to return to his job.
"We did not want that to happen," she said. "If he pled guilty, there was no way he could be a police officer again."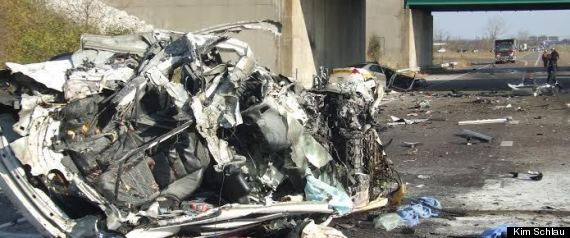 The accident instantly claimed the lives of Jessica and Kelli.
Even as Schlau was reeling from her daughters' deaths and the subsequent legal proceedings, she threw herself into the work of establishing a scholarship at Southern Illinois University Edwardsville in honor of Jessica, who had been just a few months into her freshman year there.
Education, Schlau always told her daughters, was one of the most important things in their lives, second only to family. They took the advice to heart. Jessica was a true firstborn child, Schlau said -- outgoing, talkative, bossy and smart, "too smart for her age."
"She wanted to go into marketing or PR, and I think she would have been amazing at it," she said.
Kelli had a big personality as well, and "such a tender heart," her mother said. She loved animals and dreamed of becoming a veterinarian -- or opening a combination dog-grooming parlor and ice cream shop.
Schlau knew she had to do something to honor her girls' legacies. Remembering how she'd made a point of impressing upon them the value of education, Schlau began to think about how to help other students realize their own goals.
Working with a friend, Schlau came up with the idea of a fundraiser. The pieces came together quickly. The local Veterans of Foreign Wars Hall gave them a discount, as did a caterer. Local businesses contributed silent auction items. The event, held in autumn 2008, was full of dancing and food, as well as reminiscing and tears. The fundraisers have since become an annual event -- always held around Thanksgiving, to mark the anniversary of the girls' deaths -- although Schlau did not hold one last fall after the death of her own father, who had been devastated by the loss of his granddaughters and with whom she had been extremely close.
The Jessica Uhl Memorial Scholarship provides $500 for one student to attend Southern Illinois University Edwardsville -- not a huge sum of money, Schlau said, but hopefully enough to help defray the cost of books or a meal plan. Kelli's scholarship is $500 toward the cost of one student's tuition at any college. All told, the Jessica and Kelli Uhl Memorial Foundation has awarded nine scholarships in six years, and Schlau said she hopes it will award "many, many more."
In 2010, Schlau began working for her daughters in another way after the chief of the St. Louis County Police Department asked her to come in and share her story with the academy's new recruits. It was an opportunity to speak to future police officers who would one day be driving at high speeds in order to do their jobs.
"I talked to them about day-to-day things -- what it's like to go up into [the girls'] rooms and have them not be there ... All of the things we went through," she said. "We were hoping that me talking to them before they got into those police cars, and started forming bad habits and making bad choices, would make a difference."
Distracted driving is a major public health concern in the U.S. -- at least nine people are killed every day in crashes that reportedly involve a distracted driver, while more than 1,153 are injured, according to the Centers for Disease Control and Prevention -- and talks like Schlau's can be a valuable education tool. After she addressed the SLCPD, Schlau was contacted by a police training company that wanted her to come in and share her daughters' story with in-service officers. That led to speaking engagements at police departments and law enforcement conferences across the country.
"Jessica will always be 18 for me and Kelli will always be 13, but their friends are getting older."
"I'm probably on track to do 40 to 45 this year," said Schlau, who splits her time between fundraising work, speaking engagements -- some of which are paid -- and a part-time job as a paralegal.
Keeping up with so many lectures can be draining, she admits.
"There are times when I wake up and think, 'I just don't want to do this.' But I do it -- and it seems like, recently, every time I've thought that, someone has come up to me afterward and said, 'That made such an impact on me. I'm going to do better,'" she said.
Schlau still grieves every day. She has found it bittersweet to watch her daughters' friends -- who make a point of attending the annual fundraisers, and who continue to tell Schlau new stories about her girls -- grow into women.
"Jessica will always be 18 for me and Kelli will always be 13, but their friends are getting older," she said. "One of Jessica's girlfriends got married recently. And it was good to see, I was so glad to be a part of it, but part of me was like, 'Jessica should be up there as a bridesmaid.'"
Even the family's beloved rescue dogs struggled after the girls died. DeeDee, the spaniel who used to sleep in Kelli's bedroom, would scratch at her door and walk around the house, seeming lost. Last summer, the family had to put down Nolan -- the greyhound the girls used to call "Norlando Bloom" -- and it felt like ripping her heart out all over again, Schlau said. Maddy was amazing, she said, whispering into the old dog's ear: "You can go and find Kelli now."
But Schlau says that Maddy has also struggled, working through anger management issues and problems with authority. Now 15, she is doing much better, her mother says, and she often comes with Schlau to presentations.
"We've made it our mission to keep this from happening to someone else," Schlau said. "We tell our story, show pictures ... Really, what parent doesn't love to talk about their children? It's just unfortunate it has to be like that."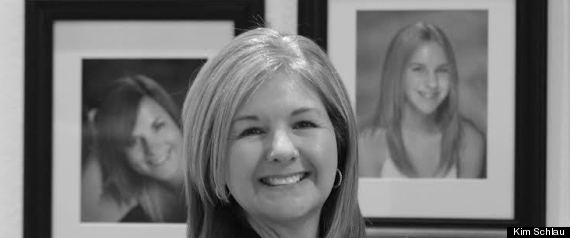 Schlau has dedicated her life to honoring her daughters and preventing future accidents.
If you or someone you know has started a charity after the loss of a child, we'd love to hear your story. To submit a nomination, email thirdmetric@huffingtonpost.com. For more stories in this series, click here, here or here.