 WASHINGTON -- The Democratic National Convention is a pivotal event for President Barack Obama's reelection campaign, his single biggest opportunity to recapture momentum among the party base and ensure the voter turnout in November that can push him over the top. But beyond the president, few people have as much riding on the convention's success as Jim Rogers.
The chairman of Duke Energy, the nation's largest electric power company, Rogers is also co-chairman of the convention's nonprofit host committee, along with Charlotte Mayor Anthony Foxx. More than a year ago, Rogers set out to raise $37 million in donations to pay for the three-day event, including $7 million to renovate the stadium that will serve as the convention's main venue and millions more to pay for the logistics of hosting more than 35,000 delegates, journalists, activists and other conventioneers who are expected to descend on Charlotte.
Duke Energy has donated about 50,000 square feet of office space downtown for the convention staff to use as its headquarters. Thomas Williams, a Duke Energy spokesman, said Rogers has raised $10 million or $11 million for the convention from private donors. Rogers declined to be interviewed for this article.
If the convention goes off without a hitch, it would go far to solidify Rogers' position within the ranks of the political elite -- and help him leapfrog onto the shortlist of potential administration officials Obama could appoint in a second term. But if the convention is less than a success, Rogers stands to lose on a number of fronts. It's a tall order, but Rogers, 64, is already a larger-than-life persona in the typically staid utilities industry.
A Kentucky native, Rogers worked as a newspaper reporter in the late 1960s before going to law school and beginning his utility career in 1988 as the CEO of PSI Energy. When PSI merged with other energy companies to form Cinergy in 1999, and then again in 2006 with Duke Energy, Rogers maintained his position at the helm of the company.
Rogers rose to national prominence in 2005 when he took the wildly unusual step for an energy company CEO of not opposing the cap-and-trade proposals that environmental groups and Democrats introduced in Congress. Those proposals allowed the government to set a limit on the amount of carbon released into the atmosphere, and let companies use, sell or trade a set amount of carbon credits.
At the same time, Rogers, who was a climate-change skeptic, also was beginning to consider the possibility that global warming was real, according to the Electric Daily, a utility-industry trade publication.
Since then, Rogers has evolved into a carbon-capping evangelist, while running a company that last year produced more than 93,000 tons of carbon dioxide, earning the dubious distinction of being among the country's top five biggest pollution-spewing energy companies. The New York Times dubbed Rogers the "Green Coal Baron."
Environmentalists have labeled Rogers a hypocrite. But people who work with him describe him as a pragmatic visionary in a highly regulated industry, where stability is often prized over change.
"Jim Rogers is very dynamic, very visionary, very persuasive and very talented at what he does," said Kevin Brinegar, the president of the Indiana Chamber of Commerce, in a 2011 interview with the Indianapolis Star. Equally high praise comes from Ralph Cavanagh, a veteran program director at the Natural Resources Defense Council, who watched Rogers speak at a meeting of fellow energy CEOs about the potential of carbon caps all the way back in 2001, four years before Rogers began talking about it in the press. "That was the first time I had heard a major energy executive say anything like this," Cavanagh told the New York Times in 2008. "But because he was chairman of their energy committee, he wasn't just a flaky maverick."
An ardent believer in the science of climate change, Rogers speaks in interviews of harnessing a wide range of emerging technologies, such as coal recycling. His utility company operates coal-burning power plants, wind farms, nuclear power plants and solar grids across the Southeast and the Midwest.
"I've always told people, particularly recently, that we're a technology company disguised as a utility," Rogers told Fast Company, a business magazine, in the spring.
One thing Rogers hasn't wavered on is his long-standing support of legislation that limits greenhouse-gas emissions from industries like his own -- achievable, he believes, through a mix of carbon caps, swaps and offsets. He became significantly more active in 2007, assuming an increasingly visible role in the national debate over climate change legislation, trying to convince lawmakers, as he told Businessweek in 2010, that "we need a policy that forces my industry to do the right thing."
In 2009 and 2010, a series of climate-change and greenhouse-gas emission-reduction bills arrived in the House and Senate, only to die in gridlock between members of Congress who represented energy-producing areas and those who did not. Rogers backed many of the bills and developed relationships with powerful politicians during informal lobbying trips to Capitol Hill.
Rogers' unconventional positions on both carbon caps and the need for more coal-fired power plants (he believes technology will produce "cleaner" coal, though environmentalists dispute the idea) have cost him allies on both sides of the aisle. In Cincinnati, Greenpeace flew a blimp earlier this year emblazoned with the slogan "Dump Duke" to protest the company's coal-fired power plants in Ohio. And in Charlotte, where Duke Energy is based, environmental activists have picketed company meetings and confronted Rogers on the street, begging him to stop polluting.
The National Review and the conservative National Legal and Policy Center have attacked him as well for his support of cap and trade.
In the highly regulated utilities market, one way that Rogers has sought to build his personal and professional reputation is by engaging in discussions with leading thinkers and energy experts at prestigious think tanks like the Aspen Institute and the Brookings Institution. Rogers is a trustee of both groups, as well as a member of the Council on Foreign Relations and the Asia Society. He has also given speeches on energy at the annual World Economic Forum in Davos, Switzerland, and the Clinton Global Initiative, unusual for U.S. utility executives, who tend to engage mostly with domestic, politically conservative groups.
All of this rubbing elbows provides Duke Energy with enormous intangible benefits. As Rogers told the Wall Street Journal this spring, "If you're not at the table, you're going to be on the menu."
For Rogers, a registered Democrat, staying off the menu of either political party this year will require expert diplomatic skills, bolstered by plenty of cash. He and his wife already have donated the maximum allowable $100,000 to the convention fundraising effort, plus another $35,800 to the combined Obama/DNC campaign fund, according to campaign finance reports.
To those who would say that Duke Energy is shamelessly trying to curry favor with Democrats, Williams pointed out that in 2000, Rogers lobbied the GOP to host its convention in Charlotte. Williams also explained that Duke Energy will be indirectly supporting the Republican National Convention in Tampa this year through donations made by its newly acquired subsidiary, Tampa-based Progress Energy Florida.
Duke Energy's political action committee has made nearly equal donations this cycle, $155,000 to Republicans compared with $103,500 for Democrats. In 2010, it was the other way around, with Democrats receiving the majority of Duke Energy PAC contributions.
Rogers' spokesman Tom Williams, said his work on the DNC planning committee "is not about partisan politics at all."
"This is about promoting the city of Charlotte, and it shouldn't be political," he said. Nonetheless, he acknowledged that some have chosen to focus on the politics.
When it comes to clean energy, Rogers doesn't see much of a difference between Obama and Mitt Romney. "My bet is the difference between what Romney would do and what President Obama would do would not be great because I think President Obama has been moderate in his approach to energy issues," Rogers said in an interview with Politico in May. "I look at his record since he's been in office, and I think he's done a good job of 'all of the above,' keeping them all in. You know, like all things in life, it's not perfect."
As one of the public faces of the convention host committee, Rogers is likely to take an outsized share of the praise or blame for how the convention turns out. And there already have been signs that not everything is going according to plan. In June, a day-long convention kick-off event was canceled. At the time, organizers pointed to "logistical problems" as the reason for canceling the Labor Day celebration, which was scheduled at the Charlotte Motor Speedway. But anonymous sources suggested that the decision was connected to fundraising concerns.
Some Democrats have also complained that the merger of Duke Energy and Progress Energy distracted Rogers from raising as much money as he might have. The anonymous complaints were first reported by the Washington Post; two Democratic strategists, who also insisted on anonymity to discuss internal party wrangling, repeated the criticism to The Huffington Post.
Under the terms of the agreement, Progress Energy's veteran CEO, Bill Johnson, was set to take over as head of the newly merged company, while Rogers would become its "executive chairman." But on July 2, the board of directors voted to remove Johnson as CEO and replace him with Rogers.
North Carolina's attorney general and the North Carolina Utility Commission have launched separate investigations into whether Duke Energy misled regulators and shareholders by assuring them that Johnson would be the CEO of the joint venture. The commission questioned Rogers under oath earlier this summer about the CEO deliberations. The investigations are ongoing.
Williams defended Rogers' convention fundraising. "We can't quantify it, but Jim has certainly done as much or more than any other individual" to fund the convention. "I'm not sure how much people expect of a full-time CEO, and I'm not sure how much more Jim can do."
If the convention committee doesn't fully cover the event's costs, elements of the convention could be scaled back -- an outcome that all parties are determined to avoid.
Meanwhile, Rogers' current contract with Duke Energy is set to expire at the end of 2013, although Williams said "it may go longer. He serves at the pleasure of the board."
However long Rogers serves, the bottom line is that a successful, well-funded convention will go awfully far to shore up some goodwill for whatever Rogers plans to do next, whether it be in Washington, D.C., or in Charlotte. A convention beset by money problems, however, will have the opposite effect, threatening to leave him out in the cold.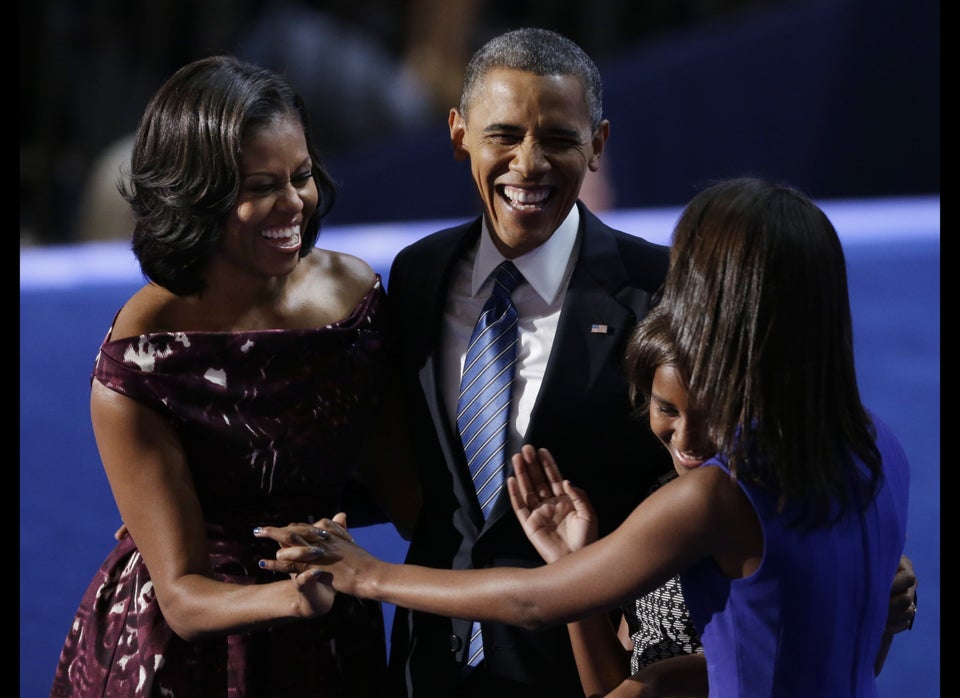 Obama Rocks Democratic Convention
Popular in the Community