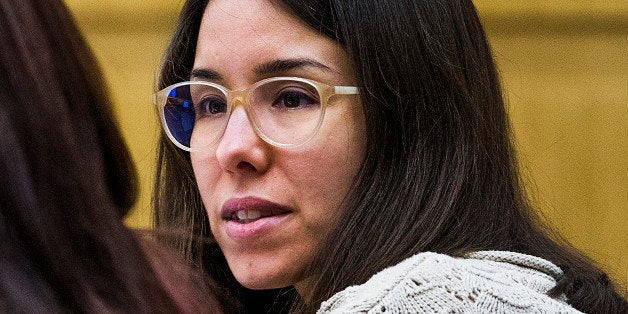 PHOENIX -- The Jodi Arias penalty retrial was halted for unexplained reasons Thursday afternoon.
"Ladies and gentleman, we do not need you for the rest of the afternoon," Judge Sherry Stephens told jurors after the afternoon recess.
After a sidebar conversation with lawyers, Stephens explained, "The reason we don't have court is because of a matter that is outside the control of any of the parties. You should not blame anyone for the fact that we cannot proceed this afternoon."
The judge inexplicably asked one juror, No. 17, to stay and apparently met privately with the juror and the attorneys. When Stephens and the lawyers emerged from the meeting, there was no additional explanation for the delay and court adjourned for the day.
The delay follows the dismissal this week of two jurors. The jury panel now includes 16 people -- 12 jurors plus four alternates -- to decide whether Arias will be sentenced to life imprisonment or death in the 2008 slaying of her ex-boyfriend, Travis Alexander. A jury convicted Arias of first-degree murder in 2013, but deadlocked during the sentencing phase, prompting the penalty retrial.
Former police detective Esteban Flores told reporters on his way out of court Thursday that no jurors were dismissed. However, Gold said that "doesn't mean that one won't be dismissed."
"If the juror had a family emergency, why wouldn't the judge say so? That happens all the time, but it didn't happen here," Gold continued. "The juror went into chambers to discuss something and when a court does things that are so secretive, it makes you wonder."
The incident comes on the heels of Wednesday's dismissal of juror No. 9, after journalist and legal analyst Beth Karas told the judge she was approached outside the courtroom by the juror. Karas said the juror, an unidentified woman, was not wearing her juror badge and asked her if she was Nancy Grace.
RETRIAL PHOTOS: (Story Continues Below)
PHOTO GALLERY
Jodi Arias Penalty Retrial.
Earlier Thursday, prosecutor Juan Martinez called Kevin Friedman, a former police officer with the Yreka, California, Police Department, to the witness stand. Friedman testified he investigated the theft of a .25-caliber handgun that was stolen from Arias grandparents' house on May 28, 2008.
The stolen gun, which has never been recovered, is the same caliber as the weapon used to shoot Alexander.
The body of Alexander, 30, was found on June 9, 2008, in a pool of blood in the shower of his Mesa apartment by friends.
During his testimony, Friedman noted that several other guns, stored in the same cabinet as the .25-caliber pistol, were untouched, as well as a large amount of quarters that were on top of the cabinet.
"Nothing else was found missing in that room," Friedman said.
The trial is scheduled to resume at 12:30 p.m. Eastern time on Monday.
Calling all HuffPost superfans!
Sign up for membership to become a founding member and help shape HuffPost's next chapter