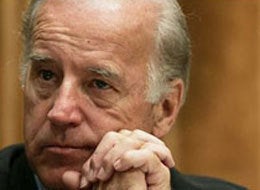 As I watched Senator Joe Biden tear up at the tale end of the much ballyhooed vice presidential debate, I had a visceral moment of déjà vu. In case you missed what jump started it, the senior senator from Delaware became momentarily misty-eyed as he refuted the notion that "just because I am a man" he couldn't understand what it's like to wonder whether or not a child would "make it" after a life-threatening accident. Watching him that evening, it was hard not to think about Biden's honorable character and love of family -- especially as we now know his mother-in-law was to die the morning after.
Still, as the campaign comes down to the wire, John McCain and Sarah Palin are doing their very best at character assassination. We've all heard the clips: Palin claiming that Barack Obama "pals around with terrorists" and McCain's newest ad, "Ambition," which out and out calls "that one" a liar. And at a Republican rally earlier in the week, a rally that hinted at a mob lynching, a conservative radio talk show host said to McCain: "It's absolutely vital that you take it to Obama, that you hit him where it hurts. We have all of these shady characters that have surrounded him."
Of course, the "character" closest to Obama -- other than his wife Michelle -- is Joe Biden.
That evening of the VP debate, Biden didn't have to proclaim his "character" -- he simply showed us. He didn't tell us explicitly about the tragic deaths of his first wife Neilia and his 1 year-old daughter Naomi (both his sons were also severely injured in the car accident) just after he had been first elected to the Senate in 1972 and only days before Christmas. But I knew what he was remembering. I knew because, as a 15 year-old in the fall of '72 -- before any of my grandparents died, even before our beloved spring spaniel passed away -- my teenage heart broke to learn of the Biden family tragedy, the first time I began to understand the invisible and random hand of the fates.
Earlier that fall I had campaigned for Senator George McGovern as much as I could after my ninth grade classes ended, going door-to-door in my Queens, N.Y. neighborhood, pasting a ginormous blue and white McGovern sticker across my loose-leaf notebook, and finding myself ridiculed by many for supporting such a "dove" (this was at the height of the Vietnam War).
But in my periphery lay Joe Biden, then the 29 year-old father of three, who fought a tough campaign focused on ending the war in Southeast Asia, the environment, civil rights and, yes, change. On Election Day, Nixon carried Delaware by a landslide, but the young lawyer, along with his wife and trusted partner, won his Senate seat in a huge upset by a mere 3,000 votes.
Only weeks later, wife and daughter would perish and I would write Sen. Biden a note of condolence. Who knows what I wrote because that letter is long gone, but not his response back to me, which arrived later that winter. I've kept it all these 36 years. His letter came in a heavy, cream-colored envelope with the return address, United States Senate Washington, D.C., engraved in dark blue in the left corner. He addressed it to "Mr. Petrow," probably the first time anyone had called me that:
"I offer a belated thank-you for your kind words of condolence. I deeply appreciate your sentiments. I owed so very much to Neilia. She had a talent for making not only her own life worthwhile, but also the lives of those around her. She was both a loving mother and a loving wife. In addition, she was my political confidant, in whose judgment I had implicit and utmost trust. Neilia looked forward to our coming to Washington. Now our life has been completely torn apart by an event I shall never completely understand. Neilia deserved better. Best wishes, Joe Biden"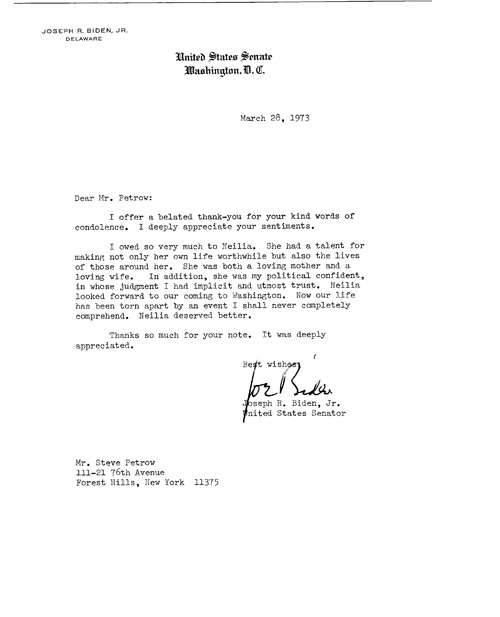 Included in the letter were the Mass cards for both Neilia and Naomi. On the back of his wife's card was a quote from Shakespeare's Romeo & Juliet: "Death lies on her like an untimely frost upon the sweetest flower of all the field." And on his infant daughter's: "Dear God, What greater thing can be said of Amy than Ezekiel's words: 'As is the mother, so is her daughter.'" -- Ezekiel 16:44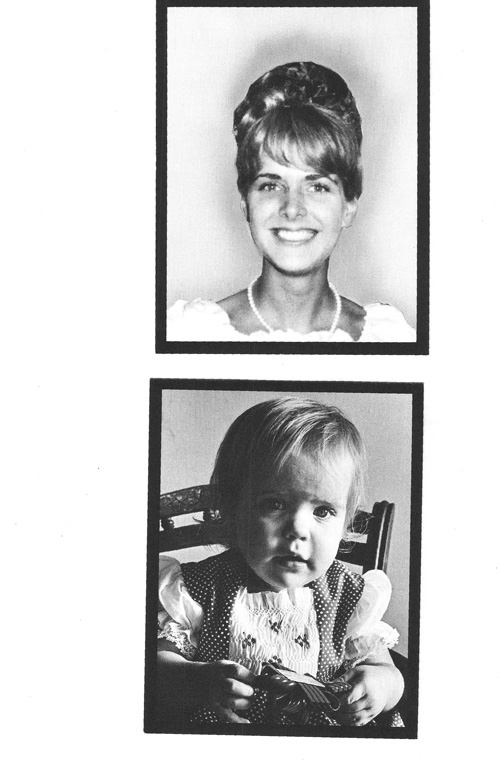 After his tears, and after the debate, I went into my voluminous files to see if my recollection of Biden's dark days of 1972 matched the honorable and loving family man I had just witnessed on the stage in St. Louis. If my memory had any weakness, it was in not recalling the full promise and shattered life of the freshman senator from Delaware who, in the winter of his own despair, took the time to write a 15-year-old, while taking on his new duties in Washington D.C. and at home in Wilmington as a single father of two. So while McCain and Palin do their best to undermine the Democrats trustworthiness and character, let us praise the family man from Delaware who could and should be our next vice president.
Popular in the Community