WASHINGTON -- House Speaker John Boehner (R-Ohio) insisted on Wednesday that even though House Republicans have moved slowly on immigration reform, they're still planning to work on it -- but not by combining their efforts with the already-passed Senate bill.
"The idea that we're going to take up a 1,300-page bill that no one had ever read, which is what the Senate did, is not going to happen in the House," Boehner said at a press conference. "And frankly, I'll make clear: We have no intention of ever going to conference on the Senate bill."
The bipartisan Senate bill passed in June in a 68-32 vote, but was immediately shot down by Boehner, who said he would not hold a vote on anything without majority GOP support. But that was months ago, and long after House Republicans leaders committed to working on immigration reform this year. Bills approved by the House Judiciary Committee, which deals with immigration issues, haven't gone for votes, either.
Democrats and advocates argue that the Senate bill could pass if it went for a vote -- most Democratic members and three GOP members support a bill based on the legislation -- but so far, it doesn't seem likely that the measure will get the chance.
GOP Majority Whip Kevin McCarthy (R-Calif.) told reform advocates last week that there is no time to hold votes on immigration this year. Boehner said Judiciary Committee Chairman Bob Goodlatte (R-Va.) is working with Republicans and Democrats "on a set of principles that will help guide us as we deal with this issue." Boehner did not, however, give a straight answer when asked whether there would be votes this year.
"As we develop the principles, we'll figure out how we're going to move ahead," he said.
Asked whether House Republicans are moving slowly on immigration reform because they want to focus on Obamacare, Boehner insisted that was not the strategy.
"This is about trying to do this in a way that the American people and our members can absorb," he said. "There are hundreds of issues involved in dealing with immigration reform. And we've got to deal with these in a common-sense way, where our members understand what we're doing and their constituents understand."
Boehner said he is still committed to working on immigration reform.
"Let's understand something: I want us to deal with this issue," he said. "But I want to deal with it in a common-sense, step-by-step way."
Young immigration reform advocates approached Boehner earlier Wednesday as he was eating breakfast to tell their families' stories and ask whether he plans to act on immigration.
"I'm trying to find some way to get this thing done," he said, according to video the group posted to YouTube. "But it's not easy -- not going to be an easy path forward. But I've made it clear since the day after the election that it's time to get this done."
Democrats criticized House Republicans at a hearing on Wednesday for saying they want to work on immigration reform but declining to hold votes.
"If House Republicans oppose comprehensive immigration reform but support a piecemeal approach to fix our broken immigration system, show us," Rep. John Conyers (D-Mich.) said at a Judiciary Committee hearing. "Do something. ... I believe we are closer today than we have ever been before. But now is not the time for more talk, talk, talk. Now is the time for action."
UPDATE: 2:33 p.m. -- White House Press Secretary Jay Carney responded to Boehner's comments during a press briefing later Wednesday, saying that there is still time for the House to act if it wants to.
"I think it could happen this year," he said. "Obviously, the House is the obstacle or the opportunity, and we, as I said, believe that if there were the will in the House to act quickly and decisively on comprehensive immigration reform, it could be achieved and it would receive a broad bipartisan vote in the affirmative."
He made a small dig, however, at Boehner's mention of efforts now being made to craft principles on immigration reform.
"I think that's a welcome step, but it seems a little bit late in the game to be developing principles on this substantial issue and priority for American businesses, for labor, for faith communities, for law enforcement communities," he said.
Carney added that it would be a good step for the House to hold a vote on the House Democrats' immigration reform bill.
"What the House could do this week was take up its own comprehensive immigration reform bill," he said. "There's one that the House Democrats have put on the table that reflects the president's principles, reflects the principles put forward in the bipartisan Senate bill, and that we strongly believe would pass the House with a substantial majority, including votes from both parties if the speaker were to bring it to the floor for a vote."
Before You Go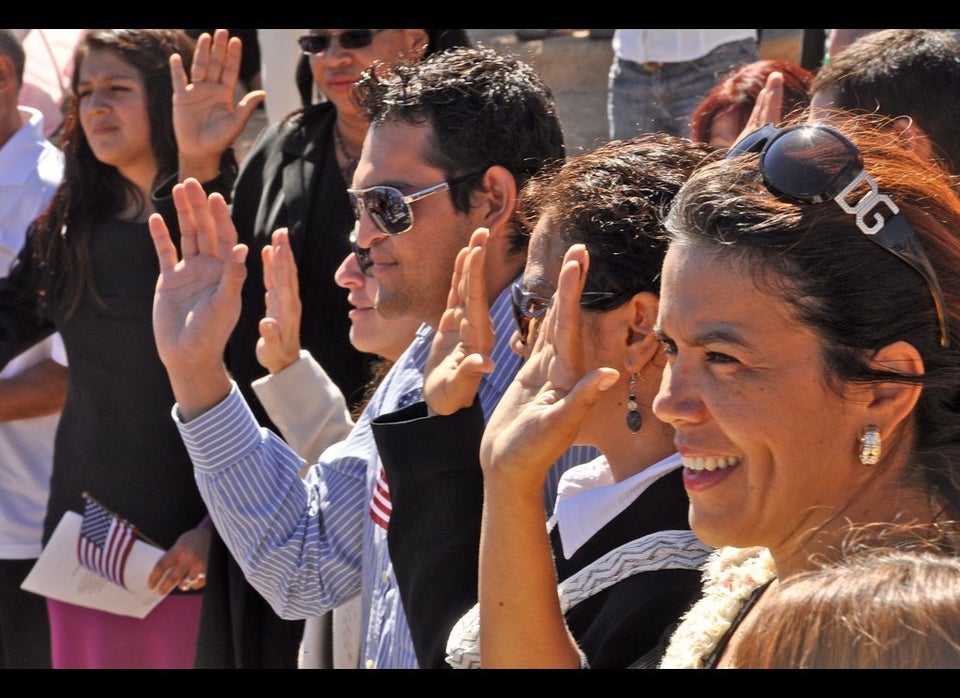 10 Major U.S. Federal Immigration Laws
Popular in the Community