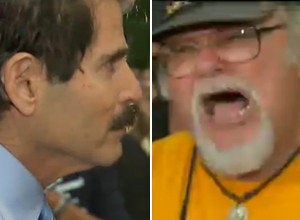 Fox Business anchor John Stossel took a trip down to Occupy Wall Street, and was met with a less-than-friendly crowd.
Stossel brought some footage of his journey to Tuesday's "O'Reilly Factor." In the video, one man excoriated Stossel to his face.
"You lie, Stossel!" he yelled. "You lie all the time! I've heard you on TV! I know that you lie!" Stossel also weathered chants of "shame on you!" One protester told him, "I'm here to stop Fox's corruption because you're all f--kin' corrupt."
O'Reilly and Stossel seemed mystified and dismissive of the whole thing. Stossel said he didn't know what the Occupy Wall Street protesters were protesting. O'Reilly said that the movement was doomed to fail.
"They're loons," he said.
Stossel joins his colleague Geraldo Rivera in attracting the ire of the Occupy Wall Street crowd.
Popular in the Community