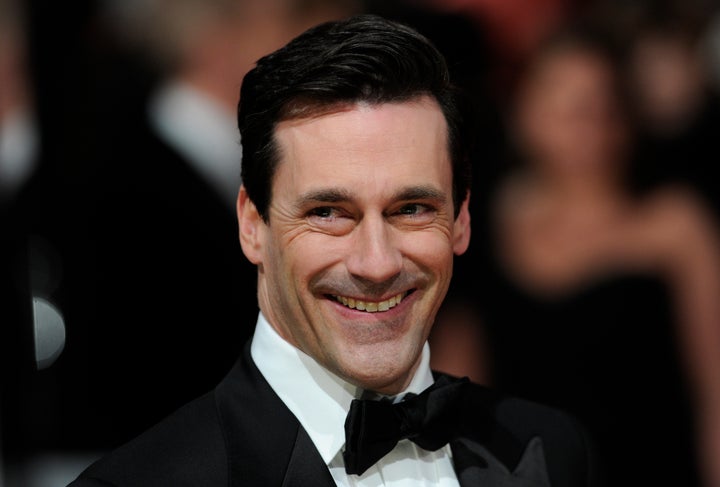 In AMC's Mad Men, Don Draper's true origins were something of a mystery until he was revealed to be Richard "Dick" Whitman, a fellow who had assumed the identity of an officer he had served with in the Korean War. The origins of Jon Hamm, who portrays Draper, are less mysterious, but there's little floating in the google-sphere beyond his Missouri birth.
St. Louis, it turns out, has played a central role in his family history with several generations parked there, but there's more to the story, including strong women, immigrant struggles, and Mormonism.
As you might expect for someone with solid St. Louis roots, Jon Hamm has German heritage. Roughly three-eighths of his family tree traces back to the fatherland, but he's equally English and one-quarter Irish.
Among Hamm's ancestral surnames are Burch, Garner, Flynn, Gutmann, Hall, Hamilton, Hartley, Hines, Kohlhaas, Kolb, Lockett, Magner, Murphy, Quinn, Sargent, Schmidt, Sullivan, and Taschner, so those sharing one or more of these names could be cousins of some sort.
His German surname of Hamm was introduced into America by the 1858 arrival of a father and son, Julius and Joseph, who would eventually become his 2nd and 3rd great-grandfathers. Though there were some who came earlier as well as a few stragglers, 1849-1869 marks his immigration sweet-spot with over half of his family branches arriving during that period.
While many of his ancestors called Missouri home, he also has roots in Arkansas, Illinois, Kentucky, Maryland, Minnesota, North Carolina, Tennessee, and Utah. Overseas, Berslem, Staffordshire and Wakefield, West Yorkshire in England and the Irish counties of Cork and Down can claim a piece of his past.
It must have been quite a shock when one of his great-grandfathers died of carbon monoxide poisoning while working on a car in his garage. Though this ancestor's life was tragically truncated, his widow would go on to live to the age of 101.
Mention almost any type of employment and someone in Hamm's family has done it. Among their occupations are butcher, seaman in the Navy, railroad engineer, potter, solicitor (drayage), packer in auto supply, driver, grocer, farmer, brick layer/stone mason, fireman on a steam railroad, paper carrier, and saloon keeper.
About a quarter of Hamm's immigrant ancestors came to America to follow the Mormon faith with some making their own Trip to Bountiful. This part of his heritage might have had a more profound effect on his life if his direct ancestors hadn't already married and settled in St. Louis before most of their parents and siblings moved on to Utah.
It's a good thing that the Hartley was a sturdy ship because six of his future ancestors -- two great-great-grandmothers named Sarah and their respective parents -- all arrived in New Orleans after a seven week journey on it in 1849. The son of one Sarah would eventually marry the daughter of the other Sarah, linking these one-time shipmates as family forever.
The women in Hamm's family had to be strong, especially the three who were left widowed with children shortly after arriving from either England or Ireland. The most extreme case is that of a 3rd great-grandmother named Hannah who, after having lost a child she gave birth to while at sea, made it to St. Louis with her husband and five surviving children, only to watch her husband succumb to disease several days later.
My guess is that Irish ancestor, Michael Magner, exhibited some of the confidence and charm of Don Draper to win the hand of his future wife Abby, the only female in a household that included half a dozen unrelated men.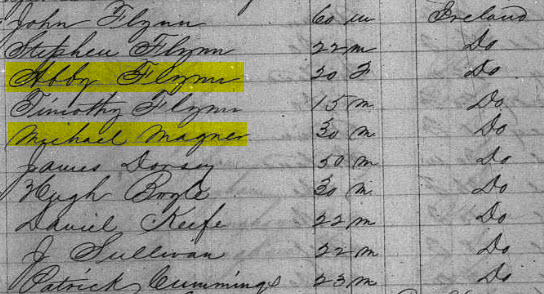 (1857 Minnesota Territorial census, St. Paul, Ramsey, MN, as seen on familysearch.org)
Related
Popular in the Community