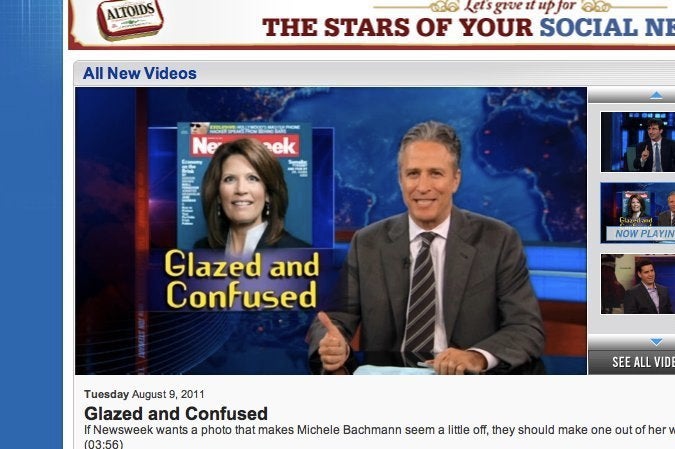 After briefing the London riots on Tuesday night's "Daily Show," Jon Stewart did something slightly out of the ordinary: defended Tea Party Rep. Michele Bachmann.
By now most people have seen Newsweek's latest cover featuring Bachmann with the headline "Queen Of Rage." But it's not the story that's making headlines -- it's the way Bachmann looks in the photo: wide-eyed, a bit startled and a bit startling.
Stewart concluded that it couldn't possibly be "an accidentally s***ty" picture of Bachmann and showed several photos of her looking very photogenic to back it up. Of course, he still worked in some amazing send-ups, including placing the cover side by side with the poster of Steve Carell from "The 40-Year-Old Virgin" (the similarities are uncanny!).
Newsweek Editor Tina Brown has defended the cover, saying it aimed to capture how Bachmann is "galvanizing" voters in Iowa, but Stewart insists that the photo intended to make her look crazy. Watch the full clip to hear Stewart's solution for a Bachmann Newsweek cover that would actually do the trick -- without even using a photo.