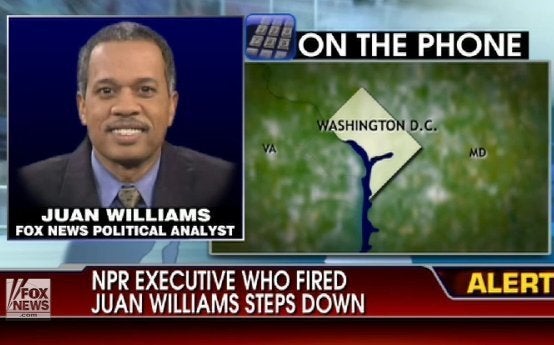 Juan Williams responded to the news that the NPR executive who handled his firing from that network, Ellen Weiss, has resigned.
Weiss, who was NPR's senior vice president for news, resigned on Thursday after an independent review that looked into the circumstances surrounding the Williams firing expressed "concerns regarding the speed and handling of the termination process."
Speaking on Fox News--where Williams' appearances and comments led to repeated controversies within NPR, and ultimately led to his firing--Williams said Weiss' resignation was a good thing.
"I think it is good news for NPR if they can get someone who I think has been the keeper of a flame of liberal orthodox out of NPR," he said to Megyn Kelly. "I think she represented a very ingrown, incestuous culture in that institution that's not open to not only different ways of thinking but angry at the fact that I would even talk or be on FOX...to my mind, this is good news for NPR for people who care about news in America."
But he had harsh words for NPR overall, saying that the network has "a culture there is not open to real news, that is not open to all points of view, that is not open to the real world around us and to the many different dynamics, perspectives and life stories that animate America."
Williams even went as far as to compare NPR CEO Vivian Schiller's statement praising Weiss for her over 28 years of service at the network to something out of Pravda.
"I can't help but say what a contrast in the way they treated me," he said. If they want to be Pravda and issue propaganda like that, fine, but I think everybody knows the real story here."
WATCH: