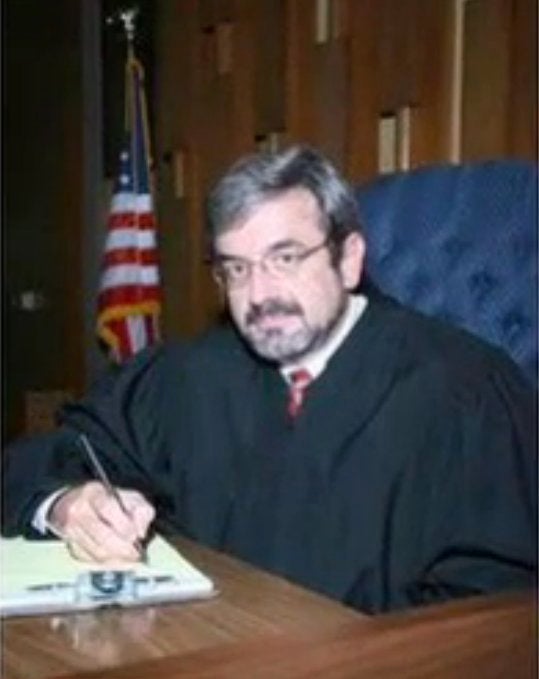 Some judges pack a gavel -- this judge was packing heat.
A Georgia judge is under fire after he allegedly pulled his pistol in a courtroom in an apparent attempt to drive a point home to a sexual assault victim.
Lumpkin County Superior Court Judge David Barrett wasn't angry, but making "a poor rhetorical point" when he flashed the piece this week, District Attorney Jeff Langley told the Atlanta Journal-Constitution.
Barrett was presiding over a sexual assault case in which a woman brought charges of rape and aggravated assault against Scott Sugarman, a former Hall County sheriff's deputy.
But when the victim took the stand to testify, Barrett told her that she was "killing her case" -- allegedly because she wasn't cooperating -- pulled out his gat and pretended to hand it her way.
"[Barrett said] 'You might as well shoot your lawyer,'" Langley told the paper.
The woman -- whose name is being withheld because she may be the victim of a sexual crime -- wasn't shocked and "thought it was a test" by Barrett to gauge her reaction. Langley claims that he objected and approached the bench to tell Barrett to put the gun down.
Now Barrett is under investigation by the state Judicial Qualifications Commission, which probes judge misconduct, the Associated Press reported. Georgia law allows judges to carry concealed handguns in the courtroom, but it's a crime to point a gun at another person if there's no reason to do so.
REAL LIFE. REAL NEWS. REAL VOICES.
Help us tell more of the stories that matter from voices that too often remain unheard.
BEFORE YOU GO