 "We were lucky enough to get hugs from Michelle Obama. It was like hugging America," the lead singer of folk-rock band Delta Rae told a cheering audience at Planned Parenthood's January 20th "Plan To Rock" event in Washington, D.C.
That warmth and enthusiasm defined the organization's inauguration-eve celebration. "We as young women have got to step up and do this," women's health advocate Sandra Fluke told The Huffington Post, speaking about the role that young women will play in affecting change during Obama's second term and in future elections.
The party was held at the 9:30 Club, a D.C. music scene staple, and sponsored by Planned Parenthood and Rock the Vote, a non-profit focused on getting young people to the polls. Condoms and chocolates covered the bars while young professionals danced, drank and brushed shoulders with politicians and celebrity co-hosts Kate Walsh, Aisha Tyler, Tatyana Ali and Sophia Bush. There was even a young woman walking around dressed as a life-size pack of birth control pills.
The occasion was the beginning of Barack Obama's second term Monday, after a first term marked by both advances and setbacks for women's reproductive rights. States passed over 100 restrictions on abortions in 2011 alone, while Obamacare did away with co-pays on birth control. On Sunday night, Planned Parenthood's guests focused on the positive.
While hip-hop artist Q-Tip performed a DJ set, The Huffington Post spotted Obama supporter and television star Benjamin McKenzie, best known for his role as Ryan Atwood on "The O.C." McKenzie -- who was sporting some seriously excellent black and white, round-frame glasses -- told The Huffington Post that one person in his life really inspired him to advocate for issues of women's health and Planned Parenthood specifically. "My father actually defended Planned Parenthood in Texas, in the case that's been going on recently [when Texas cut off funding for the organization]," he said. "[Planned Parenthood] does a lot of amazing work and that's what brings me out."
In addition to Q-Tip's set and a performance from Delta Rae, party-goers were treated to energetic speeches from Planned Parenthood President Cecile Richards -- decked out in a sequined mini-dress -- along with Tyler and Kate Walsh.
When asked what it will take to get a woman into the White House, Sandra Fluke told HuffPost that she is "optimistic."
"I think it's going to happen sooner than we think … We've seen a great election for women this year." she said. "But you know, these record numbers [of women in Congress] took us from 80th in the world to 79th. So we've got a long way to go, and the generation that's gonna make this happen is the generation that's here tonight."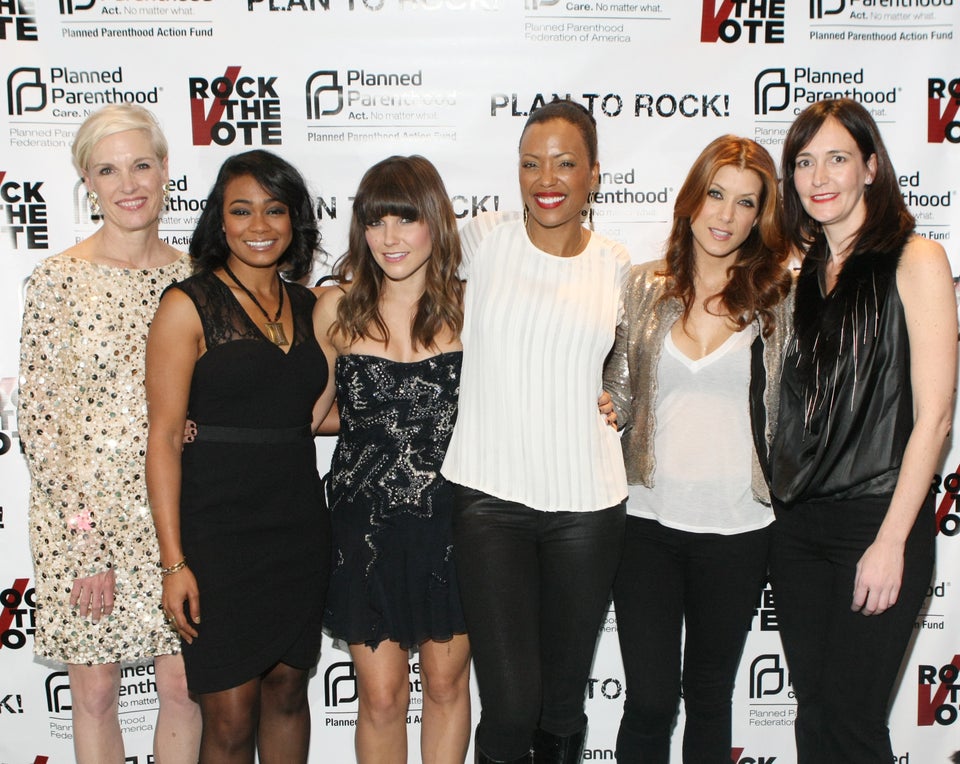 Planned Parenthood and Rock The Vote Inauguration Party