The final impact statement on Keystone XL concluded that the pipeline's environmental impacts would be minimal.
But Environmental Resources Management, the contractor that prepared that analysis, has been the subject of conflict of interest complaints since early last year, when it released its initial environmental assessment of the proposed 1,660-mile pipeline from Canada to Texas. After the initial analysis was released, it came to light that several ERM employees had done work for TransCanada and one of its subsidiaries -- a fact that the State Department had redacted from publicly released documents.
Environmental groups pointed to this as evidence of a conflict of interest that should have precluded ERM from being hired to produce the environmental impact analysis. They also accused the contractor of not adequately disclosing those relationships in forms filed with the State Department.
Now those environmental groups are highlighting another document ERM filed with the department in July 2013, following up on its previous conflict of interest statement. The letter, from ERM Managing Director Michael O'Shaughnessy, accuses the media of misrepresenting his company's relationship with TransCanada:
I write in response to your request regarding ERM's involvement in the Alaska Pipeline Project ("Alaska Project") and to update ERM's 2012 Keystone XL Pipeline Project ("Keystone Project") OCI Disclosures, Supplemental Information, and Addendum. ERM has conducted a thorough review of its past and current client engagements and reaffirms (1) that it has no conflict of interest related to the Keystone Project arising from work on the Alaska Project and (2) that recent media reports grossly misrepresent ERM's relationship with TransCanada and the integrity of our original OCI Disclosures.
The document, which is posted on the State Department's website with other materials related to the Keystone application, goes on to clarify that while ERM did work on the Alaska Pipeline Project, it was not working directly for TransCanada. It states that "ERM's affiliates performed services on the Alaska Project only on behalf of a company other than TransCanada" (emphasis theirs) and "neither ERM nor any of its affiliates ever entered into a contract with, or performed services for, TransCanada related to the Alaska Project."
Friends of the Earth -- one of several groups that has been critical of ERM's role in the analysis of the Keystone XL pipeline -- says that this is a distinction without a difference. Even if TransCanada wasn't paying or contracting with ERM directly, the connection is obvious, the group says. The conflict of interest disclosure that ERM filed in June 2012 asked, "Within the past three years, have you (or your organization) had a direct or indirect relationship (financial, organizational, contractual or otherwise) with any business entity that could be affected in any way by the proposed work?" ERM replied "no" to that question.
"Even the most charitable reading of the case made by ERM here would admit that serving as a contractor on a major joint business venture for TransCanada like the Alaska Pipeline Project -- as ERM did -- would constitute at the least an indirect if not direct relationship with TransCanada," said Ross Hammond, a senior campaigner with Friends of the Earth. ERM's defense against the conflict of interest accusations, said Hammond, "actually throws more fuel on the fire."
ERM did not immediately respond to a request for comment on Friday.
TransCanada has also denied having any contracts with ERM regarding the Alaska pipeline.
The State Department's Office of Inspector General has been looking into the concerns since last May, but its report has not yet been released. In December, the IG's office said the report would be out by late January. This week, OIG spokesman Doug Welty could only say that the review "will be issued in early 2014" in response to an inquiry from The Huffington Post.
A group of House Democrats had asked the administration to hold off on releasing the environmental impact analysis until the probe is complete. Rep. Raul Grijalva (D-Ariz.), the ranking member of the House Natural Resources Committee's Subcommittee on Public Lands and Environmental Regulation and the leader of that effort, called the environmental impact analysis a "sham" in a statement shortly after its release last Friday.
Grijalva noted that the IG's report would be released in the coming weeks. "The State Department, if only to maintain its own credibility, should have waited at least that long," he said.
Before You Go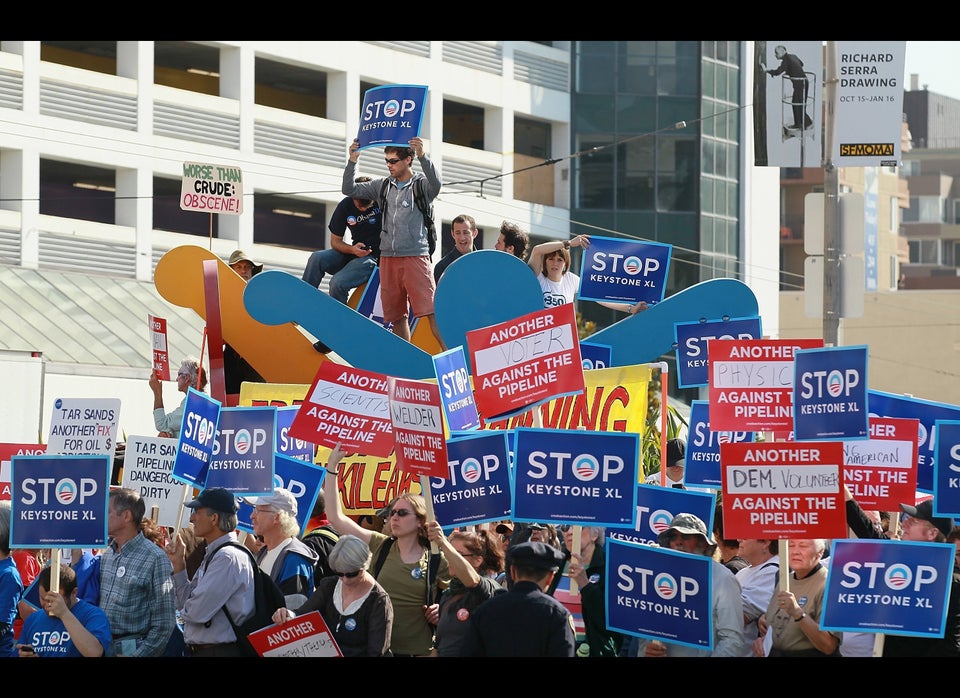 Keystone XL Protests
Popular in the Community