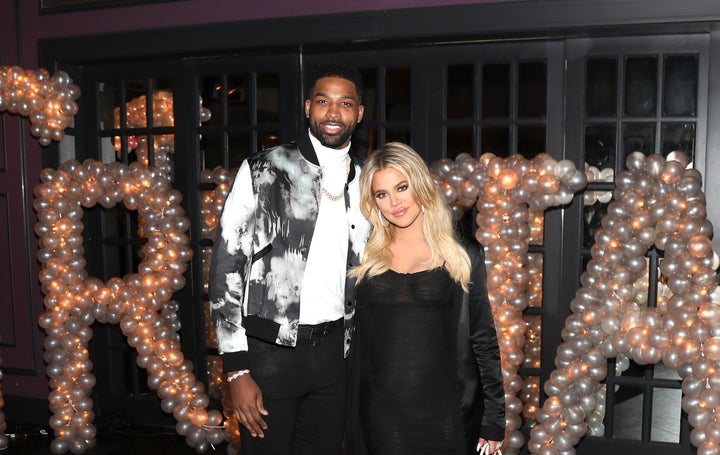 Khloe Kardashian announced Monday that she and boyfriend Tristan Thompson have named their baby girl True.
"Our little girl, True Thompson, has completely stolen our hearts and we are overwhelmed with LOVE," the new mom wrote on Twitter, accompanied by a photo of pink roses and balloons.
"Such a blessing to welcome this angel into the family! Mommy and Daddy loooooove you True!" the 33-year-old added.
Kardashian gave birth to baby True on Thursday morning at a hospital near Cleveland, as Thompson is an NBA player with the Cleveland Cavaliers. True is the first child for the reality TV star and the second child for Thompson.
Just before True's birth, several videos surfaced of the NBA player seemingly cheating on Kardashian. The two have not responded to the videos, though Twitter users are having some fun with the cheating scandal and True's name:
"I'm so excited to welcome my precious little granddaughter True!!! FUN FACT... my Grandfather's name on my Dad's side was True Otis Houghton....my real Dad's name was Robert True Houghton...so i am so excited Khloe named her daughter True!!!" she wrote, adding the hashtags #lovebug #familytradition and #family.
The Kardashian-Jenner family all congratulated Khloe last week, shortly after she gave birth. Kim Kardashian praised her younger sister for being "so strong" throughout the whole experience.
"I'm so happy for you! Your baby girl is so beautiful! You are so strong, you made that look so easy," Kim Kardashian tweeted to her sister on Friday.
"I can't wait for our baby girls to grow up as best friends the way we are! I'm so happy I was able to return the favor of holding your leg while you pushed LOL."
Thompson and Khloe Kardashian were first linked together in August 2016 and confirmed that they were dating just one month later.
"My greatest dream realized! We are having a baby!" Kardashian wrote in her post. "I had been waiting and wondering but God had a plan all along. He knew what He was doing. I simply had to trust in Him and be patient. I still at times can't believe that our love created life!"
Thompson has yet to say anything about his baby girl on social media. We can assume Kris Jenner is crafting the perfect statement for him now.
This post has been updated with additional information about the baby and reactions to her birth.