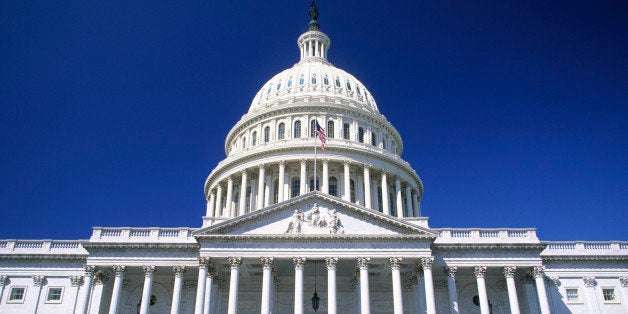 "We're Partying Like It's 2008!"
The House GOP majority today announced it will fund a time machine that will return the economy to the fall of 2008.
House Science & Technology Committee Lamar Smith (R-TX) said, "Instead of wasting time whipping votes on the Floor to deregulate big banks, we can press a button that whisks us right back to the Bush administration!"
The decision was made in the first week of the new Congress, when the GOP struggled to pass legislation to roll back the Dodd-Frank Act. That law, passed in 2010, imposed new restrictions on the financial institutions that pulled the world economy into the worst recession in history due to highly-risky investment decisions.
Republican Arvin Fump defended those practices as "proven job creators." The Michigan Republican said, "Do you know how many people were hired to put foreclosure signs in front yards across America?"
At a press conference announcing the "A Better Past For Certain People Time Machine Research & Development Act of 2015," Republicans waxed nostalgically about that October day when they defeated the Troubled Assets Relief Act and the Dow plunged 750 points.
President Obama threatened to veto the funding, saying, "If a time machine is going to take us anywhere, it should be the day that Al Gore invented the Internet. There were some design flaws that could have been addressed."
The time tunnel will be paid for by eliminating funding for research of Alzheimer's disease and cancer at the National Institutes of Health. A spokesman for Speaker John Boehner noted: "We believe in balanced budgets and no free rides. Someone has to pay to return to the days of predatory lending, collateral debt obligations, and derivatives.
In a joint statement, Donna and Bill Everett of Loomsville, Indiana, praised the move:
"In 2008, we lost our 401ks and all the equity in our home. Our kids can't go to college, and our paychecks will never regain their strength. We now both work part time at the Sushi Corral. But we need to continue opposing tax and spend Democrats. And if that means going back to the days when big banks could completely screw us over, so be it!"
One Republican aide noted: "Forget 'Throwback Thursday.' With this time machine we'll do 'Rollbacks Every Day!'"
Calling all HuffPost superfans!
Sign up for membership to become a founding member and help shape HuffPost's next chapter