Do you remember what you did last Tuesday at 7:42 PM? Were you eating, reading, watching TV, on the phone? For most of you reading this, the answer will probably be you have no idea. Don't worry if you can't remember, you're not alone and it's perfectly normal to forget certain details. However, try to imagine if you couldn't remember what you did just two minutes ago, your own name, your best friend's name, if you were married, where you are right now or how you got there? This is the terror victims of Alzheimer's disease must face every day.
As part of our Pairs That Care Series on Spotlight On TV, I had the honor and pleasure of sitting down with the talented Andy Kelso, star of the Tony Award winning Broadway hit Kinky Boots, and his lovely wife Sheila Coyle of the Manhattan Dolls. On this day, Andy and Sheila chose to shine their spotlight on this disease that hit close to home and changed their lives.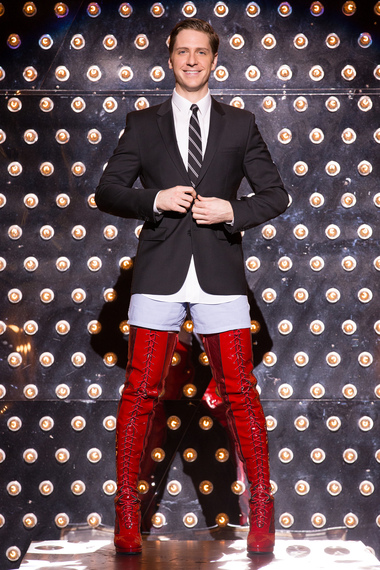 Photo Credit: Andy Kelso
Andy's grandmother was diagnosed with Alzheimer's disease and it was very hard for he and his family. He proudly shared with me stories of his grandmother before the disease, painting a picture of a doting matriarch who lovingly taught him to play games like solitaire. After the disease set in, it became very difficult for Andy to stand by and watch as his grandmother's memory deteriorated.
"It's a very difficult disease," Kelso explained. "Seeing my grandmother go through it was difficult for sure, but also watching my father show up to the hospital and she could no longer recognize him, it's very difficult for those that have the disease but also those around them."
Andy and Sheila then shone their spotlight on the wonderful organization of The Alzheimer's Association. Lou-Ellen Barkan, the President and CEO of the New York City Chapter, also graciously joined the conversation with some hard facts and how her organization is helping those impacted. Here's a sneak peek:

Alzheimer's disease is the leading form of dementia that impacts memory, thinking and behavior. This disease hinders an individual's ability to remember new information creating disorientation within their environment while crippling them from carrying on normal functions, like holding conversations. One stat I was shocked to learn was that Alzheimer's disease is the 6th leading cause of death in the United States and it is the only cause of death in the top 10 in the US that cannot be prevented, cured or slowed.
The Alzheimer's Association aims to expedite the delivery of care for not only those afflicted with the disease, but for the caregivers as well. There are many resources available through the Association including a free 24 hour helpline offered in multiple languages, a caregiver center and library service to name a few. One of their many goals is to provide information and research to the public, free of charge.
Recently they lent support to Julianne Moore providing both information and direct experience with Alzheimer's patients for her Oscar winning role in Still Alice.
"Julianne Moore came to the Alzheimer's Association to research and meet those affected," said Barkan. "Even the early-onset patients loved her, and much of what we see on the big screen is true to what she learned at the organization."
Barkan explained the most important thing viewers can do to support the cause and the organization is become a registered advocate simply by filling out a form online. "On an ongoing basis whenever there is an action, either at the federal, but occasionally at the state or city level, there's an email that goes out and we simply ask people to respond and send it to the elected representative," said Barkan.
The Alzheimer's Association NYC Chapter Forget-Me-Not Gala is also right around the corner on June 8th. Click HERE for tickets & more info.
On a personal note, my grandmother developed and died from Alzheimer's disease. It was a tragic, heart wrenching experience watching my biggest fan slowly pass away. Prior to her ailment, she came to every dance recital or performance I had. When we spoke, she was always happy and sharing laughs with me. She was picture-perfect in her fashion, confidence and beauty.
After developing the disease, she slowly began to speak less and less, she would often get confused and angry because she couldn't remember words. When she couldn't remember who I was, it was extremely heartbreaking. I shared in Kelso's sadness and strongly stand behind the work of Barkan and the men and women of the Alzheimer's Association.
If you feel inspired by this very worthy cause, please get involved. Under the video you will notice "Care", "Share" and "Donate" icons, which will take you directly to volunteering, offering services for the annual Walk and of course donating funds to the Alzheimer's Association. Helping a cause you care about it just a click away.
A joke between my grandmother and I was, after every event, I would say "Thank you for coming" and she would laugh and say there's no other place she would rather be. So I thank you for coming and hope there's no place in your heart you'd rather be than helping others by getting involved.
Visit Spotlight On TV for more segments spotlighting incredible stars' causes and nonprofit organizations.
As always, we ask you:
What cause do you shine YOUR spotlight on?
Support HuffPost
The Stakes Have Never Been Higher
Related
Popular in the Community