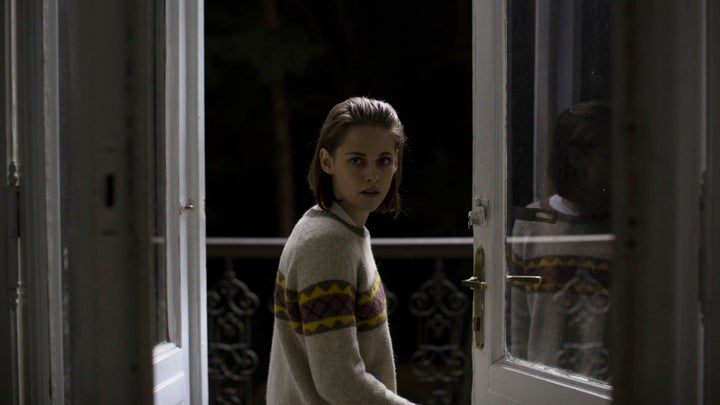 The New York Film Festival tends to pepper its lineup with a few splashy premieres and a slew of holdovers from the year's other festivals. The Huffington Post has already caught four in the latter camp. They're a fairly eclectic bunch, starring the likes of Kristen Stewart, Isabelle Huppert and Gael García Bernal. Here are some quick thoughts on each.
"Elle"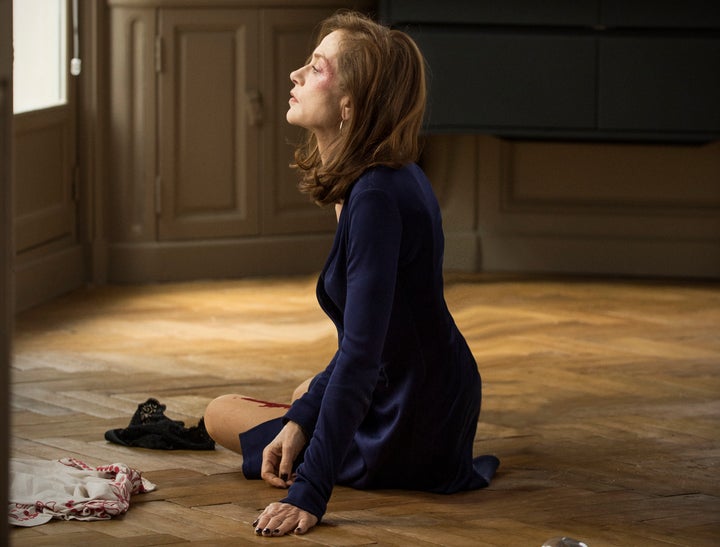 Fire up the think-pieces: "Elle" is a rape comedy. I use "comedy" loosely, but trust that this divisive film does not focus on the grief that sexual assault can prompt. Instead, it's part revenge thriller, part psychosexual escapade and part social satire. It's also relentlessly entertaining, with one of the year's sharpest performances. 
Veteran French actress Isabelle Huppert plays Michèle Leblanc, the divorced co-founder of a video-game production company that does not shy away from the medium's penchant for misogynistic violence. Her younger, mostly male employees mock Michèle, but she is unfazed. Why? Sexism has been a byproduct of Michèle's entire life, dating back to harrowing events of her childhood. In the film's opening scene, Michèle is raped by an assailant wearing a ski mask. But that doesn't particularly shock her either.
Once Michèle tracks down her aggressor, "Elle" becomes a cat-and-mouse spree of sexual prowess, with our protagonist positioning the morbid attraction she now feels toward him. She will not be victimized ― in fact, she will be unabashedly undaunted by the experience, even going so far as to call the dude for help in a car accident. Precisely why Michèle feels these perversions ― are they even perversions? ― is layered. I'm still not confident in my assessments, and that's a good thing, because sexuality, in all its forms, never contains a tidy valuation.
Some may balk at the number of men involved with the project: David Birke adapted the script from a Philippe Djian novel, and the movie is directed by Paul Verhoeven, the shlock master known for "Total Recall," "Basic Instinct" and "Showgirls." But everything about "Elle" is incredibly nuanced, every beat heightened by the troubled confidence in Huppert's eyes. Michèle is both hardened and vulnerable, and she never lacks agency. This is a compassionate film, one that challenges our limited understanding of sexual desire and our assumptions about the way women move through the world. If there are a few chuckles along the way, they merely confirm what we already know: that life is both a comedy and a tragedy, best assessed on our own terms.
"Elle" opens in theaters Nov. 11.
"Personal Shopper"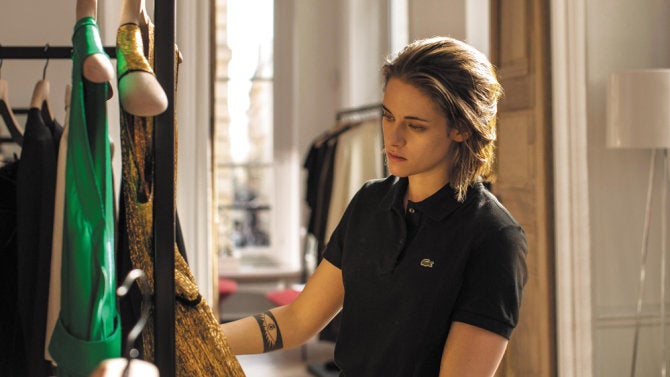 It's already trite to say Kristen Stewart has surpassed her "Twilight" stardom and become a remarkable actress. Stewart chooses her directors wisely. This year alone, she is promoting movies by Ang Lee, Kelly Reichardt, Woody Allen and Olivier Assayas. The latter made last year's "Clouds of Sils Maria," a meditation on fame that boasts Stewart's best performance to date. Assayas and Stewart immediately re-teamed for "Personal Shopper," a Cannes title for which the label "ghost story" is both apt and reductive. 
Really, "Personal Shopper" is about an identity crisis, specifically that of Maureen, an American celebrity style assistant living in Paris. Maureen's twin brother, Lewis, recently died. They shared an ability to communicate with the dead, and now Maureen believes his ghost is flickering through her life. Is it her grief talking? Is Lewis offering a respite from the job she loathes? Is this a smartphone psychodrama? (Lewis may or may not be texting Maureen a lot. "R u alive or dead?" she asks while investigating who is contacting her via an unknown number.) 
Turns out, it may be all of those things and more plaguing Maureen. "Personal Shopper" zigs and zags through numerous tones and subplots, some of which involve Maureen's demanding boss, who is having an affair, and Lewis' girlfriend, who is already dating someone else. How can life move forward when such profound loneliness sets in? Assayas plays around with the audience's relationship to Maureen, making us part of the ghost story, which at times borders on terrifying.
There's a sense of mystery that "Shopper" refuses to box up succinctly. Instead, your own experiences with grief will likely define how you relate to Maureen ― and that is a narrative technique worth embracing, even if not everything congeals along the way. Bolstered by a strong performance from Stewart, who is best when telegraphing alienation, "Personal Shopper" is a rumination on self-reliance, told from the perspective of someone grasping at an elusive specter. 
"Personal Shopper" opens in theaters March 10, 2017.
"I, Daniel Blake"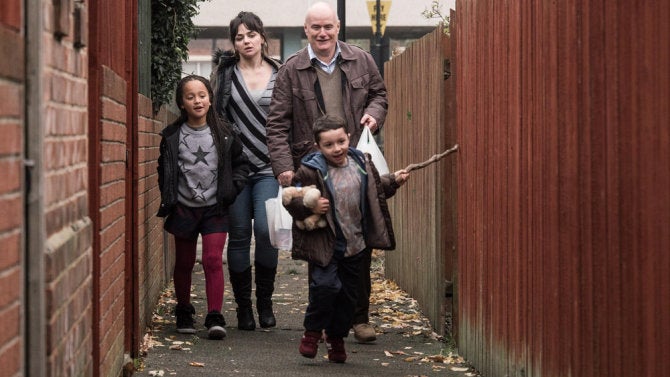 Some were surprised when "I, Daniel Blake" nabbed the Palme d'Or at Cannes in May. It's the second Ken Loach film to earn that prestigious distinction, following 2006's "The Wind That Shakes the Barley." The British director is known for austere stories about disenfranchisement, often touting socialist political ideals. Deceptively simple and achingly human, "I, Daniel Blake" fits in nicely.
It also lacks any hint of visual panache. Loach doesn't seem concerned with framing his English streets with much texture. That city-life banality does as much to accentuate the character's lives as it does to imbue the film with an excessively small scope. Look past that, and you'll find a story about the powerless rising up in the face of a bureaucratic system that does not provide for their needs.
"I, Daniel Blake" revolves around an unlikely friendship between two good-hearted victims of political red tape. The first is the titular 59-year-old carpenter (Dave Johns), recently diagnosed with heart disease and denied out-of-work compensation despite his doctor's mandate for rest. Daniel is not taking advantage of the system ― he'd rather return to work, but if he can't, he needs a paycheck. While applying for assistance, Daniel meets Katie (Hayley Squires), a sacrificial single mother of two who can barely avoid being sent to a homeless shelter. Daniel adopts a fatherly role in Katie's life, repairing odds and ends around her small apartment and offering platonic support as she rebuilds her life.
"I, Daniel Blake" is frank in its messages: These people deserve better, and the proper governmental channel is unwilling to help. It's a humanized look at two case numbers attempting to maintain their dignity. In that regard, Loach's approach is effective, never more so than during a heartbreaking scene at a food pantry where a starved Katie desperately scoops from a can of beans with her hands. Squires, in particular, is remarkable, bringing sincerity to a fairly conventional struggling-mom role.
This is a movie for our contemporary mood. In a year unmoored by social strife and crawling with global inequalities, it reaches for one of our most elementary desires: peace of mind. Even if the beats that take us there are a bit blunt, the final results are searing.
"I, Daniel Blake" opens in theaters Dec. 23.
"Neruda"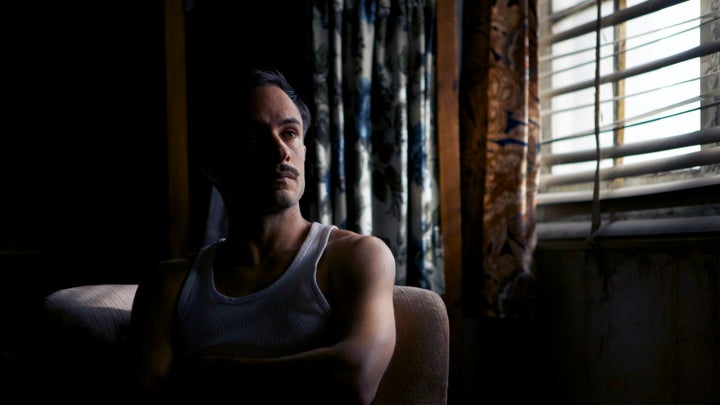 I've already championed "Jackie" as one of the year's best films. It's the first of two Pablo Larraín-directed biopics about political figures whose cultural dent stretched far beyond their bureaucratic sway. The second is "Neruda," an unconventional illustration of Chilean poet and senator Pablo Neruda. It is fantasy presented as biography, poetry presented as prose.
"Neruda" belongs as much to its titular subject ― played uncannily by Luis Gnecco ― as it does to Oscar Peluchonneau, a fictional investigator hunting for Neruda, who has been impeached by the Chilean president after criticizing the country for abandoning communism in the wake of World War II. Neruda has gone into hiding. Oscar ― played by Gael García Bernal, doing a fine Sam Spade ― follows Neruda's traces to locate his hiding spot. But Larraín positions much of the movie as a literary cat-and-mouse game. Fiction and reality blur as Neruda composes a graceful detective tale and Oscar imagines himself the hero of his own quest. 
Rather than offering a finite exploration of Neruda's celebrated life, the film focuses on the power of storytelling ― the stories we invent ourselves, and the ones composed for our ingestion. That means "Neruda" meanders a bit along the way. It dares the audience to sort through the movie's half-truths, a clever bargain that proves both majestic and dizzying. Aspects of "Neruda" are rambling, but its theses are striking. Working with a script by Guillermo Calderón, Larraín introduces a surreality that, coupled with the intimacy of "Jackie," makes for a refreshing biopic double-header.
"Neruda" opens in theaters Dec. 16.
REAL LIFE. REAL NEWS. REAL VOICES.
Help us tell more of the stories that matter from voices that too often remain unheard.
BEFORE YOU GO
PHOTO GALLERY
Fall/Winter Movie Preview 2016