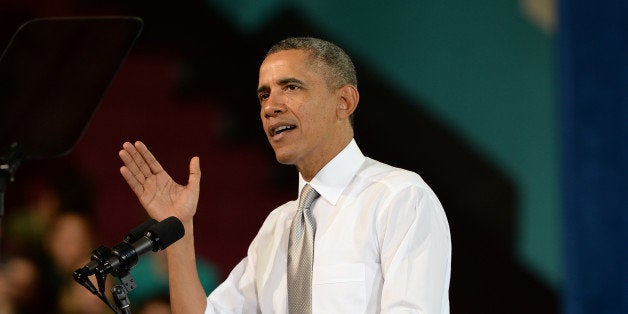 California daily La Opinión slammed President Barack Obama's deportation policy in an editorial published Monday, calling for him to use executive authority to rein in his administration's record-setting pace of deportations.
"It is time for the White House to take another step to decrease the pressure that now exists over the undocumented," La Opinón wrote, continuing, "to review in detail all the options within its reach to prevent the deportation of people with deep roots in this country..."
The paper praised the president's previous uses of executive authority to curb deportations, including the 2012 "Deferred Action on Childhood Arrivals" program, which exempts undocumented immigrants brought here illegally as children from deportation for a renewable two-year period.
But the paper criticized Obama's immigration record in harsh terms, brushing off the president's description of himself as a "champion-in-chief" of immigration reform at a town hall event last week co-sponsored by the paper's parent company, ImpreMedia.
"Obama recently called himself the "champion-in-chief" on immigration reform—a title that, without legislative approval of reform, only reflects the impotence of what he was unable to achieve," the paper wrote.
During last week's town hall, Obama defended his record as he has in the past, saying that he's done all he can to ease deportations until Congress sends him an immigration reform bill to sign.
"At a certain point, the reason that the deportations are taking place is Congress said you have to enforce these laws," Obama said at the event, according to Politico.
Other close supporters of Obama in the Latino community have criticized his handling of deportation. During an appearance on HuffPost Live in December, actress Eva Longoria criticized Obama's embrace of "Secure Communities," a federal program that requires local law enforcement to share fingerprint data with Immigrations and Customs Enforcement in order to identify deportable migrants.
"It is saddening to see those numbers," Longoria told HuffPost Live's Ahmed Shihab-Eldin in December. "They are at an all time high."
Longoria is a close Obama ally who played a prominent role in his reelection campaign.
The Obama administration has deported nearly 2 million people since taking office in 2008 -- more than his predecessor, George W. Bush, deported over two full terms in office.
Calling all HuffPost superfans!
Sign up for membership to become a founding member and help shape HuffPost's next chapter
BEFORE YOU GO
PHOTO GALLERY
6 Misconceptions About The Border