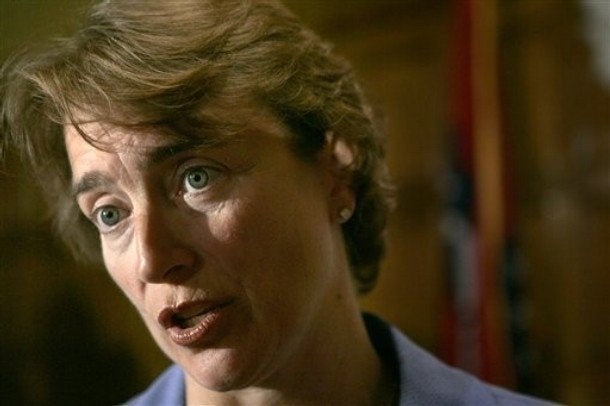 Enough. Now that she has thrown another obstacle in the path of the Employee Free Choice Act, Blanche Lincoln must face a well-funded primary opponent in 2010. And it's got to be the labor movement that recruits and funds that candidate -- or the rhetoric about how important the Employee Free Choice Act is will be just that: rhetoric.
Yesterday, Lincoln announced she would not block a filibuster aimed at sinking EFCA. Jake McIntyre had the deets in his diary and here's more from the Associated Press:
U.S. Sen. Blanche Lincoln says she will not support the proposed Employee Free Choice Act in its current form, another major setback for the federal legislation aimed at making union organizing easier.

The state's senior senator, a Democrat, had said previously she was undecided, but that she didn't think the legislation was immediately necessary. Her tone was more direct today when she spoke to the Political Animals Club at the governor's mansion in Little Rock. She said flatly that she cannot support the bill in its current form.
This is actually not a surprise. I've been skeptical about the math on EFCA for a very long time and, along with Lincoln, you could see the road map for the defectors just by looking at the band of Democrats who last week voted for a CUT in the estate tax.
But that doesn't mean that something should not be done. I understand the argument that will be made against a primary challenge to Lincoln: there aren't well-positioned, well-known candidates who would take her on and defeat her.
Perhaps defeating her is not in the cards. But, look, when do you simply stop looking the other way? If you say your most important priority is EFCA -- because you believe it is the difference between life and death of your movement -- then, why should anyone take labor seriously if it doesn't back that declaration up with actions that show elected politicians that they won't be able to coast along if they undercut unions?
I note that the Arkansas AFL-CIO convention is May 4th - 6th. There has got to be a labor candidate from the state's labor executive board who has the gumption to jump in as the standard-bearer for a primary challenge.
I'd pledge a contribution to such a campaign. And I'm sure such a campaign would draw financial support beyond the state's borders.
Popular in the Community