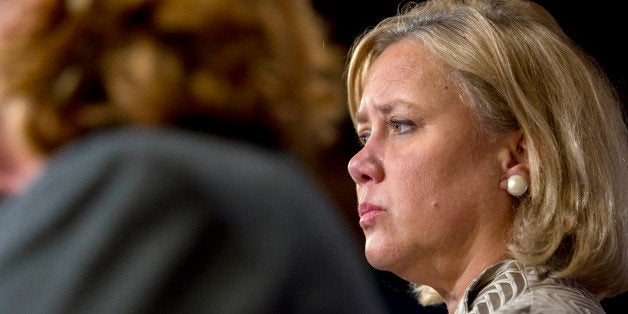 The Keystone pipeline, which would funnel the spoils of Canadian tar sands to refineries in Texas if it were a thing that actually existed, currently resides legislatively in what amounts to a decorative holding pattern, upon which various constituencies hang their hopes and dreams and watch them whiz in circles in the sky. This week, it was weighed down mainly by the hopes of U.S. Sen. Mary Landrieu (D-La.), whose career is coming to what is, from her perspective, an untimely end. Let's talk about this nonsense time in our nation's life.
Virtually every lawmaker who is on the take from corporate petrochemical interests is for the pipeline. Republicans in particular have long attempted to sell the pipeline's paltry employment yield as some sort of dynamic, job-creating enterprise. President Barack Obama has, for many years, tipped and tapped around the issue, giving little indication where he stands on the matter (though lately it's looked like a project he would endorse if he could get something in exchange). In all likelihood, Obama's acted coy on Keystone to line up the other key elements of his environmental agenda, knowing that he'll have to have a lot on offer to offset the environmental impact of the pipeline. That's not without good cause, given that the popular sentiment among environmental activists is that Keystone would be "game over" for the climate.
Well, all things do eventually come to an end, including life on planet Earth. But in the past few weeks, Keystone found its way back into the political consciousness because of another thing that had a good run, but is now dying and cannot be saved: Landrieu's political career. I doubt anyone on any side of the long-simmering Keystone debate would have predicted even four months ago that Congress would ride up right to the brink of passing a Keystone pipeline bill solely because an obscure Senate runoff briefly conjured up some hallucinatory stakes. But that's where we are, on the backside of a cheap melodrama, the air redolent of the smell of desperation and regret.
According to Oil Change International's Dirty Energy Money database, Senator Landrieu has taken $1,548,323 from the fossil fuel industry since she was first elected to office, averaging over $500,000 each election cycle. By comparison, the Senate average is $392,698 per Senator.

Senator [Lisa] Murkowski (R-AK), the ranking Republican on the Senate Energy Committee, has taken $1,212,733 during her career. The 22 person Senate Energy Committee has taken a combined total of $9,422,101.
But none of this helped. On election night, Landrieu ended up eking out a popular-vote win, but didn't have a large enough percentage of total votes to avoid a runoff with her GOP counterpart, Rep. Bill Cassidy (R-La.). She will lose that Dec. 6 contest, barring a miracle.
It was in search of just such a miracle that Landrieu's hyperdrive stunt to will a Keystone bill over the goal line was born, in order to give Landrieu some slight opportunity to demonstrate to voters that she had some sort of clout after spending the bulk of her time presiding over the Energy and National Resources Committee as a virtual nonentity.
It's not as if there were tangible, real-world signs that getting the Senate to pass a Keystone bill had even the thinnest potential to change the course of the Louisiana Senate runoff. This was all just a crazy, desperate theory that led to what Gawker's Hamilton Nolan accurately termed a "vapid political charade."
But man, did we ever all get caught up in this fabricated pseudo-event! Cassidy was even the co-sponsor of the House's Keystone bill, which passed even as Landrieu was attempting to wrangle filibuster-proof support for her own bill. So even the guy who had no objective reason to worry about any of this instead took it super-seriously.
These efforts fell one vote shy of success Tuesday in the Senate, as a breathless Washington watched these enormous exertions toward a nonexistent payoff reach their inconsequential end.
"I was proud of Mary, the fight she led for us," offered Sen. Joe Manchin (D-W.Va.). "Mary got that debate for us. This day would have never come without Mary leading the charge."
TransCanada President Russ Girling offered Landrieu and her Republican co-sponsor Sen. John Hoeven (N.D.) his commendation "for leading a bipartisan coalition in support of a legislative solution to the protracted regulatory process Keystone XL has languished in for six years."
These people deserve some sort of similar plaudit for maintaining, in the face of onrushing obviousness, the notion that what had transpired had any context outside Landrieu's electoral desperation.
But despite cajoling and browbeating her colleagues during a private lunch -- which one attendee described as "civilized but pretty contentious" -- Ms. Landrieu, who has so often bulldozed her way to success, was not able to produce that elusive final vote.

At the lunch, Ms. Landrieu made an "impassioned plea" that at moments verged on tears, according to a Democrat. Ms. Landrieu, according to the Democrat, focused part of her pitch on how the legislation would help her back home, though at one point she argued that Democrats should send the bill to Mr. Obama's desk because it would help him politically by giving him something to veto.
"The president could really benefit from the opportunity to veto this bill that I am making a gigantic public show of fighting to pass, you guys," is not the sort of sentiment that earns you a place in the next edition of "Profiles In Courage."
At any rate, that's the sad end of the costume drama version of "The Keystone Pipeline Debate," which will probably be rejoined in a few months once Landrieu has departed Washington for what's sure to be a lucrative career in lobbying for the oil industry.
I guess one way of looking at all of these legislators acting out of self-interest instead of the merits of legislation is that things are basically back to normal around here.
[This article originally, and mistakenly, identified Senator John Hoeven as the senator from South Dakota. He is actually a senator from North Dakota, and the post has been updated accordingly. We apologize to all Dakotas.]
Calling all HuffPost superfans!
Sign up for membership to become a founding member and help shape HuffPost's next chapter
BEFORE YOU GO
PHOTO GALLERY
2014 Election Results: Winners & Losers