New Hampshire delegate Gordon Humphrey, who has been working with the Delegates Unbound and Free the Delegates groups, tried to force party leaders on Monday to approve their rules for the convention on a roll-call vote, rather than a voice vote as is normally done.
The idea was that with a public roll call, a majority of delegates might defect.
"Donald Trump is so ignorant of anything that he hasn't a clue what is going on here in general or in detail," said Humphrey, a former senator who backed Ohio Gov. John Kasich during the primary season.
The bid for a roll-call vote failed, but caused an ugly moment in Trump's march to the nomination.
The unrest began when Arkansas Rep. Steve Womack took up the resolution to approve the rules and asked for a voice vote, as the anti-Trumpers lined up behind behind microphones waiting to demand a roll-call vote. Many delegates cried "Aye!" but were soon followed by a roar of "No!" from the crowd. Womack then declared "without objection" that it had passed ― even as delegates from Virginia, Utah and a handful of other states screamed in protest.
Virginia delegate Ken Cuccinelli led dozens of his state's delegates in chanting "point of order" and then "roll-call vote," as Trump supporters in other states chanted "USA" and "We want Trump."
Sen. John Barrasso (Wyo.), who was about to officiate the moment, did not take to the podium while the pro- and anti-Trump factions delivered their competing chants.
One delegate from Tennessee wearing a Trump button said, "I wish it came down to a fistfight. That would be easier for me."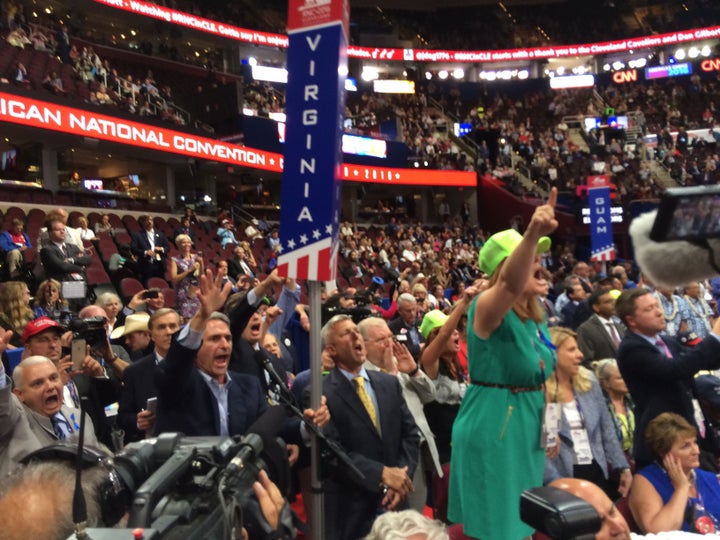 "I have never seen anything like this. There's no precedent for this," Sen. Mike Lee (Utah) told reporters on the floor. "The podium has been abandoned. No one is standing at the podium. I want a roll-call vote."
Humphrey and his cohort nearly got the vote because they had managed to get majorities of nine state delegations to ask for one. The rules required seven states to ask.
The Trump campaign and RNC leaders, though, demonstrated the power of holding the gavel. While the stage was empty, RNC officials apparently convinced enough delegates to rescind their demands, leaving just six states seeking the vote.
About 20 minutes later Womack reappeared, redid the voice vote, again declared that it had passed, but this time offered the Utah delegation the opportunity to ask for the roll-call vote. He informed them, however, of the delegates who had changed their minds and had withdrawn their support for a roll-call vote ― dropping them below the threshold they needed. "Accordingly, the chair has found insufficient support for a recorded vote," he said.
"That was the plan that was developed over the course of the day," one top RNC official said on condition of anonymity.
Although C-SPAN reported that state delegates from Iowa and Colorado had staged walkouts in the wake of the voice vote, the state pens for Iowa and Colorado were never fully emptied in dramatic fashion.
However, a group of delegates did at least try to spark a mass walkout through the time-tested organizing tool of a group text.
Eric Minor, a delegate from Washington, which was rumored to be considering a walkout too, told reporters that all the Trump opponents wanted was a vote.
"If the roll call failed, we were prepared to be done at that point. I would have thought that was the final nail and we couldn't go any further. But they didn't even allow the vote," he said. "We saw a miscarriage of justice. We saw a party that doesn't want to seem to operate in a democratic fashion and actually allow votes to be counted."
Meanwhile, Trump indicated he was watching the proceedings. The presumptive nominee was not displeased with the mess on the floor, however, but with CNN, his favorite punching bag.
Humphrey had said the roll-call vote would have given him and like-minded Republicans one last chance to empower their fellow delegates to get rid of Trump.
"It gives us time to make the case to delegates in recess, one on one and through the news media, that they're getting screwed, frankly," Humphrey said. "They're getting shorn of their manhood and their womanhood. Their right to make their own judgments on any questions are being taking away, and that's an outrage."
But given the Dump Trumpers' failure in last week's Convention Rules Committee, a full roll-call vote was all along almost certain to fail.
Free the Delegates leader Kendal Unruh originally hoped to win over the majority of that 112-delegate group to pass a rule allowing the delegates to ignore how their states voted and vote according to their consciences. But with both the Trump campaign and the Republican National Committee strongly opposing them, Unruh couldn't even manage the 28 votes she needed for a "minority report" that at least would have forced a floor vote.
Humphrey's request for a roll-call vote, though, had a slim-to-none chance of passage. He and the other Trump opponents would need a majority of the delegates ― 1,237 ― to agree to reject the rules. Had the anti-Trumpers had that level of support, they would almost certainly have won in the Convention Rules Committee.
Still, Humphrey argued that with a little more time and explaining to delegates how they are getting steam-rolled, he had a shot.
"I think we would get a majority vote if delegates knew that, but it has not been explained to them," Humphrey said.
Trump is scheduled to be formally nominated as the Republican candidate for president on Tuesday, and is to deliver his acceptance speech on Thursday.
This post has been updated with the outcome of the attempt at a roll-call vote and more details from the floor. Igor Bobic and Elise Foley contributed reporting.
Popular in the Community