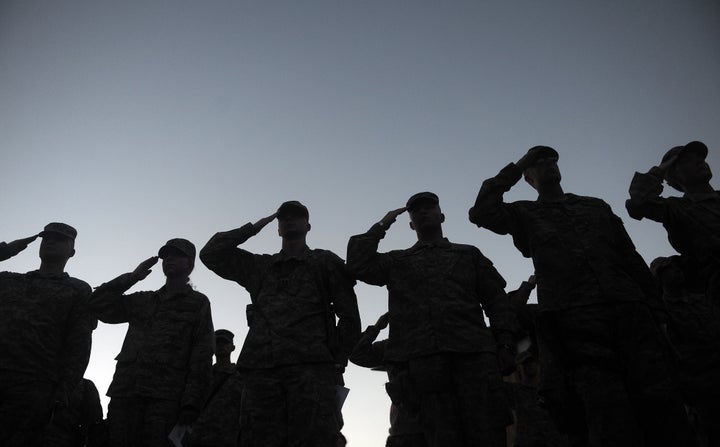 Leave No Veteran Behind (LNVB) takes the military creed of never leaving a comrade behind to heart, and not just on the battlefield. They offer retroactive scholarships to veterans who aren't covered under other military educational programs.
"We should not allow individuals to slip through the cracks, especially if they are bettering themselves as citizens and soldiers by attaining higher education so that they may bring their expertise to the military and civilian workplace," states the nonprofit's website.
LNVB cofounders Roy Brown Sartin and Eli Williamson were both attending Luther College in Iowa when their reserve unit was activated to go to Iraq. After struggling with student loans during their time overseas, and talking to other vets facing similar issues, they realized there really wasn't anywhere to turn for help.
"We said, 'we have to do something,' so we started to look for nonprofits and organizations -- and there were none. So we said, 'we're it,'" explains Sartin.
LNVB has grown tremendously since its inception, and has big plans for the future. After reporting less than $25,000 in total revenue in 2009, LNVB raised just under a quarter of a million dollars for the fiscal year of 2010, 65 percent of which went directly to veteran support. They hope to increase that percentage to 75 or 80 for the 2011 fiscal year.
To date, LVNB has paid the loans of five veterans, with aid for two more veterans in the works. Walmart recently gave a $15,000 grant to LNVB, which will go toward erasing student loan debt for two vets.
One is Sgt. Daniel Casara. Casara who was injured in Baghdad when the tank he was in rode over an anti-tank mine. Two of his soldiers were killed, and four injured, including Casara, who has since undergone 24 surgeries to repair the damage done, primarily to his legs.
Casara recently appeared on Windy City Live, where he learned that Walmart and LNVB would relieve his student loans, which totaled just under $6,000.
"I found that out on the actual show, so it was one of those things that I was very excited about, Casara told HuffPost. "I guess excited is probably the best word, because I realized at that exact moment that a financial weight was lifted off my shoulders."
Casara said that he had previously had to forego his education because he owed so much money to the school. Now, with his previous loan paid by LNVB and the GI bill able to cover his future education, Casara is considering re-entering academia.
"Now that that opportunity has presented itself, been put out there for me, I feel that the world is at my fingertips, and whatever I decide to do I will take full advantage of because I have the opportunity," he said.
In addition to helping vets pay off their loans, LVNB provides veterans with a way to continue to serve their community. In exchange for the donated dollars, any veteran helped by LNVB is required to perform 100 hours of community service, using the knowledge, experience and skills they gain in higher education to give even more back to their community and the country.
"One of the trademark identifying features of a veteran is they have this sense of a willingness to serve," explains Alvyn Walker, LNVB's workforce development program coordinator. "This is an opportunity they can continue to do this in, and also reconnect with the community after returning from the military arena."
Sartin says this connection to the community is vital for returning veterans.
"What we realized in helping veterans with student loans is veterans need something to help them engage back into their communities. Just imagine that you're 18 or 19, you've graduated college, seen the world, you come back at age 26, 24, even 22. You're a different person. The world is a different place. Part of the issue is, you come back to your community, and your community doesn't know you; you don't know it."
LNVB also addresses this issue with "safe passage," a program in conjunction with Chicago public schools. Veterans keep an eye on the community, patrolling and diffusing any tense situations that might lead to violence, to ensure that students make it home from school safely. To be hired for the program, veterans submit a resume, go through background checks and participate in a three-day training scenario that allows them to apply for their 20 hour unarmed security license -- all things that can help them prepare to enter the civilian workforce.
Walker explains that the program is mutually beneficial for veterans and the community; veterans can use their valuable skills and training to benefit the public while also gaining work experience. It also makes them more approachable in the eyes of the community.
"[The community is] able to see that there's another side to a soldier. They're able to see more of a human side of them. All you see is military people being portrayed in the wartime environment that they're engaged in. But as a derivative of them being in a military position, they can bring back those skills to the community."
LNVB also helps veterans find employment, by getting to know the vets' skills and temperaments and matching them with job opportunities. The organization members recently met with the U.S. Department of Labor and various government-contracted employers, and hope to secure more opportunities to partner with employers in the future.
While the sheer amount of veterans needing help can be overwhelming -- LNVB currently has 132 "in need" veterans and over 300 vets going through the enrollment process -- the founders remain upbeat.
"I think it's just knowing you're doing something, you're actually taking action," Sartin explained. "We get calls from vets that say, even if you don't pay my loans off, it's the fact that you're fighting for me, getting this issue out there… It's just the overwhelming support that we get from vets."
Related
Popular in the Community