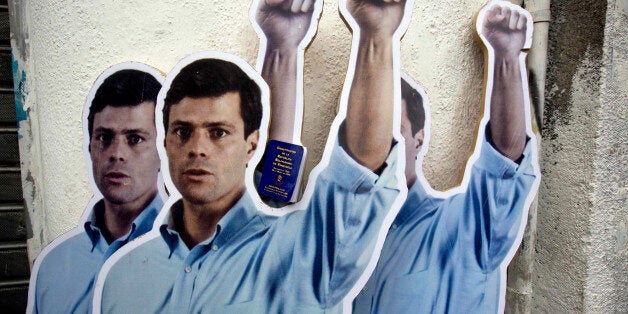 LA PAZ - Venezuela is a magical country.
It gave birth to the greatest South American ever, the liberator of five nations, Simón Bolívar.
It is endowed with one of the largest oil reserves, some of the most productive land and many of the most talented people in the planet.
It is known to many around the world for its beauty queens, outstanding baseball players and amazing musicians.
It is less well known for having harbored many South Americans in the turbulent political decades of the 1970s and '80s, when it became the democratic haven for many exiles in the region. Venezuelan Presidents were then civilians wearing suit and tie, surrounded by regional military strongmen. History would take a strange turn.
In 1992, a red-beret clad young colonel, named Hugo Chávez, led a failed military uprising in Caracas, was jailed and then released. He channeled long held popular grievances to win the presidency seven years after his failed coup attempt. His enormous political talent and scintillating communication skills, fueled by ever increasing oil prices, made him the dominant Latin American politician during his 14-year tenure.
Chávez ruled unchecked domestically and, capitalizing on the retroactive purchase of the symbolism of the Cuban revolution while using its effective intelligence systems, he proceeded to export authoritarian populism throughout the region. The man, the time and circumstances met and forged the most negatively influential Latin American regime of the 21st century.
Alas, he passed away over two years ago. His replacement proved to be no political match. Chávez could explain and make a crowd applaud, he could touch hearts and make people cry, tell jokes and make an audience laugh. His successor, Maduro, makes people laugh when he explains, cry when they try to buy groceries and will only draw applause when he is gone.
Venezuela's mismanaged oil production is diminishing, the price is crashing, and the dollar gusher that fed the regime's thirst for power is dwindling. The charisma is gone, and the money is drying up. Elvis has left the building, the oil trust fund is broke, and the misguided public policies of the regime are coming home to roost.
Fifteen years of expropriations, confiscations and rule of the jungle, in lieu of rule of law, have demolished all industries but oil that today is its sole export. Since nothing else is produced, everything people need must be imported. Declining hydrocarbon revenues bring fewer dollars every day, curbing the country's import capacity. Venezuela's access to debt markets is meager, and only China lends Venezuela foreign currency with oil as collateral, so ironically the Asian powerhouse may soon own the "nationalistic" borrower's bountiful reserves. Dollars are in short supply yet sorely needed. Venezuela is in a big hole.
Maduro has found himself in that hole, and he keeps digging.
Maduro's one big shovel is the wackiest multi-tiered exchange rate system in place anywhere. Since dollars are scarce, the Venezuelan Central Bank only provides them to friends of the regime, at 2 to 3 cents on the dollar for "essential" imports. Others can buy a dollar for less than 50 cents with the right business connections. What do regime higher-ups, and their friends, do when given access to the best hedge fund in the world? Pocket the dollars, take them overseas and neglect its people's needs.
The regime's other shovel is the massive printing of local currency to pay for its large expenditures and vast bureaucracy. The result: empty shelves in markets, endless queues in front of them, inflation that devours people's pockets and rampant criminality. There is no food for the hungry, no medicine for the sick, no security in the streets and no way to plug the wallet holes that make local currency worthless every day. An economic and social tragedy grip a country that still has everything to be prosperous.
Predictably, massive popular protests started early in 2014. How did the regime respond? Violently repressing these pacific demonstrations, criminalizing opposition leaders with a pliant judiciary as a modern guillotine and muzzling the last remnants of the local free press. Many protesters were killed, over 20 journalists cannot leave the country as they are "guilty without trial" of reprinting an international news story, and dozens of opposition leaders are in jail.
Today, the mayor of Caracas is under house arrest, many more are still in prison, and two of its courageous stalwarts -- Leopoldo Lopez and Daniel Ceballos -- have been locked up for 15 months and started a hunger strike several days ago. Their demands are simple and democratic: for the regime to set a date for the scheduled 2015 congressional elections, with international observation, with respect for freedom of the press and assuring the release of political prisoners. Simple, but not in Venezuela.
They are prisoners of the Venezuelan regime and its most powerful figure, not the hapless Maduro but the military strongman that runs the Congress, the Central Bank dollar hedge fund and, according to censored international news reports, the lucrative transit business of re-exporting Colombian sourced cocaine. His last name is Cabello (which means hair). The regime had the preposterous idea of shaving Ceballo's (the political prisoner) head bald in jail. Nothing has done more for hairdressers in politics, as many democrats in Venezuela now have short or bald haircuts and a cause: "dump the hair (cabello) to regain freedom."
News accounts indicate that this treacherous strongman and his cronies are under international criminal investigation, just like the FIFA soccer hierarchy. Many of these government officials are probably spending many a sleepless night reading about FIFA executives being prosecuted and jailed, when it seemed they had unaccountable power forever. Nothing is forever, and now there is no place to hide. There is one small difference: FIFA honchos are charged only with corruption, Venezuelan bigwigs are being investigated for that and much more.
Critical days are looming. The Venezuelan President will visit the most influential leader in the world on June 7th: Pope Francis. On June 10-11th, Maduro is due to attend a Latin American summit with European presidents and prime ministers. Opposition leaders in Venezuela will by then be nearing the biological limits of their hunger strike. Something has got to change.
In all likelihood, Venezuela will produce another mythical figure: Leopoldo Lopez, the movie star-handsome, Harvard-educated son of privilege, who chose to dedicate his life to public service in his home country. He clearly had passion to serve and steel in his spine, so his potentially comfortable life turned out to be rather different than expected. History beckoned.
This unexpected freedom icon was targeted by the regime a long time ago. When he was just a promising young mayor, Leopoldo faced trumped up charges and was subsequently barred from running for public office for several years. This most unlikely of democratic symbols became such a threat that on February 2014, the desperate regime, under siege with massive street protests, extended to his family an offer that could not be refused: leave the country or be jailed, join a long list of exiles that are soon forgotten or pay the consequences.
Cruelly logical except it did not work: Leopoldo turned himself in to his persecutors in broad daylight on February 18th last year. He has been locked up in a military garrison ever since. He is now in a hunger strike that, when Maduro visits the Pope, will be two weeks old.
Before bets are placed on who will prevail -- the authoritarian long-lasting regime or the courageous democrat, two more facts should be known.
First, Leopoldo's mother is Antonieta, a direct descendant of the legendary South American Liberator whose name was given to Bolivia. Freedom blood runs through this mother's veins, and she has bequeathed it to her children, including the one now locked up in the Ramo Verde military fort.
Second, Leopoldo's wife Lilian has been traveling everywhere advocating for her husband's release, while raising five-year-old Manuela and two-year-old little Leopoldo. Amazingly, in the midst of all the turmoil that her life has become, she recently managed to complete a marathon in Caracas, in sweltering heat and without adequate training. Lilian's race shirt simply read: "Free Leopoldo."
She finished the grueling marathon in about four hours and 16 minutes. At the time, she could not have imagined that just four weeks later, her husband would start a hunger strike. Yet her legs and pace somehow had to know. Corinthians 4:16 and 4:17 in the Bible read as follows: "Therefore we do not lose heart. Though outwardly we are wasting away, yet inwardly we are being renewed day by day. For our light and momentary troubles are achieving for us an eternal glory that far outweighs them all."
In the 1800's, a man from Venezuela got on his horse, rode down the Andean mountains and freed a continent. His name was Simón Bolívar.
Two centuries later, another man from Venezuela is being beamed up into the sky and down to cellphones and computers through news links, Facebook, Twitter and YouTube.
These two men share the same blood and passion. It is now clear that the true mantle of the Liberator never belonged to the regime that governs Venezuela and that tried to dominate other countries in the region, or that aided -- in an ironic role reversal -- Spanish politicians in the PODEMOS party. No, his true historical legacy lives in the descendant that stands and fights for the freedom that Bolívar will forever represent.
In Venezuela, once again, a man and his circumstances are about to change the tide of history.
In Venezuela, once again, there is a legend in the making. His name is Leopoldo Lopez and his cause will prevail.
PHOTO GALLERY
Tensions Rise In Venezuela
Calling all HuffPost superfans!
Sign up for membership to become a founding member and help shape HuffPost's next chapter