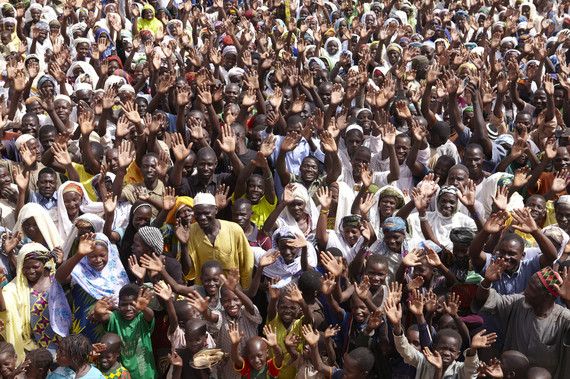 And so the year begins to close with much to reflect upon. Did we expect all these "crises" we're now facing -- and if not, why? What caused them? How do we engage with them now?
Personally, I was surprised at the collective shock at the year's big moments -- Brexit, for example, or the U.S. presidential election. We view these events through a Northern prism.
Globally, these moments I feel were just the latest in a series of events stemming from a thirty-year economic orthodoxy.
In fact, many of us from the South still in the struggle for democracy and human rights have long wondered why so many in the North took so long to see the political capture in their own systems that pushed back ordinary people -- until now.
We must link together, globalize even, our world's similar struggles -- those within rich countries, and those between the rich North and developing South.
Pointing to Oxfam's statistic, President Obama was right to say that "A world in which 1% of humanity controls as much wealth as the other 99% will never be stable." This is a world in which big business and wealthy elites are now very openly writing political rules to their favour: be it lowering their own taxes, or forcing austerity, whilst expecting bailouts as we saw in the wake of the 2008 global financial crisis. Some of Oxfam's most recent research shows how the most powerful US companies collectively received $130 in tax breaks for every $1 spent on lobbying.
I find the late U.S. Supreme Court Justice Louis Brandeis' words here to be prophetic: "We may have democracy, or we may have wealth concentrated in the hands of the few, but we cannot have both."
Faced with this, governments face a choice: either reduce inequality, or reduce democracy. Around the world they are repeatedly opting for the latter. The International Trade Union Confederation, for example, finds a 22% increase in restrictions on the rights of voice and assembly in its latest survey of 141 countries -- that is developed and developing nations.
Within this increasingly fraught, political and contested space, the power of people is being decimated. Citizens must dig deep to amplify their voices together. I fiercely believe that current events only heighten the importance of civic space, for citizens to be able to advocate and influence.
Amidst these rising anxieties, we would be wise to learn from the triumphs by citizens around the world. These victories are happening and often do not make headlines. Take the 'Civil Society Platform on the IMF Bailout' in Ghana, of which Oxfam was a part. We won the arguments to ensure the IMF's bailout did not cut but instead increased social spending - by 30%!
The Open Government Partnership (OGP) finds its unique calling in such times. In the five years since its inception, OGP has engineered ambitious and innovative ways to make governments more open, accountable and responsive to citizens. 70 countries - and counting - are signed up to OGP commitments which they can be held account to. It is a riposte to the spiralling distrust in institutions.

This week's Paris OGP summit for governments and civil society leaders, billed as a "COP for democracies", is the perfect stimulus for genuine discussion - one that must not tinker at the margins but honestly seek to address the causes of inequality. Its legacy must prosper well after Paris.
Fundamental is the need for governments to protect the space for citizens to claim their rights, organize and express themselves. The people standing up most strongly for our democracies should be celebrated not prosecuted -- be it those countless human rights defenders who defend all our rights, or the brave whistle-blowers who expose tax dodging.
Vested interests thrive in the shadows. Citizens need to know how their countries are being run so that they can hold governments and big business to account. The government of Kenya, like Tanzania, recently passed its Access to Information Bill. This marks progress; it is a commitment from Kenya's OGP 'National Action Plan' fulfilled.
Yet it is ever more apparent to me that by themselves, civic space and transparency are not enough.
They do not fight inequality; people do. And so the process of public policy itself requires recalibrating -- putting people at their centre -- to deliver better policies, continually improve services, and build trust.
Governments, steered by their commitment to OGP, must reimagine the way in which they foster citizen participation in decision-making. It is essential that they engage more meaningfully with the voices of marginalized and least represented people, for example women who are unable to participate in policy consultations because they do most of the unpaid care work.
OGP has proven that better engagement pays off: the more civil society is involved, the likelier that policy commitments will be ambitious and delivered. In Costa Rica, civil society leveraged OGP to secure government commitments on institutionalizing consultations for any activity affecting indigenous populations. Today, 20 government agencies are engaged in this same mechanism.
I am particularly eager for governments to also lock-in policies that respond to the real needs of citizens. Some examples of "feedback loops" exist already: a citizen complaints portal in Bojonegoro in Indonesia -- an OGP pioneer at subnational-level -- that insists governments must respond to citizens within five days, to "Check My School" in the Philippines where parents provide real-time feedback on whether teachers and textbooks show up. "Check My Services" in Mongolia sees citizens score over 84 public services -- that affect over 45,000 citizens- from universities and hospitals to street-lights and waste disposal. These exciting initiatives shift power to people.
Change is necessarily complex and, even at best, drawn out.
But in many ways, inch by inch, policy by policy, the work of OGP -- and the movement for open, responsive, accountable governments - distils democracies to what they should be.
Let us continue to rewrite the rules so they work for all of us, not an elite few.
This post is part of a series produced by The Huffington Post and the Open Government Partnership, on the occasion of the 2016 OGP Global Summit in Paris . The Open Government Partnership is an international coalition of over 70 governments and thousands of civil society organizations working on open government initiatives. This series aims to highlight some key issues. For more information about OGP, visit http://www.opengovpartnership.org, #OGP16

Follow Winnie Byanyima at: LinkedIn, Twitter

Photo: Citizens of Kalambaogo, a town north of Burkina Faso's capital of Ouagadougou. Credit: Andy Hall / Oxfam
Popular in the Community