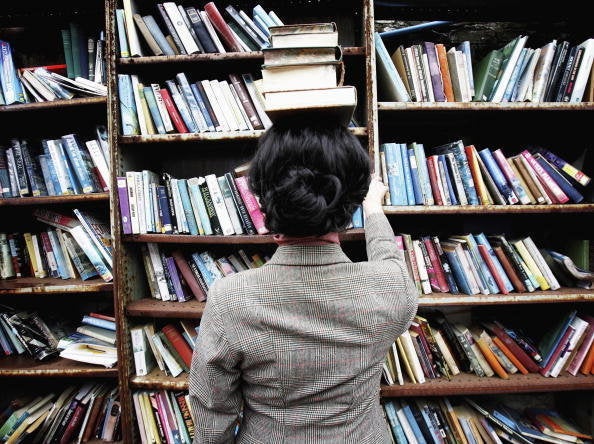 Tracey Weiss Suits, a 25-year teacher who worked for the last six years as a media specialist in a Land O' Lakes, Fla., school, had a feeling her job was going to end. She just didn't know when.
Over time this spring, it became clear at Pasco County budget meetings that a slew of education programs and positions could be scrapped.
"I had a sense that media specialists weren't one of the priorities, but I hoped they were cutting other programs," she recalled.
One day earlier this month, Weiss Suits' principal called her into a meeting, and she had her answer. The first thing she noticed was, she said, "the obligatory Kleenex box." Her principal told her she did an excellent job, but that her position -- a media specialist who helped implement the school's technology from the library -- was being eliminated.
"I'm still in an anger phase right now," she told The Huffington Post a few hours afterwards.
Two weeks later, the district placed her in a language-arts teaching position in a different middle school. But she'll miss her old gig. "Library jobs are harder and harder to get," she said.
Weiss Suits' story is just one of many. As school districts work to accommodate budget shortfalls, teachers aren't the only education professionals to be let go or reshuffled. Librarians, said Nancy Everhart, president of the American Association of School Librarians, along with arts teachers and music program directors, are more vulnerable.
"Anything that is not a classroom where you have 30 kids in front of you for six, seven hours a day is probably a soft target in today's economic times," she told HuffPost.
And as advances in technology and the wealth of information available online can appear to make rooms filled with books obsolete, librarians find themselves on the chopping block more and more often.
"People are doing their own research, you know, on Google," Weiss Suits said.
The vulnerability of librarians and other school support staff also comes as states pass laws revising the rules that govern the hiring and firing of education professionals. Where the job security of teachers has depended on seniority until now, a new focus on teacher accountability ties their evaluations to test scores.
But unlike, say, in math class, students are not routinely tested for their library skills. According to Everhart, the formal standard measurement of librarians has yet to be determined as it applies to new legislation.
"There's going to have to be some sort of parallel type of evaluation for school librarians that we can do that," she said.
This year, Everhart said, she's worried about potential librarian layoffs in Arizona, Colorado, Philadelphia and Oregon. In these districts, librarians are either laid off or reassigned to different roles -- either way, districts lose out.
In some cases, though, librarian cuts were only a threat until states revised their budget forecasts or unions negotiated to retain their jobs.
Los Angeles is one of those places, where the issue became pitched after the district pink-slipped 85 librarians in March.
But California's education code requires hearings in order to determine the most vulnerable employees. In these hearings, librarians must prove their competence in the classroom, showing that they have taught within the last five years, to be brought back in a teaching position.
"I was on the stand for two hours with a lunch break in between," Nora Murphy, a school librarian in Los Angeles, told HuffPost. "It was grueling."
Murphy wrote a much-circulated op-ed in the Los Angeles Times about the value of librarians, which she thought influenced her hearing. "They trotted out every blog post I wrote on my personal blog since 2007 and tried to find statements that impeached my testimony that I'm a qualified teacher," she said.
On Friday, the Los Angeles union reached a tentative deal with the district that reverses some teacher layoffs, including the librarians, in exchange for a few unpaid days off.
"Eighty-five teacher librarians received reduction-in-force notices by March 15, to take effect on June 30," Gayle Pollard-Terry, a spokesperson for the Los Angeles Unified School District, said in an email. "However, the tentative agreement reached Friday with UTLA is expected to restore those positions." The school board will vote on the measure at a special June 7 meeting.
Still, Murphy remains uncertain about her future. "Just because my job is technically saved doesn't mean there are going to be positions for us in the schools," she said. "There may be librarians that are allowed to work, but only a few schools that have that position. There's been no ruling as to whether we'll be allowed to return to the classrooms."
In the Charlotte-Mecklenburg school district, 739 layoffs to teachers will leave 20 school campuses without trained librarians or media specialists, according to the Charlotte Observer.
Budget cuts forced principals to choose between cutting facilitators, guidance counselors or media specialists, with a cut of 164 positions overall to save $11 million. The district is laying off 21 teachers who haven't reached tenure, reassigning 31 other media specialists to different schools or positions and telling 11 tenured media specialists that no jobs are currently available for them. They will have to wait until jobs open up to be reassigned.
"That's how severe these cuts are," Charlotte-Mecklenburg Superintendent Peter Gorman told the Observer. "When we say, 'Don't cut a classroom teacher,' that's what you end up with. You cut media specialists or other things."
Bringing them back is based on a tier system which, CMS spokeswoman Kasia Thompson told HuffPost, determines the first of cuts to be abandoned based on the money schools receive from the county and the state. The most recent budget draft put the school assistant cuts as the first that would be revoked at the sign of more money.
Janesville, Wis., a 10,000-student school district, laid off 19 librarians with the intent to bring ten or 15 back in retooled positions such as "innovation specialists," according to the Janesville Gazette.
The Wichita, Kan., school district, with about 50,000 students, will replace librarians in high schools with non-certified aides to save $410,000. The local teachers union opposed the measure, saying it would affect all students.
The librarians, said United Teachers of Wichita president Larry Landwehr, have been transferred to different teaching jobs. That's why they didn't have to be negotiated; the school board voted on the switch without union approval, since no librarians were left jobless.
"They play a very important role for the students," Landwehr said. "They're professionals who know how to do the research, and they get to make connections with all of the students in the building instead of those assigned to them in the classroom."
Related
Popular in the Community