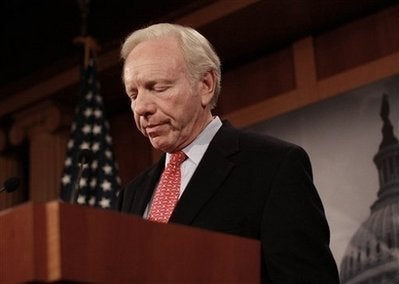 Washington, D.C. -- Senate Majority Leader Harry Reid announced today that Joseph Lieberman will retain his chairmanship of the Senate Select Committee for Self-Serving Gasbags Spouting Sanctimonious Horseshit in That Slimy, More-Sorrow-Than-Anger, Put-Upon Tone.
Lieberman, who begged now President-Elect Obama to campaign for him when his Senate seat was in jeopardy and repaid him by praising Sarah Palin and questioning Obama's patriotism, seemed genuinely hurt that his colleagues would ever expect him to behave with even a marginal sense of decency or shame. "It's sad," droned Lieberman, "that my statements and actions over the past year in total support of the Republican party would somehow be treated as reasons for Democrats to hold me accountable."
Lieberman, who has been romantically linked to Pastor John Hagee, said he intends to remain focused on "what I believe will benefit Americans and America." An aide later clarified that where Lieberman referred to "Americans" and "America" he meant to say "myself" and "Likud."
REAL LIFE. REAL NEWS. REAL VOICES.
Help us tell more of the stories that matter from voices that too often remain unheard.