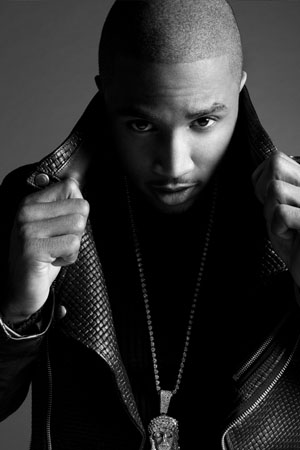 Photo Credit: Jimmy Fontaine
To say that anyone out there, whether they are the professionals who judge talent every day or just us everyday music listeners, can quantify talent is a very difficult thing.
There are a lot of artists out there who'll never have a large number of eyes and ears on their talents, but it isn't to say that they are not talented -- it could be a variety of things, maybe deep down under they don't have that desire or belief that's necessary to make it happen, or maybe it needs more patience and hard work.
A talented artist named Trey Songz wants you to believe that it's possible. Why? He himself serves as an example.
Born Tremaine Aldon Neverson, Trey has become an entertainment sensation over the last decade and is always drilling into his audiences that dreams can be made a reality with enough hard work, faith and belief.
As a result of that faith and hard work, Trey is being honored by The Recording Academy on June 25, 2013 for his contribution to music thus far. Among the other honorees are the late Nick Ashford, Valerie Simpson, Melissa Etheridge, and others.
Trey is the youngest of the honorees for the evening and the only one not to have won a GRAMMY as of yet, though he has been nominated.
In a good conversation with Trey, he reflects on the past, discusses the present, and looks forward to the future. He also discusses his love life, his personal and professional life, living in the limelight while maintaining a cool head in the face of adversity, and what music legend he is hoping to portray on the big screen.
Wow, congratulations on such an honor, Trey. How does it feel?
Thank you, Bryan. Receiving this honor is unbelievable. I'm the youngest person to be recognized in this capacity so I feel truly blessed to be appreciated by the organization that stands at the pinnacle of the music industry. I aim to be humble and let my music speak for itself and I'm happy they could see that.
Musically, who would you say are your inspirations? Out of those inspirations, who was that one that you admired so much that it made you say 'I have to try this out myself and in my own way?'
Sam Cooke, of course; as far as a singer in the modern day goes, I would have to say R. Kelly because he was always easy to relate to in every genre of music he did. He is the one singer that every rapper wanted on their song, he's cool for men and women to listen to, and he is very soulful in that he pulled from so many places like Charlie Wilson, Ron Isley, Sam Cooke -- you could hear it all in his voice.
You are one of the few artists today that is unique in the sense that you straddle the line between the old school and what's expected from music today as far as audiences are concerned.
That's a very big compliment, thank you. I appreciate that very much, wow.
There's a big difference between someone who is just a sensation of today, versus someone who has lasting power. It's always fascinating to listen to an artist starting out young, in our age group, and then listen to them as they get older and progress in life -- as they progress in life experience, the music is reflective of that experience with respect to emotion. Would you say your life experiences have altered your perception and your approach to how you perform songs from the past and in creating new songs?
The mind goes so many places and the beautiful thing about music is that artistry allows us to say all of those things no matter how different they may be. That's what I love about music today. Today's music is created in a way to where you don't expect any artist out there to be just any one thing. Barriers have been broken, rappers are singing and singers are rapping. You might catch a rapper on a rock song, a pop artist on a hip-hop song -- there are so many different things that are going on today. That is the same way in which we live our lives; we're all over the place. I like to try different things.
This could be overly analytical -- and believe me I'm known for being overly analytical. I've noticed in your songs that no matter what the particular theme of the song is, you seem to be able to hit upon several different kinds of emotional levels, moods, and mentalities. You're able to accomplish this through the inflection of your voice.
When I was listening to those artists that I was inspired by, Sam Cooke being one of them, you could hear the pain in their voices not just from the lyrics but also by the inflection of their vocals. I listened to these guys because you could feel whatever it was they were trying to communicate whether it was sadness, happiness, or joy -- it would all be in the vocals.
In your music, I hear a few central themes that are recurring. Passion, love, pain, inspiration, and sometimes it's just fun -- in all of it, there is a message of some kind that you are trying to communicate and maybe it's from a story that you or someone you know has experienced. When you sit down to create a song, how do you hope your audience will receive your message in that song?
What I love about making music is that there is somebody out there somewhere that can relate to whatever it is I'm saying. What I love about my fans and the experience that we have together is that they share some of their greatest moments with me and with my music. Whether it's painful or memorable, I feel that is the reason why I have a fan base unlike any other because they are touched by the songs. They remember where they were and what they were doing when they heard this song -- they get dressed to my music, they take their kids to school to my music. In any and all situations, whatever song I'm creating has to be relatable. The amazing thing is that the fans are still able to relate to me and to my music even though my lifestyle might not be relatable to a person who is not yet or not currently in the spotlight. They're not living their lives on the road; they get to be in the same city from one day to the next and they get to see their families. My life has shifted to different levels financially, in terms of fame as a result of being blessed enough to be able to share my music with the world, and what that has done for me. Despite all of that, I always want people to listen to my music and be able to relate to it as well as to me.
That's interesting that you brought fame, I read somewhere once that you used to be shy. I can't even imagine that in my mind, you having been really shy? Is that true?
That's actually really funny that you say that you can't imagine that, Bryan. That is one of the things that's always been written about me, and it's totally not true. It's kind of misinterpreted. When asked why I decided to pursue music, I've always answered that because I'm from a really small town I've always thought I didn't have the opportunity to do so. No one had ever made it out of there and the largest employer where I'm from is Wal-Mart. To have dreams like that seemed very outlandish. Then I thought to myself one day that if that is outlandish, then let it be because I'm going to make it happen. That's why the message that I give, no matter where I am in my life or what stage I perform on, I try to let people know that your dreams can very much become a reality in whatever it is you're trying to pursue. You have to want it to be a reality bad enough.
Going from being known in a small town, to being known all over the world; where ever you go people will know you. Going from being able to have secrets to having literally no private life whatsoever, what is that like?
The thing that is cool about my come up is that I dealt with fame and having money gradually. It didn't happen overnight. It was something that took a while to happen. It was something that humbled me and made me very appreciative of my blessings more than I would have been if it had happened faster and easier. Even still, it's definitely a transition being prepared to give all of yourself to the world versus having to look out for yourself. What's interesting is that we all want recognition for the things that we do, but we all want time for ourselves. You just have to find that balance within yourself.
Speaking on all things private, this question comes from one of my good friends/readers who "thinks that you are God's gift to every living woman." Over the last few months, there have been a lot of rumors that you are no longer on the market. If there is any truth to that, what can you tell us about that while maintaining some level of privacy?
There's always a new story out there, isn't there? I have friends and I wouldn't mind having a woman in my life. It's very hard to find the right woman. The game plays tricks on the mind; you know what I'm saying? It gets difficult to see things clearly when it comes to where people are really coming from, what they want, what their expectations are, and trying to find someone real while I'm in a period of really trying to mold myself. I think the best relationships happen with people who have gotten to a certain point of success and have a deep understanding of who they are and what they want out of life. Right now, I'm still chasing every dollar that comes. I'm very much in work mode and that can be very difficult for someone to deal with. I dedicate so much of myself to my work that I even take a back seat to that sometimes. My mother says that Tremaine takes a back seat to Trey Songz.
With a story always out there about who you're with, what you're doing, people wanting to know these insanely private things about you or taking the smallest things and blowing them out of proportion. Everyone wants to use a famous name to make noise and make a platform for themselves. What is your reaction to that as well as the press and the bloggers out there who practice these behaviors?
The craziest thing about the entertainment industry is that we love to lift people up, but then we also can't wait to bring them down. It's just such a fast food kind of industry, you're done with someone so quick and you're using someone to get another place. It's just the way of the world; it's crazy that it has to be that way. The only thing that I can do is not give the negativity any life. I don't give it any air to breathe. It's scary to see how attention driven the world has become. I understand that it's been that way, but now there are these individual platforms where people speak out things that they're not even paying attention to.
You hit upon another interesting point about giving the negativity the ability to breathe. There are those that not only create the negativity, but there are others who perpetuate it through their actions -- recently some of your peers in the music industry are prime examples. What's your take on that?
I always say to each his own in every situation. When it comes to me, there are just certain things that I don't want to associate myself with. I think that as a man it's not right for me to use someone else's situation as a platform to better myself. I try not to speak negatively on my Twitter or anything. It's harder than ever to be an individual because people are fighting harder than ever for that notoriety. I have family members that look at me and I have a responsibility to them and for them to see that I'm not all about the BS is very important to me.
This year audiences got to see you branch out into film. How was that? Can we expect to see you in anything else? Is there anything you're hoping to be a part of?
I was in Texas Chainsaw 3D, that had a very large opening and was very successful. I'm told that was due to my being in it which is a great feeling. The opening was more than double the expectations. I actually just read for the part of Sam Cooke in a film about him, I think I did good and I pray to God I get it. This year I'll be appearing in a film called Baggage Claim, so everything's cool. I'm looking forward to doing more movies. It's a lot of fun.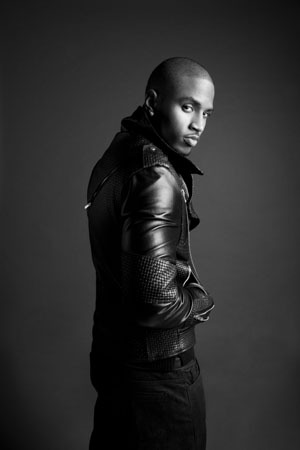 Photo Credit: Jimmy Fontaine
Calling all HuffPost superfans!
Sign up for membership to become a founding member and help shape HuffPost's next chapter