If you haven't heard, National Lobster Day is Sept. 25th. We've been celebrating with a #25DaysOfLobster countdown on our Instagram, featuring lust-inducing lobster porn every day leading up to the big 2-5 (making our account a must-follow).
Lobster's place in America has evolved throughout its existence, and along the way, we've put plenty of new spins on the dish. Below you'll find the EDL editor picks for the most unique ways the cultural icon is served across the country today. Just don't blame us when you get the urge to go on a lobster tour of the U.S....
Austin, TX
Shanghai sweet and chile fried lobster, Liberty Kitchen
507 Pressler St.
Recently opened Liberty Kitchen does creole seafood with a decadent richness. Get the Shanghai sweet and chile fried whole lobster with chile, garlic, lime and herbs. It's messy, but that's the point sometimes, isn't it?
Boston, MA
Lobster roe noodles, Island Creek Oyster Bar
500 Commonwealth Ave.
At Island Creek Oyster Bar, lobster roe is the base for one very popular dish, lobster roe noodles. The noodles are tossed with braised short rib, grilled lobster, oyster mushrooms and Pecorino. We know, we know, you were in as soon as we said short rib.
Chicago, IL
Indian Lobster Roll, Da Lobsta
River Market, 416 N. Clark St.
Sure, you can get a conventional lobster roll at Da Lobsta, but it's their global cuisine inspired rolls that really stand out. The Indian combines lobster meat with cilantro mayo, mango chutney and potato paneer salad for a very different take on the classic lobster roll.
Bones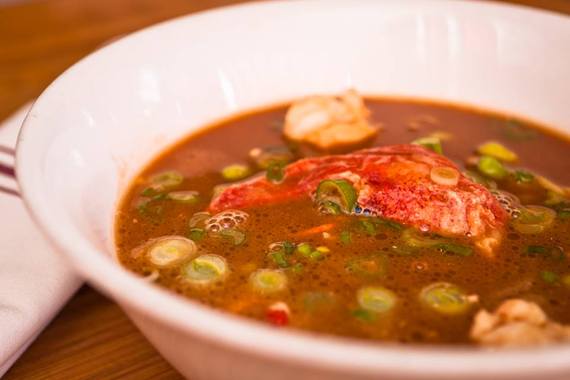 Denver, CO
Lobster Ramen, Bones
701 Grant St.
No one does lobster ramen like Bones. With large chunks of meat floating in a miso broth alongside edamame and scallion, it's perfect for slurping in crisp fall weather. It'll run you more than other noodles on the menu, but you're not going to find Instant Ramen in this flavor.
Hinoki & The Bird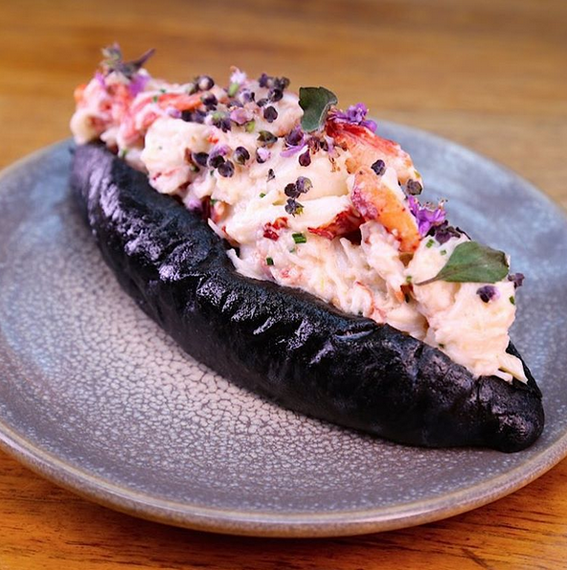 Los Angeles, CA
Signature roll, Hinoki & The Bird
10 W Century Dr.
The lobster meat in the signature roll at Hinoki & The Bird is tossed in green curry, topped with Thai basil, and served in a black bread bun made with Japanese charcoal, creating a smoky taste.
New York, NY
Lobster Catalan, Santina
820 Washington St.
While the lobster Catalan at Santina is "simply" a grilled half lobster, it's put back into the shell and topped with a sauce of sea urchin and lobster coral, making it anything but simple. Prepare your camera, its presentation is worth a #25DayOfLobster Insta.
Portland, ME
Lobster Dumplings, Empire Chinese Kitchen
575 Congress St.
There's lobster a-plenty in Portland, so it's a hotspot for untraditional lobster eats. They faced tough competition, but the lobster dumplings at Empire came out on top. Fresh lobster, bamboo shoots and coriander take dim sum to a whole new level. Also super great for late-night attempts at absorbing an overflow of beer in your stomach.
Fiola Mare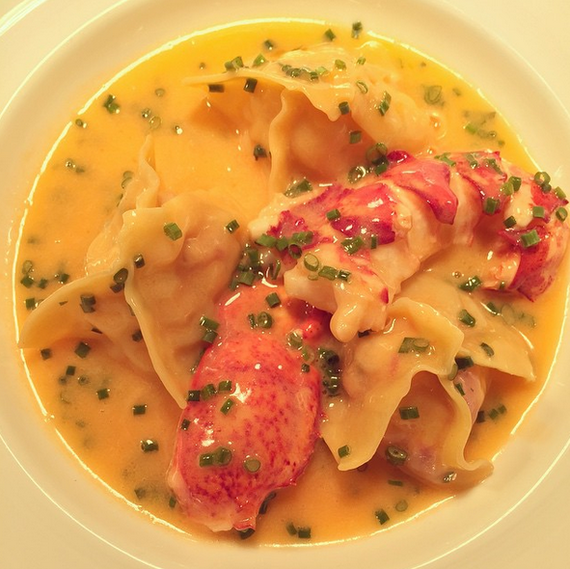 Washington, D.C.
Lobster Ravioli, Fiola Mare
3100 K St. NW
The lobster ravioli at Fiola Mare in DC is a standout dish for the sheer amount of lobster meat, lobster stock sauce, and simple ginger and chive flavors. It's regularly praised as one of the best dishes in the district.
Have other favorite lobster dishes? Share your photos with us on Instagram using the hashtag #25DaysOfLobster and don't forget to subscribe to Eat Drink Lucky in your city.