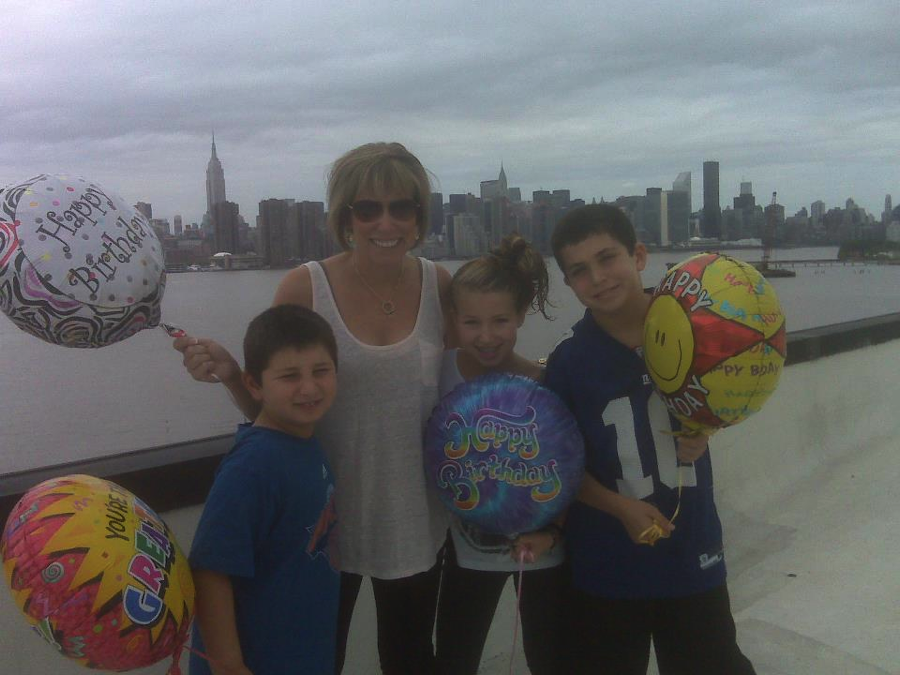 After my first blog, "The Talk: Telling Your Kids About Cancer," appeared on The Huffington Post, I've received many comments and emails asking how our kids are doing today -- three years after losing their dad to cancer.
Our kids, now ages 14, 12.5 and 9, are doing quite well -- better than I ever imagined possible actually. They were very close to their father. He was and continues to be one of the most important and influential people in their lives. Yet somehow they are thriving despite this huge loss. "How is this possible?"
Resilience: They (whoever "they" are) say kids are resilient, and our children have definitely shown remarkable resilience. I believe their resilience was made easier by the sheer fact that their day-to-day routines have remained consistent. We live in the same house as we always have. Their friends and their activities are the same as when Alan was here. I realize that every family facing loss is not able to maintain this level of consistency -- some have to move, change schools, etc., but any amount of consistency that you can provide will help foster their resilience.
An Incredible Support System: Regardless of what's going on in anyone's life, I've always believed the more people that children know who love them unconditionally and are there for them, the better off the children will be. This has never been truer than now. Grandparents, aunts, uncles, cousins and dear friends continue to be a vitally important part of our lives. The kids still feel like they have a family even though their dad is gone.
Trust: Our kids know they can trust me. They know that I say what I think and I mean what I say regardless of the issue. It's not always easy to be honest, and I've often been tempted to downplay the seriousness of different situations, including their dad's cancer. I'm glad I never gave in to that temptation. I have promised our children that I will always be honest with them. Life is filled with many uncertainties, but promising to be honest is one of the few things I can guarantee them.
Follow the Leader: I've been told that kids do only as well as their surviving parent. With that said, I force myself to get out of bed every day, I do my best to put a smile on my face, get moving and enjoy what each new day brings. For better or worse, the kids look to see how I handle things and then mimic me.
Keeping the Memories Alive: One of our sons mentioned he was fearful that one day he would no longer remember his dad. So now, we celebrate Alan every chance we get. Whenever we are enjoying any holiday or special occasion, we make a toast to Alan. We also celebrate his birthday every Sept. 22 by going to NYC (Alan's favorite place on the planet), spending time with our family (Alan's favorite thing to do), eating all of Alan's favorite foods (another activity he thoroughly enjoyed). Each year, we also send balloons with hand written notes attached up to heaven. This year we celebrated Alan's 50th birthday with a bang -- we went to his favorite steak house where I gave a speech in his honor entitled "50 Things About Daddy That You May or May Not Know." The kids LOVED it and it opened the door for each of us to talk about special memories we had with him. Our kids also know that before making any major decision, I take a few moments and ask myself, "What would Alan do?" It helps me make better decisions. I even have a bracelet that says WWAD on it. It's just another way we can keep our memories alive.
Creating a New Normal: By combining new rituals with a few cherished traditions, we have been able to find a balance and create a new normal. For instance, Alan and I loved to entertain and hosted many holiday dinners at our house. Although I no longer host as many holidays as I once did, I have kept up our tradition of hosting Rosh Hashanah (the Jewish New Year) and our same 30+ friends still join us to celebrate. On the other hand, I can no longer bear to be home for extended periods of time without Alan so instead of staying home over winter break, we now have begun a new ritual where we go skiing with my aunt and uncle. Alan was an avid skier, our kids love doing it as it reminds them of him, and we spend incredible quality time with our beloved family.
Regardless of all these things, I know that whenever there is an issue with one of our children, I will always wonder if it has something to do with the fact that they lost their father. Although I will never truly know if this is the reason behind certain circumstances, I've learned to realize that the answer doesn't really matter. The fact is Alan passed away. The fact is life isn't fair, life isn't always easy, and life certainly didn't turn out like any of us expected. But the fact is also that life is still good. Alan would want all of us to be happy, to laugh, to smile and to live life to the fullest. He was the most optimistic, glass-is-half-full person I've ever know. And Alan lived a full life in his short 47 years. He would want us to do the same... to live as full a life as possible knowing that he watching over us, smiling and watching his children thrive.
For more by Robyn Stoller, click here.
For more on emotional wellness, click here.