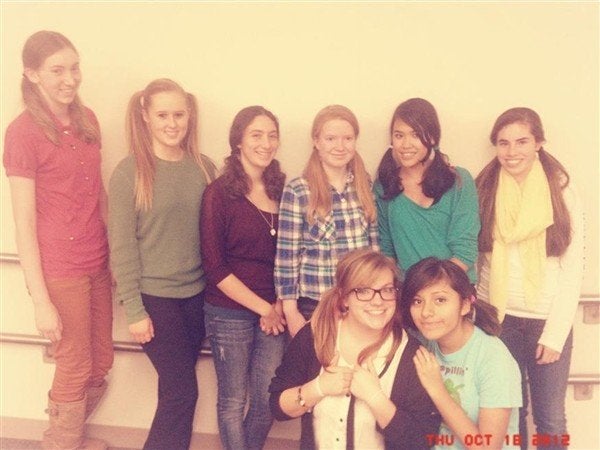 Fifteen-year-old Maisie Kate Miller has been picked on by bullies before, and she didn't let it get to her. But when a tormenter at school made fun of her hairdo, it was the last straw -- and Maisie wasn't going to stand for the insults anymore.
According to Today, the Massachusetts teen was mocked for her hairstyle by a girl bully, said to her: "Who wears pigtails still? What is this, kindergarten?" Maisie had been picked on for her clothes, boyfriend and body, but being mocked for her favorite hairstyle was a first.
"I turned around and she said, 'Keep walking!' I don't know, I was having a hard week anyway, and by the time I got to bio, I was crying," Maisie told the Washington Post.
Although she cried through her next class, Maisie didn't dwell in her anger for long. She decided to stand up to her bully by wearing pigtails to school all week and encouraging her friends to do the same. She created a Facebook page urging others to join her effort. Clearly, she had hit a nerve: Hundreds of classmates responded within hours and showed up to school the next day wearing pigtails.
On her Facebook page, Pigtails 4 Peace -- which currently has 1,500 likes -- Maisie writes: "We're forming this group to fight against bullies of every gender, race, domestic lifestyle, and social class."
And it seems that her efforts are paying off already: The bully has backed off Maisie and several other students, and offered words of remorese through a friend.
In Canada, another teen has taken a creative approach to tackling bullying. Ottawa teen Megan Landry's anti-bullying anthem "Stronger," based on her own experiences with a clique of mean girls, has gone viral on YouTube since she posted it last January.
"I just stare at [the bullies] like they stare at me," she told the Ottawa Citizen. "I look them straight in the eyes and let them know that, like, they can't do anything to me now. And they know it too, because they are the ones looking down now."
What do you think of Maisie and Megan's anti-bullying strategies? Would you wear pigtails to support a bullied classmate? Tell us in the comments below or tweet @HuffPostTeen!
Calling all HuffPost superfans!
Sign up for membership to become a founding member and help shape HuffPost's next chapter
BEFORE YOU GO
PHOTO GALLERY
Anti-Bullying Anthems