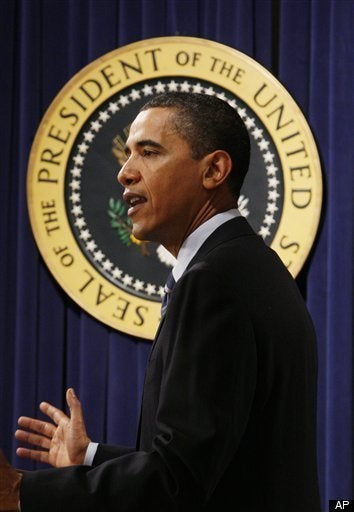 A man was spotted Monday afternoon carrying a semi-automatic assault rifle and a pistol at a pro-health care reform rally next to the Veterans of Foreign Wars convention in Arizona where President Obama was speaking.
A man, who decided not to give his name, was walking around the pro-health care reform rally at 3rd and Washington streets, with a pistol on his hip, and an AR-15 (a semi-automatic assault rifle) on a strap over his shoulder.

"Because I can do it," he said when asked why he was armed. "In Arizona, I still have some freedoms."

Two police officers were staying very close to the man.
CNN has video from the scene, and according to their reporter at the event, Ed Henry, there was another man, also carrying an assault rifle at the event.
This is the third report in a week of someone bringing a gun to an event where the President was speaking. Last Tuesday a man was arrested before Obama's New Hampshire health care town hall for carrying an unlicensed loaded gun. Also outside the New Hampshire town hall, a man was seen with a (legal) handgun strapped to his leg, holding a sign referencing the famous Jefferson quote: "The tree of liberty must be refreshed from time to time, with the blood of patriots and tyrants."
UPDATE: The Associated Press is now reporting that there were actually about a dozen armed people among the protesters in Phoenix:
About a dozen people carrying guns, including one with an AR-15 assault rifle, milled among protesters outside an event where President Barack Obama was giving a speech Monday in Phoenix.
It's the latest incident of gun-rights advocates visibly displaying firearms near the president.
Phoenix police say the people with guns, including a man carrying the assault rifle, didn't need permits. No crimes were committed, and no one was arrested.
The man carrying the assault rifle declined to be identified, but told The Arizona Republic that he was carrying the weapon because he could, adding that he still has some freedoms.
Last week, during Obama's town hall meeting in Portsmouth, N.H., a man stood outside with a gun strapped to his leg.
Popular in the Community