WASHINGTON -- As efforts to comprehensively reform the nation's immigration system near the first of several likely Senate votes, behind-the-scenes political machinations are becomming increasingly dramatic.
The bill put together by the bipartisan "gang of eight" faces its first test Tuesday afternoon in the form of a cloture vote, which it will likely clear. Once past that 60-vote threshold, however, the outcome for the legislation seems less certain.
That's because in recent days, one of the chief Republican gang of eight members, Sen. Marco Rubio (R-Fla.), has soured on the bill, citing insufficient border security measures. In private conversations, Rubio has been making entreaties to try give the bill a more conservative bent, according to sources.
Rubio had privately urged fellow Republican Sen. Kelly Ayotte (R-N.H.) to remain quiet about her support for immigration reform, in hopes that Senate negotiators would amend the bill's border security measures to win her vote, according to three sources, including one Republican Senate aide. Ayotte, a moderate-leaning New Hampshire Republican, decided nevertheless to announce her support for the measure on Sunday, becoming the first Republican outside of the group to back the reform legislation.
Rubio "has not been telling them to vote no," said one Senate Democratic aide familiar with negotiations. "He has been apparently holding people back from declaring support for the bill, while at the same time saying the bill needs changes in order to garner support. My understanding is he told Sen. Ayotte's office to hold back, but she didn't care."
A Republican Senate source confirmed Rubio's lobbying of Ayotte, saying it was "not the first time" Rubio had done something not aligned with the gang of eight's interests.
A spokesman for Ayotte flatly denied that such a conversation took place. A spokesman for Rubio said he could not confirm the anecdote.
"We're thrilled to have her support for the legislation," Rubio spokesman Alex Conant said of Ayotte.
The behind-the-scenes persuasion is the latest example of Rubio's delicate play in his push for comprehensive immigration reform. Rubio, a likely 2016 presidential candidate, has served as the conservative spokesman for the bill and has courted fellow Republicans for support. At the same time, he has tried to prove his tough-on-enforcement bona fides recently by insisting that the bill needs additional border security methods in order to pass.
Rubio has not yet said specifically which amendments he would support, but has expressed openness to one set to be offered by Sen. John Cornyn (R-Texas) that would restrict undocumented immigrants from moving from provisional status to a path to citizenship unless further border conditions were met. The gang of eight bill already would mandate increased security measures to trigger the path to citizenship, but Cornyn's amendment would up the ante by requiring complete operational control of the border, 90 percent apprehensions of illegal border crossers, nationwide implementation of an employment verification program, and a biometric system to track all entries and exits from the U.S. at airports and seaports. That amendment was called a "poison pill" by Senate Majority Leader Harry Reid (D-Nev.) on Sunday.
Cornyn voted against the gang of eight bill in the Judiciary Committee, and has not yet said whether he will support its final passage.
Republican gang of eight member Sen. Jeff Flake (R-Ariz.) told HuffPost on Monday that he hadn't yet seen the Cornyn amendment language. Asked if he would vote "no" without border amendments, he said, "No, we're working it."
"We're hopeful that we can see it get stronger on the border security side and pick up Republicans," Flake said.
Unlike Ayotte, most Republican senators are declining to say how they will vote on the final bill. Sen. Orrin Hatch (R-Utah) voted to support the bill leaving the Judiciary Committee, but has not committed to its final passage. He has said he wants additional amendments to require such things as back taxes to be paid by undocumented immigrants.
"My amendments will make it more palatable, make it so it will pass, hopefully with more votes and hopefully will help us with the House," Hatch told reporters on Monday. "The purpose of my amendments is to get this bill so people can support it. It's not to cause problems -- they're not ideological amendments, as far as I'm concerned, they're amendments to garner more votes."
Sen. John Thune (R-S.D.) said Monday on MSNBC he will wait to see what happens on the amendment process before making a decision. Sen. Saxby Chambliss (R-Ga.) also held back his support, saying last week he will offer amendments.
A few Republicans have announced opposition to the bill in its entirety. Sen. Jeff Sessions (R-Ala.) has railed repeatedly against the bill on the Senate floor during the first two days of debate. Sen. Mike Lee (R-Utah), originally courted to be a member of the gang of eight, said Friday he will vote against the bill even if it's amended.
"From my perspective, there is no one amendment that can fix this bill," Lee said. "Indeed, there is no series of tinkering changes that will turn this mess of a bill into the reform the country needs and that Americans deserve."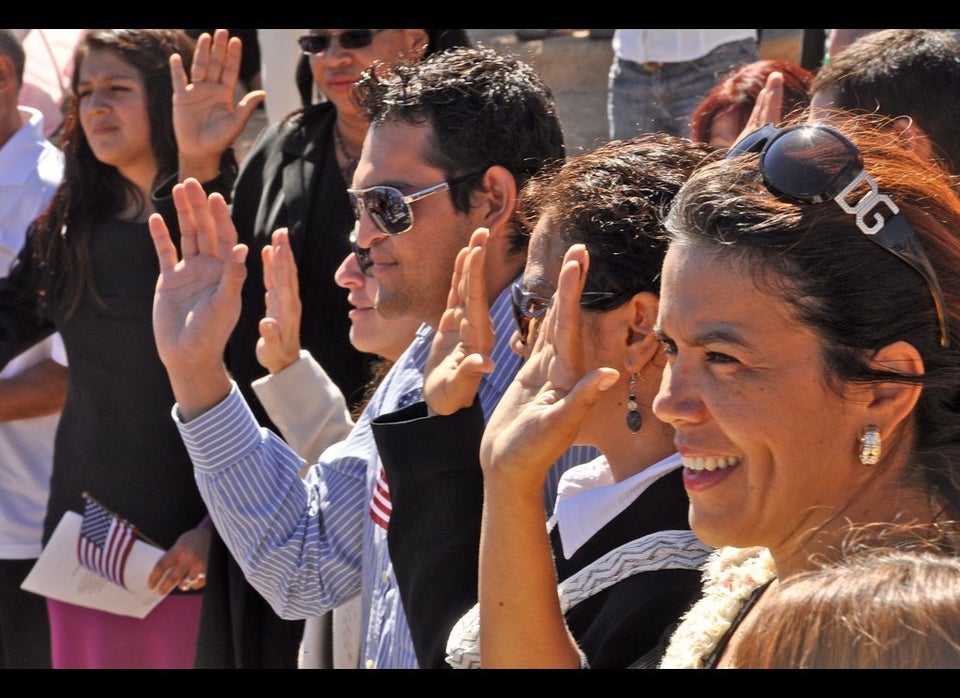 10 Major U.S. Federal Immigration Laws