This post is co-authored by Ted Fox
It's been probably twenty years or more since I was home for Mardi Gras. I'm always on the road. But, you know, Buckwheat Zydeco has got to spread it around. I feel blessed to come from a place that has so much amazing culture and music, so I just have to share my world. Nowadays Mardi Gras seems to last longer. It's still Mardi Gras season, and that's good because we all need to do a little celebrating this cold, cold winter!
Growing up in Lafayette, Louisiana with twelve brothers and sisters in our little house, we sure didn't have much money. Many times I didn't eat supper unless my Pop or my brothers and I caught something for dinner. But we still passed a good time at Mardi Gras one way or the other. And the one thing we always had was music. I started playing when I was about nine years old, banging away at an old piano my folks had out on our front porch. And, my father played the accordion like I do now. So to me Mardi Gras has always been about music.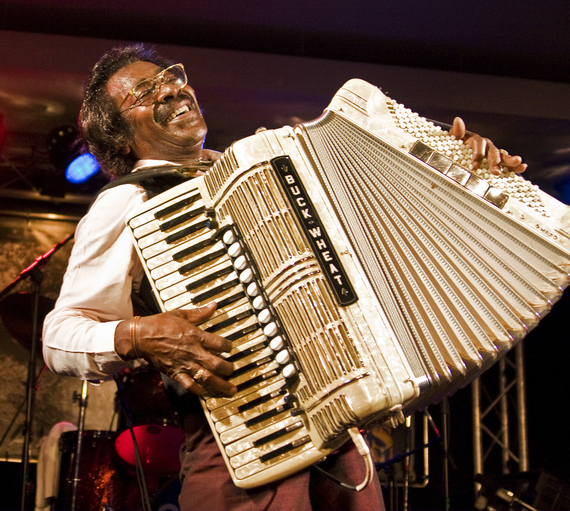 Mardi Gras is part of the Catholic Church, of course. I used to keep Lent, and for years I wouldn't work on Ash Wednesday or Good Friday. But down in Louisiana, Mardi Gras has always been a time to celebrate the good and the crazy things in life: party, eat, sing, dance, play music and let the good times roll for the time being. Because there's always going to be trouble in your life and bad times in the world. Lord knows, I've had my share. I guess Mardi Gras is the flip side of the blues.

I'm not much for big words, but you could say that's my philosophy with Buckwheat Zydeco. I don't want to ignore the bad things in life, but I want to emphasize the good things. You got to ac-cent-u-ate the positive. Where I come from that's what Mardi Gras is for.
This year when we headed out for our Mardi Gras tour we ran into some really nasty weather as soon as we left Louisiana. It was two days and about 1200 miles of ice, snow, and cold, driving 25 miles per hour to the East Coast. We got to Virginia at 6AM and found out the governor had declared a state of emergency and our gig that night was cancelled. We passed big old trailer trucks jack knifed, cars spun out, terrible sights. But we made it: slow and steady. That's our way. I guess life is a tour, and it's all about how you decide to get where you're going. You know what I mean?
It's was very cold in Louisiana on Mardi Gras day. They closed the interstate near Lafayette, and some of the parades had to be cancelled. But I can guarantee you it did not stop the people of Louisiana from having a good time and celebrating Mardi Gras. They found a way... and you can take that to your best bank!
We always like to tour around Mardi Gras season because it seems like, especially at this time of the year when people have been cooped up for months like the chickens out by my barn, now's the time to get out of the house, go to your favorite spot, kick your shoes off, let your hair down and boogie with Buckwheat Zydeco. But, wherever you are or whatever you're doing I hope everyone is enjoying this Mardi Gras season!
Buckwheat Zydeco (AKA. Stanley "Buckwheat" Dural, Jr.) has been spreading the word about zydeco music and his Louisiana heritage all over the world for more than 30 years. He recently kicked off the final Late Night With Jimmy Fallon. Buckwheat Zydeco tours frequently throughout the year, and they have just launched a Kickstarter campaign for "Buckwheat's World" -- a unique YouTube video series. His latest album, Lay Your Burden Down, was a Grammy winner.

Calling all HuffPost superfans!
Sign up for membership to become a founding member and help shape HuffPost's next chapter