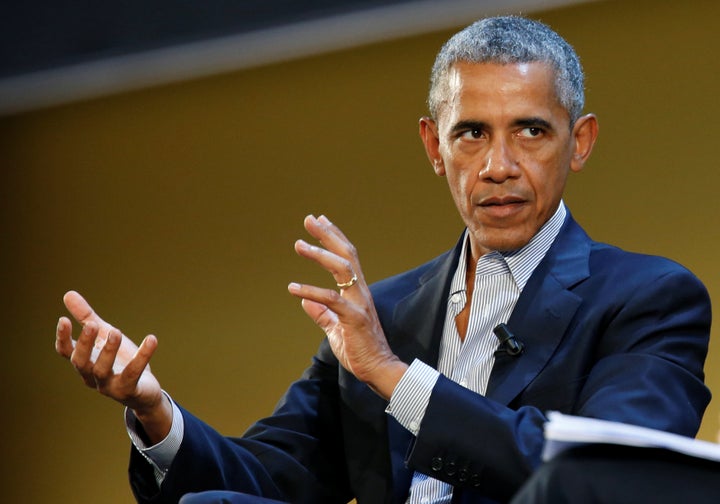 WASHINGTON ― Officials at the Office of National Drug Control Policy under President Barack Obama wanted to take a more lenient stance on marijuana, with one former official telling HuffPost that staff pushed to ease federal prohibitions against the drug. But they never made that case directly to the public.
"ONDCP was in favor of decriminalizing but not legalizing," explained former deputy director A. Thomas McLellan, who worked in the White House office during Obama's first term.
Such a policy shift could have given a shot of momentum to efforts to relax marijuana laws across the country. But it never happened, in large part because officials were worried it would consume the office at a time when they needed to focus on the more pressing issue of the opioid epidemic.
The Office of National Drug Control Policy, which is more commonly known as the drug czar's office, also determined that it couldn't publicly support decriminalizing marijuana because of a provision in the legislation that authorized its existence.
The bipartisan 1988 law that created the drug czar's office declared that "the legalization of illegal drugs is an unconscionable surrender in the war on drugs." A later measure reauthorizing the office stipulated that no federal funds be used to study the legalization of marijuana or other Schedule I drugs and that the office had to "oppose any attempt to legalize" cannabis. As long as that language existed, Obama era staffers felt limited in their ability to speak out, let alone to signal real support for decriminalization.
"It forced the office to take a policy position that it may or may not agree to," Michael Botticelli, the former director of the drug czar's office, told HuffPost. "[It] hamstrings you into a policy position that might be the policy of the day but that might change."
The anti-marijuana language in the statute not only hamstrung the office in taking new policy positions; it encouraged pro-marijuana advocates to question the office's credibility on the issue.
"The existence of that statute, that prohibition, has been something that our movement has held up to criticize ONDCP," said Tom Angell, the founder of Marijuana Majority. "Taking that off the table would be good for us and it would also be good for them. … It makes them look political in ways that their scientists probably don't want to be."
Officials within the drug czar's office during the Obama administration agreed with Angell. Many suggested privately that the statute undermined their authority. "It makes it look like the office's primary purpose is to oppose marijuana," said another former employee.
The statute also made answering questions about marijuana policy complicated. When Botticelli was a deputy within the office, Rep. Steve Cohen (D-Tenn.) introduced legislation to remove the by-then-controversial language on marijuana. The bill went nowhere. Botticelli struggled even to answer questions on the subject.
Operating within these political and legal constraints, Botticelli and others adopted more nuanced approaches to their work. The office pushed to obtain more federal funding for treatment. It supported states that sought to route those addicted to illegal substances like opioids away from the criminal justice system and into treatment. Botticelli supported the Justice Department's efforts to shed the more onerous drug war era initiatives such as requiring mandatory minimum sentences for even low-level drug possession.
In a December 2015 interview on "60 Minutes," Botticelli declared the war on drugs a failure. "We can't arrest and incarcerate addiction out of people," he said. "Not only do I think it's really inhumane, but it's ineffective and it cost us billions upon billions of dollars to keep doing this."
Later in that interview, Botticelli was asked about legalizing marijuana, not just decriminalizing penalties for its use. He said he was against states' commercializing the drug. "It becomes an addiction to, unfortunately, a tax revenue that's often based on bad public health policy," he said. His predecessor had had similar reservations about outright legalizing marijuana.
The closest Botticelli came to addressing the decriminalization issue directly occurred when District of Columbia residents voted to ease restrictions on marijuana use. "I might not agree about legalization, but I do agree with our own ability to spend our own money the way that we want to," he said.
Neither Botticelli nor his office would go much further than that during the eight years of the Obama presidency. Had they done so, they would have incurred blowback from both parties in Congress and alienated drug prevention advocates who oppose marijuana use. More importantly, the controversy would likely have distracted from the more critical opioid epidemic. That crisis ended up driving home the argument for a public health approach to drug addiction.
"You have to figure out if the juice is worth the squeeze," said the former drug czar employee.
Of course, taking a stand in favor of marijuana decriminalization might also have given advocates a major boost in their efforts to change the conversation around marijuana policy.
Now, under the Trump administration, any internal angst over marijuana is likely moot. Soon after taking over the Justice Department, Attorney General Jeff Sessions began reversing the previous administration's reforms. Sessions has instructed his prosecutors to vigorously enforce mandatory minimum sentences.
Those changes are "very alarming," Botticelli told HuffPost.
"It seems like we are moving backwards instead of forward," he said. "And to a position that I think doesn't have a lot of science and evidence. We've tried that approach for a very long time, and it doesn't seem to really have made a significant difference."
Popular in the Community