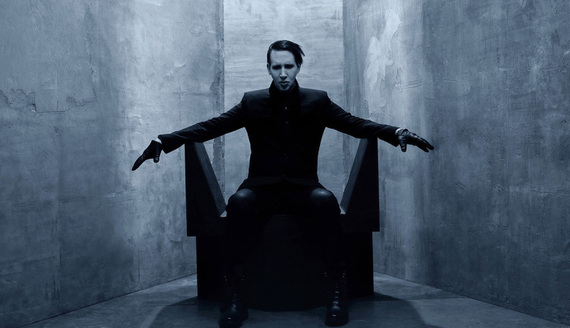 "Jesus loves you," Marilyn Manson deadpans to an audience member at New York City's Terminal 5. The Antichrist Superstar, legally named Brian Warner, is currently embarking on the "Hell Not Hallelujah" tour with the band carrying his stage namesake and seems far removed from the disaster he'd become. In the past year, he's starred in "Sons of Anarchy," provided the theme song for "Salem," released "The Pale Emperor" to the best reviews the band has received in over a decade and is currently putting on a stage show that wouldn't have been possible two years ago.
What caused the shift? Sobriety. Manson recently opened up about his attempts to get in better shape, but it seems he's underplaying the extent of his lifestyle changes. The results are blindingly apparent. While he may not be slipping back into shapely glam gowns in the near future, he no longer looks unhealthy. The menacing life is back in his eyes.
He finally seems aware of the audience demographics too. Marilyn Manson fans are no longer disaffected teenagers and haven't been for some time. Children, seniors and clean-cut couples were all among the crowd that included the usual suspects. None of the members of Unlocking the Truth, the hyper-talented opening act, are even old enough to attend an R-rated movie alone.
From the start of Manson's set, the self-proclaimed "God of Fuck" seemed in on the joke of his continued existence, caricaturizing his image and referencing everything from the fear he used to induce to his relative harmlessness now as a sobered-up statesman of rock. He sashayed with his trenchcoat, flailed ironically on the floor, began "The Dope Show" by announcing he was over drugs and would toss out a "Fuck Jesus!" or related blasphemy every so often, just so no one worried he'd forgotten to be Marilyn Manson. After all, embodying "chaos" is his self-stated primary goal.
Elaborate set pieces and angry screeds against religion were traded for casual conversation about his old life in New York and gleefully profane jokes. The result is a more confident presentation than his posturing ever was. This new schtick, Marilyn Manson having fun, is certainly more subversive than a 46-year-old man continuing to rip up bibles for a secularized culture that would barely bat an eyelash.
The evolution of the entire Manson experience, from cathartic '90s rage to the black comedy of today, found its distillation near the show's end. Riling the audience for one of the band's signature tracks ("The Irresponsible Hate Anthem"), Manson yelled to the crowd, "What do we hate?!" A concertgoer nearby, clearly high, screamed, "WE HATE GOD!" before going into a frenzy of violent convulsions. The folks around her were clearly unimpressed, stepping aside while she flailed alone.
The band's maturity was represented well in the musical presentation of its older work. Rather than attempting to match album versions of industrial tracks alongside more overtly rock fare, the current line-up found a consistent, grounded groove that made the transition between genres feel natural. And while Warner is hardly the epitome of vocal prowess, he stayed engaged and got his banshee wail back on-point. The night's only misstep was the continued inclusion of "Sweet Dreams," which hasn't been in Manson's range for a long time and comes off forced.
Assaulting hits like "mOBSCENE" and "Disposable Teens" remain standouts, but no one could have predicted the band's current move toward bluesy menace would be so successful. The grim, rockabilly sound of "The Pale Emperor" suits live performances incredibly well and sits in Manson's deeper vocal register much more comfortably than his earlier work.
By night's end, a satisfied crowd exited with smiles on their faces. Marilyn Manson had clearly found a renewed energy and relevance.
And they finished rocking well before 11 p.m. curfew. Even Satan needs some shut-eye these days.
Popular in the Community