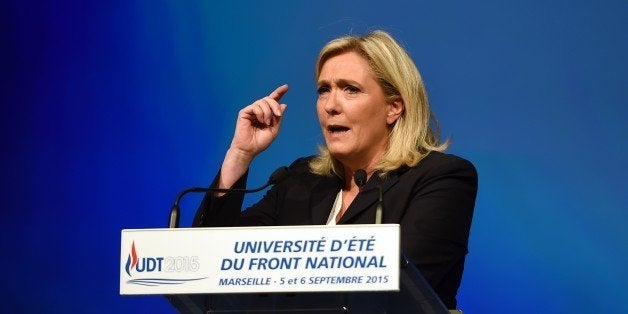 While French President Francois Hollande announced on Monday night that France would welcome 24,000 additional migrants and refugees over the next two years, far right leader Marine Le Pen on Tuesday denied the humanitarian nature of the crisis that is forcing tens of thousands of Syrians to seek refuge in Europe.
Among the waves of people knocking on the European Union's doors, "political refugees are the absolute minority," Le Pen said on RMC (Radio Monte-Carlo). She brought up, as a single piece of evidence, images shown "on television" to justify the discordant statement, which came as photos of joyful children arriving in Germany were disseminated around the world.
"I have seen the images of the illegal immigrants who have come, who were brought to Germany from Hungary ... in these images, 99 percent are men. Well, I think that men who flee their country and leave their families back home, don't do so to flee persecution. It is clearly for economic reasons," Le Pen said. This is how the political leader justifies the systematic deportation of migrants to their country of origin, and the denial of their requests for asylum.
The statistic, which Le Pen cited without hesitation, stands in opposition to data released by international aid organizations.
Last week, UNICEF estimated that nearly one-third of the 3,000 migrants and refugees who travelled across Macedonia every day are women and children. Twelve percent of those women are pregnant, according to UNICEF. And that proportion will continue to increase.
At this point it is impossible to assert, as Le Pen has, that the reason for the migration is economic. The only data available to European officials, in addition to the age and gender of migrants and refugees, are their countries of origin. The majority of the 340,000 people who have made it to Europe since the beginning of the year are from Syria, which is in the grips of a violent civil war and an ongoing Islamic State terror campaign.
It is not the first time that Le Pen has relied on news images to back up her political arguments. In reaction to the widespread sympathy ignited by the death of the young Syrian refugee child, Aylan Kurdi, who drowned last week, Le Pen admitted on the French radio station RTL that the migrants and refugees "are fleeing the death that our leaders brought upon them." The argument, that was part of her condemnation of former French President Nicolas Sarkozy, and his role in the rampant chaos in Libya today, seems to contradict her current stance that migrants and refugees are arriving in Europe for economic reasons.
There has been a change in tone from describing them as victims of war exported by the Western nations to referring to the influx of people as a "burden" or "flood" responsible for the "progressive dismantling of the national identity" and exposing France to "the infiltration of Islamic terrorists."
The National Front calls migrants and refugees "illegal immigrants," in defiant opposition of Prime Minister Manuel Valls' government and more moderate conservative voices.
"Not a single town council of the National Front or of the Rassemblement Bleu Marine political coalition [of right and far-right parties] will welcome illegal immigration," Steeve Briois, the vice president of the National Front party, said Tuesday in a press release. "The only sustainable approach for the government and the local authorities to take is to establish a firm policy to return all illegal immigrants to their countries of origin."
This sentiment is nothing new for the extreme right. During a trip to Calais last October, Le Pen recommended that France "considerably strengthen [meaning, to make more strict -- Editor's Note] the criteria for the right of asylum" and to return migrants "to their homes, even to war-torn countries."
This article originally appeared on HuffPost France and was translated into English. It has been edited and condensed for clarity.
Popular in the Community