Rep. Marjorie Taylor Greene (R-Ga.) seemed defensive after being called part of the "hardcore fringe" of the Republican party following her vow to vote against government funding if House Republicans do not open an impeachment inquiry into President Joe Biden.
The Georgia lawmaker claimed she was being persecuted for having "the audacity" to ask questions as she railed against the White House in a Saturday thread on X, the social media platform formerly known as Twitter.
"The White House is attacking me for demanding an impeachment inquiry before I'll vote to fund one penny to our over bloated $32 TRILLION dollar in debt failing government," Greene simmered.
Last week, the far-right House member pledged to block funding to prevent a government shut-down if her repeated calls for impeachment are not heeded. She also claimed she'd withdraw her vote if any more federal funding was provided for the war in Ukraine or for COVID-19 vaccines.
Still, Greene seemed confident she had "evidence" on her side to merit an inquiry.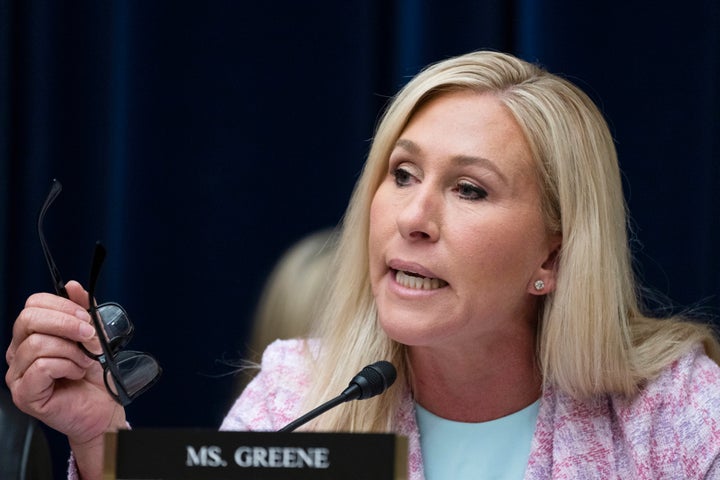 "We have the evidence they have desperately been trying to hide to just ask the question," she continued. "Should we inquire? Should we just take a look? Dare we investigate further? The answer is YES but the White House is outraged at my audacity to demand it."
Greene continued to lambaste Biden policies on border security, the economy and the war in Ukraine in her subsequent tweets, where she called the president a "corrupt criminal mentally incompetent old man."
A White House spokesperson dismissed Greene's threats as pure noise in a statement on Thursday, where they called the legislator a member of the right's "hardcore fringe" faction.
"The last thing the American people deserve is for extreme House members to trigger a government shutdown that hurts our economy, undermines our disaster preparedness, and forces our troops to work without guaranteed pay," spokesperson Andrew Bates told The Hill.
While Speaker of the House Kevin McCarthy (R-Ca.) has previously endorsed the idea of investigations into Biden and his family, last week he told Brietbart News that Republicans would not initiate any action without a vote from the full House of Representatives.
"To open an impeachment inquiry is a serious matter, and House Republicans would not take it lightly or use it for political purposes," he said. "The American people deserve to be heard on this matter through their elected representatives."
Support HuffPost
The Stakes Have Never Been Higher
Popular in the Community