WASHINGTON -- Sen. Mark Kirk (Ill.) was a lonely Republican voice outside the Supreme Court on Tuesday, looking over the crowd waving rainbow flags and throwing his support behind marriage equality.
Other Republican lawmakers, such as Reps. Bill Flores (Texas) and Steve King (Iowa), also showed up as the Supreme Court justices inside heard arguments in Obergefell v. Hodges, the case expected to settle whether same-sex couples have a constitutional right to marry. However, they spoke against legalizing same-sex marriage.
"When you walk up to this group, it's a pretty raucous left-wing group. I was taking a bit of a risk there," Kirk told reporters afterward of the crowd outside the court.
Kirk was rewarded with appreciation from the crowd, in which the advocates for lesbian, gay, bisexual and transgender equality vastly outnumbered the opponents.
"Thank you, senator!" people in the crowd shouted as Kirk left the podium.
"After my stroke I learned a lot about love and death," he told The Huffington Post after his speech. "I realized that life gets down to who loves you, who you love, and the government has nothing to do with that decision."
"For me, the real legacy of our party is freedom on top of freedom," he added. "To remember the Abraham Lincoln legacy that the only way to solve a freedom problem is to provide more freedom to people. That your basic right of association as an American is a right to associate with whomever you want, and the government should not be able to block that."
Kirk is expected to face a tough re-election fight in 2016, and he's a top target for Democrats. He said his race was a key reason he decided to be at the court Tuesday, "to stand as a national Republican who signed also the amicus brief on this marriage equality case. That we would be a much stronger country."
"As a history nerd, you could make the case that we could've lost World War II but for one British gay mathematician named Alan Turing," he added. "And we are a much more powerful country because of our gay community."
David Stacy, government affairs director of the Human Rights Campaign, said it was "really important" to have the Republican senator out in front of the crowd to show the issue of equality has bipartisan support.
"It's something that we didn't have for a while but it's grown," said Stacy. "Sen. Kirk was the second Republican senator to come out for marriage equality after Rob Portman did, and I think he sent a real signal to members of his party and to his fellow senators in both parties that this is something you can do. It's not scary. What he also found is that there really wasn't a lot of backlash to that. It was really something that was positive for him."
This post has been updated to note that Rep. Steve King was present.
CORRECTION: A previous version of this article called David Stacy the deputy legislative director of the Human Rights Campaign. That is his former title. He is now government affairs director at the HRC.
Want more updates from Amanda? Sign up for her newsletter, Piping Hot Truth.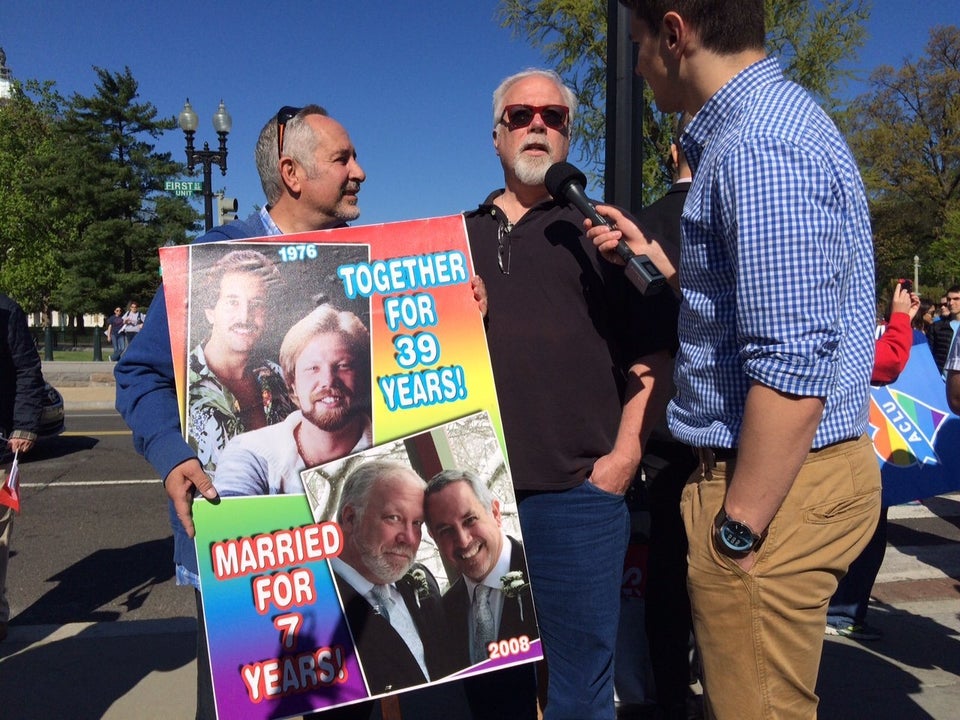 Gay Marriage Protests Outside SCOTUS