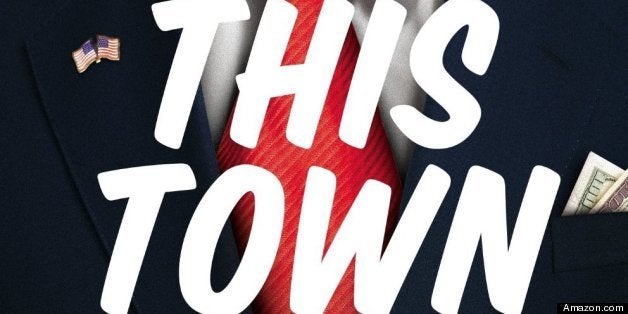 NEW YORK -– When the Obama administration rolled into Washington in 2009, The New York Times once again found itself in the mix. It had been tough for the paper to get access during the later Bush years, but in the first few months of Barack Obama's presidency, Times reporters, photographers and editors could already been seen benefiting from the fact that a Democratic administration had taken over and a devoted reader had begun occupying the Oval Office.
The following year, Washington reporters griped to Politico about the White House playing favorites with the Times by offering "gift-wrapped scoops and loads of presidential face time." And while Obama is known to poke fun at cable news pundits, he told Rolling Stone last year that he reads all the Times columnists. "There's only one paper the president reads," a former adviser said in April. "That's The New York Times."
But in Mark Leibovich's "This Town," a humorous and incisive critique of Washington's political-media ecosystem during Obama's first term, the Times appears as a bit player to the town's new star: Politico.
Leibovich, the Times' chief national correspondent and an admitted member of "The Club," skillfully lays out the dizzying, incestuous relationships between members of the media and the political elite (and those desperately hoping to join). He explains how only-in-Washington figures like literary "super-agent" Bob Barnett and TV producer-turned-party-thrower Tammy Haddad play such key roles in a town seemingly built on transactional relationships. In Washington, the revolving door swings between the media, political and lobbying worlds, with ex-officials and lawmakers later cashing in on their influence with high-paying corporate gigs.
A recent New York Times Magazine excerpt from "This Town," "How to Win in Washington", focused on young congressional striver Kurt Bardella, and the book also includes a chapter taken from Leibovich's award-winning 2010 magazine profile of frenetic Politico Playbook writer Mike Allen, titled "The Man the White House Wakes Up To."
Yet in a book that highlights such Washington power dynamics, Leibovich largely ignores his paper's own influence and access within the city's corridors of power. While Politico may "drive the conversation" within the capital, as its top editors are fond of saying, the Times is more likely to set the agenda among news outlets in Obama's Washington. Sure, congressional aides all talk and text about Politico's stories on back-room Senate negotiations, but the Times remains the outlet in Washington that will land interviews with "three dozen current and former advisers" for a blockbuster story like the 2012 front-pager on Obama's secret "kill list."
In the much-anticipated book, which landed on shelves Tuesday, Leibovich intentionally sets his sites on Politico. The Beltway focused political news organization launched in 2007, and Leibovich describes how it emerged during the years covered by the book –- roughly June 2008 to January 2013 -– as the "company-town organ for Political Washington."
"Politico just showed up [at] the beginning of the chronology of which I was writing about," Leibovich told HuffPost in a phone interview. "I think they are very much of the times -– meaning, in these times, in this town."
Leibovich added that Politico is "emblematic of the new media revolution and the information revolution which I think has transformed Washington." For that reason, Leibovich said he devoted more time to the Washington upstart than the town's media mainstays.
"There were a lot of reasons I didn't focus on the Times, the [Washington] Post, the LA Times or whoever," Leibovich said. "They've been around forever. I think the new media piece of this is the most different from what would have been something I would have been writing about 20 years ago."
A quick scan of "This Town" reveals how much more Politico plays into the narrative than do such venerable newspapers. The news organization is mentioned 135 times over 368 pages, an average of one reference every 2.7 pages. By comparison, Leibovich references The New York Times only 38 times, with The Washington Post -- his previous employer -- and The Los Angeles Times clocking in at 48 and 3, respectively.
A reader will have to head to the book's Acknowledgments section to find the only mentions of a couple journalists with more influence in Washington than most living in the District: Jill Abramson, the Times' executive editor, and Dean Baquet, its current managing editor and its Washington bureau chief during much of the time period covered in the book.
David Leonhardt, who now runs the Washington bureau and has landed several interviews with Obama since he became a presidential candidate, is mentioned just once in the book. Times editorial page editor Andrew Rosenthal, who oversees the opinion section, isn't mentioned at all. (Leibovich, however, includes a colorful quote from A.M. Rosenthal, Andrew Rosenthal's late father and a former Times executive editor, about reporting conflicts of interest: "I don't care if you fuck an elephant, just so long as you don't cover the circus," the elder Rosenthal once said.)
In "This Town," Leibovich doesn't mention Times reporters like David Sanger and Scott Shane, both of whom broke major national security stories during the Obama years that prompted calls for leak investigations, or prominent colleagues like Helene Cooper, Mark Landler and Charlie Savage. Leibovich only mentions the Times' top campaign reporting duo from the 2012 election, Jeff Zeleny and Jim Rutenberg, in the Acknowledgments section. While Obama says he reads all the Times' columnists, Washington scribes like Maureen Dowd and Ross Douthat don't show up in "This Town."
Times White House reporter Peter Baker and national security correspondent Mark Mazzetti, two of the best-sourced reporters covering the Obama administration, each get a single mention in the book's pages. Leibovich recalls how Baker once saw the late diplomat Richard Holbrooke at a Georgetown restaurant; Mazzetti is seen chatting with 90210 star Shannon Doherty at a White House Correspondents Dinner after party.
Times correspondent Jodi Kantor, and her much-discussed 2012 book "The Obamas," is mentioned only twice; same for Times deputy Washington bureau chief Carl Hulse.
By comparison, Politico executive editor Jim VandeHei is mentioned 16 times in the book, more than the aforementioned 17 Times editors, reporters and columnists combined. Politico's Patrick Gavin, who gets mocked a bit in "This Town" for his video interviews of famous D.C. media figures, is mentioned nine times. (Leibovich, it should be noted, pokes fun at himself a number of times.)
The juiciest scoop in "This Town" involves The Times, with White House officials circulating a list of flattering talking points about Valerie Jarrett in response to reporter Jo Becker working on a profile of the top Obama adviser. Leibovich published snippets from the over-top-memo, titled "The Magic of Valerie," but doesn't dig deeply into why a Times profile of Jarrett -– rather than one in, say, Politico -– would cause such concern in the West Wing and lead to a ridiculous attempt at damage control. If Politico is the town organ, then why is the White House so worried about the Times?
Leibovich does hint at why in the Acknowledgments section, when he thanks the Times' publisher and top editors and notes the paper's media clout. "You run the best newspaper in the world, but more important, you know what matters," he wrote.
As for the Paper of Record's place in Washington between 2008-2013, Leibovich told HuffPost that there are "plenty of media critics out there and I'm sure there are many people who can talk about the Times' own role in this ecosystem."
"In the classic Washington response," he said, "I will leave that to others."
Disclosure: This reporter covered the media in Washington for Politico from 2007 to 2010. Lori Leibovich, Mark Leibovich's sister, is HuffPost's Executive Lifestyle Editor.
Popular in the Community