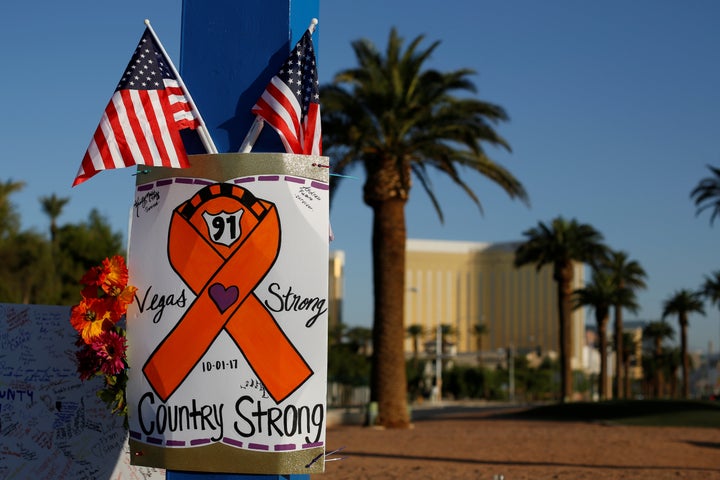 That response, according to a new HuffPost/YouGov poll conducted after the Las Vegas shooting, is rapidly moving out of the realm of satire.
Just 42 percent of Americans now believe mass shootings can be stopped. That's the lowest percentage yet found in a series of HuffPost/YouGov polls taken over the past two years, often in the wake of tragedy. Thirty-seven percent believe mass shootings are "a fact of life in America today."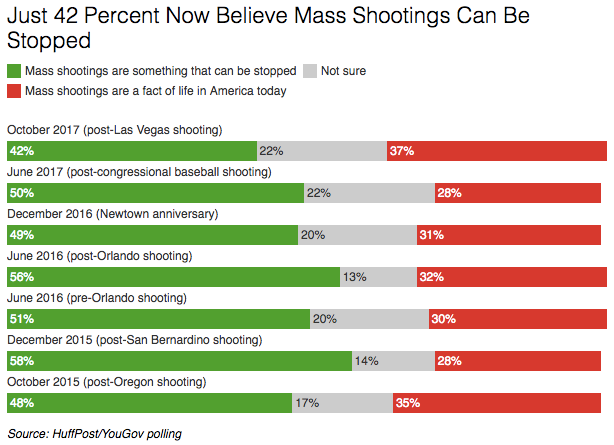 Americans who don't personally own guns are 21 points likelier than those who do to believe that mass shootings can be stopped ― 49 percent to 28 percent. But as is often the case, views are most sharply divided along political lines. Two-thirds of voters who supported Hillary Clinton in last year's election, but just 28 percent of those who supported Donald Trump, think such shootings are preventable.
The vast majority of Americans continue to view gun violence as a serious problem, the survey finds. A modest majority of 53 percent say it's possible to enact new regulations while preserving the right to bear arms, with fewer than 3 in 10 believing that any regulations pose a threat.
The public remains generally in favor of tighter gun control: 49 percent think gun laws should be made stricter, while 30 percent believe they should stay as is and just 10 percent think they should be relaxed. That division has remained relatively stable in HuffPost/YouGov polls since 2015, with support for stricter gun laws hovering between 48 and 55 percent.
But just 41 percent of Americans say Congress should take action to reduce mass shootings, the most recent survey finds, while 43 percent believe these events can't be reduced through legislation.
There's also a close divide on whether passing stricter guns laws is politically feasible, with 37 percent saying that it is and 40 percent saying that it's currently impossible.
Just 15 percent of Americans name gun policies as among the two issues most important to them. That's up 9 points since September, but still lagging far behind issues like health care and the economy. Those who favor stricter gun laws and those who wish they were less strict are about equally likely to rank the topic among their highest priorities.
Use the widget below to further explore the results of the latest HuffPost/YouGov survey, employing the menu at the top to select survey questions and the buttons at the bottom to filter the data by subgroups:
The HuffPost/YouGov poll consisted of 1,000 completed interviews conducted Oct. 2-3 among U.S. adults, using a sample selected from YouGov's opt-in online panel to match the demographics and other characteristics of the adult U.S. population.
HuffPost has teamed up with YouGov to conduct daily opinion polls. You can learn more about this project and take part in YouGov's nationally representative opinion polling. More details on the polls' methodology are available here.
Most surveys report a margin of error that represents some, but not all, potential survey errors. YouGov's reports include a model-based margin of error, which rests on a specific set of statistical assumptions about the selected sample rather than the standard methodology for random probability sampling. If these assumptions are wrong, the model-based margin of error may also be inaccurate. Click here for a more detailed explanation of the model-based margin of error.
Calling all HuffPost superfans!
Sign up for membership to become a founding member and help shape HuffPost's next chapter