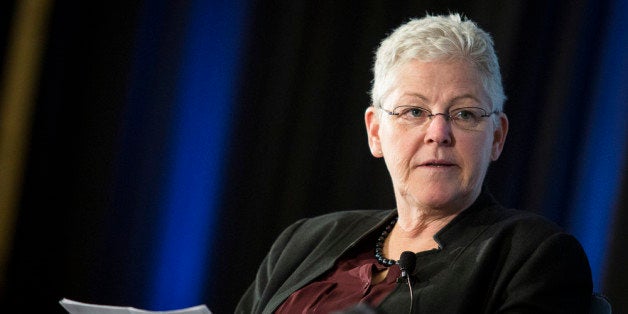 ATLANTA -– Environmental Protection Agency leaders have something to tell African-American communities about the agency's work on climate change: We need you.
That was the message from EPA Administrator Gina McCarthy in her first visit to the Southeast as head of the agency. McCarthy spoke at the historically black Clark Atlanta University on Thursday night, at an event hosted by the youth advocacy group Hip Hop Caucus that aimed to build support among young, black audiences for climate change action.
The EPA, McCarthy said, is "making sure we hear from those who are most vulnerable to climate change."
"That's an incredibly important piece of all this," McCarthy said. "That's one of the main reasons I am here today. We need a broad, diverse coalition of champion climate justice advocates."
McCarthy framed the push for emission limits for new and existing power plants as an extension of President Barack Obama's vision of improving prospects for low-income, predominantly minority communities. Those communities, McCarthy said, have been "overburdened by pollution and environmental health hazards for far too long" and are now suffering from harms caused by planet-warming greenhouse gas emissions.
"That pollution has become a barrier to their economic opportunity, and their ability to get what middle-class security they deserve to be able to achieve," McCarthy said. "You can't ensure environmental justice, and we can't deliver on this president's promise of opportunity for all, without giving people clean air and clean water and clean land to live on. You cannot climb a ladder of opportunity without those vital components that are necessary for healthy living."
In the 44 years since the EPA was founded, the agency has learned that "nationally we can do a heck of a job at reducing pollution," McCarthy said. "But what we also learned is that every community wasn't benefitting equally from those pollution reductions," she continued. "So our job at EPA is to deal with those equity issues."
McCarthy met Thursday with representatives from Spelman and Morehouse colleges, two nearby historically black schools. She traveled to Memphis, Tennessee, on Friday to attend the National Organization of Black County Officials Development Conference.
McCarthy's appearance Thursday at Clark Atlanta was billed both as an opportunity for the agency to hear from diverse constituencies, as well as an appeal for support for EPA rules, including greenhouse gas emission standards for new power plants that the agency released last fall, and the rules for existing plants the agency plans to publish soon.
Heather McTeer Toney, who was appointed administrator for the EPA Region 4 office in Atlanta in January, also spoke at the event.
"Come June, there's going to be a rule that comes out about existing coal-powered plants," said Toney, a Mississippi native who served as the first black and first woman mayor of Greenville, Mississippi, from 2004 to 2012. We already in this room know EPA gets a hit. We need your help. Because we're ready for the fight, but we need you to partner with us to get out there. So when we start getting these hits from industry, we're going out there hand in hand, arm in arm with folks and say, 'These are the people they're protecting. They've got our back, our front, our sides, and we can move forward together.' We need you."
Toney pointed out 10 EPA staffers who attended the event. "This is a show of our commitment," she said. "We're not just playing. We're not just here to give a speech."
The Clark Atlanta event was the sixth and final stop on a multi-state tour of the Hip Hop Caucus Act on Climate Campus Tour that targeted mostly historically black colleges and universities in the Midwest and South. The Rev. Lennox Yearwood, president and CEO of the Hip Hop Caucus, a nonprofit launched in 2004 that promotes political activism, has made climate a major focus of the group's work. Yearwood argues often that climate change is the "lunch counter moment" for the younger generation.
Yearwood on Thursday referenced a visit during the tour to the International Civil Rights Museum in Greensboro, North Carolina, where he reflected on the work of civil rights leaders, including the Rev. Martin Luther King Jr. and Marcus Garvey. "Thank God for all of them. But they ain't got nothing on us," said Yearwood, dressed in a black shirt, white collar, and black and white hat that read, "Act on Climate." "While they fought for equality, we are now fighting for existence."
Yearwood also sought to rally support for the EPA, noting the agency generates perhaps the most opposition from conservative commentators and groups that want to limit government regulations. "They would want to to abolish the last thing we have even in that aspect to protect our children, our families," he told the crowd.
"I think it is showing the administrator that these communities care, and on the other side, showing communities that their voices are important," said Yearwood in an interview. More engagement from the black community is important, he said, because "either we shape policy, or as we've seen too often, policy shapes us."
Yearwood said it was significant that Thursday's event was McCarthy's first public appearance in the Southeast. "She's not speaking at Sierra Club," he said. "She's not speaking at NRDC. She's not speaking at Environment America. Her first time speaking here is at a Hip Hop Caucus event at a historically black college or university. That in itself is very powerful."
The tour featured hip hop artists Dee-1 and Raheem DeVaughn, and comedienne and television personality Amanda Seales.
Dee-1 is the stage name of David Augustine Jr., 27, who recently signed a recording deal with RCA. He was asked to join the tour as a young artist known for producing socially conscious work, though he had not learned a lot about climate change before joining. Originally from New Orleans' Ninth Ward, he taught middle school math before becoming a full-time musician.
"I went through Hurricane Katrina in New Orleans, and even despite that, climate change and environmental issues have never been something that me or my peer group has heard much about or been taught much about," Augustine said in an interview.
On stage Thursday, he said that the tour made clear the connections between pollution and the health harms it causes in black communities. "If there's a child predator in your neighborhood, they put a note in your mailbox," he told the crowd. "We're not dong that with these plants, with these factories. Which is crazy, because it is a child predator."
Seales said she has been surprised that many students they've met on the tour are already engaged on climate change. "I was expecting we would have to do more encouraging folks to want to get involved, and in actuality we've seen more folks that are already involved and just looking for more direction, or are not necessarily already involved, but are excited to be involved and already immersed in the understanding that there is a problem."
Gerald Durley, a civil rights leader, pastor, and former dean of students at Clark Atlanta, said he sees climate and pollution as a modern civil rights cause. "What good is it for you to be fully educated and you can't breathe?" he asked the crowd.
In an interview after the event, Durley said he hoped for more than the roughly 150 people who turned out, but was not disappointed. He related the situation to Jesus and his 12 disciples. Jesus, he said, could have arrived in heaven afterward only to have someone tell him, "How'd you expect to get your message out when you only had 12 people at your meeting, and one of those was bad?" But those 11, he said, "went on with the mission, and now, centuries later, we're still celebrating something.
"Sometimes all it takes is those few."
Calling all HuffPost superfans!
Sign up for membership to become a founding member and help shape HuffPost's next chapter
BEFORE YOU GO
PHOTO GALLERY
What Climate Change Just Might Ruin