Amazing -- I beat Mark Zuckerberg at something. In 2011, the billionaire Facebook creator made a one-year pledge to consume meat only from animals he had killed or slaughtered himself. He posted his kills on his Facebook page, of course. But then he caved on his promise after only a few months. I'm sure Zuckerberg made his pledge in good faith. Turns out writing code and raking in millions is easy for him. Killing dinner is hard. I suspect it'd be hard for most of us.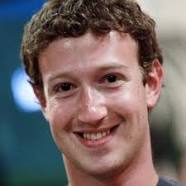 I made Zuckerberg's pledge only to eat meat from animals I kill or slaughter. I made it years ago, have kept it and will keep it for the rest of my life. Somehow, I doubt this will garner me the admiration and attention it earned him. Maybe it's because I'm not a famous billionaire. Maybe it's because I'm vegan. I don't kill animals, I don't eat them.
Look, I've never hunted animals, I never wanted to, and there's no way I condone what Zuckerberg attempted. But he was willing to take a hard look at the food choices he makes.
We'd rather not think about the hard work, the mess, both physical and ethical, that goes into putting meat on our plate. Our food system is glad to help out. It sanitizes the process and the product. Meat is cleaned up, cut up and packaged, so by the time it reaches us, we have no sense of the living, breathing animal it once was. In the food industry, it's called protein (as in, "You want any protein on that salad?").
Call it what you want, but the fact is your McNugget started out as a chick, as one of the ten billion farm animals killed for food in this country each year. Our food system makes it easy to avoid looking our dinner in the eye, but as the Vedic text the "Manusmriti" or the "Laws of Manu," written sometimes around 200 CE, reminds us, "You can never get meat without violence to creatures with the breath of life."
Shooting your meat versus never eating it again are two hard choices most people are unlikely to make. Confronting where your meat comes from feels hard enough as it is. No one's holding a gun to your head (and posting about it), no one's forcing you to eat it. Choosing a meatless meal is easy. I doubt I'll ever be as rich as Mark Zuckerberg. I can live with that. That pledge I made to be vegan? I can live with that, too. Somehow, I feel like I've come out ahead.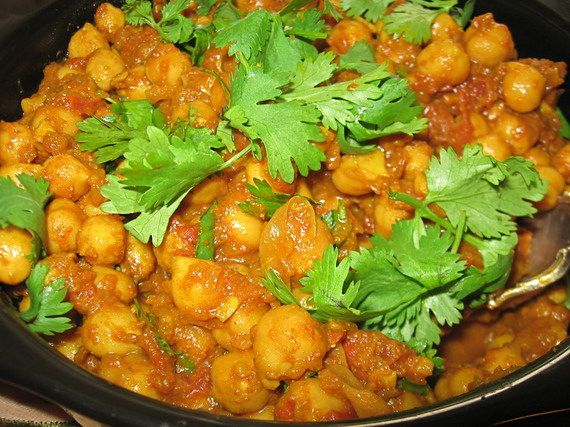 Chana Masala -- Indian Curried Chickpeas (No Chicks)


Protein doesn't have to mean animal. Beans provide plenty of plant-based protein, and fiber, too. You acquire it by nonviolent means. I've adapted this classic Indian dish from Madhur Jaffrey, cookbook author, actress and source for all things amazing and Indian. I've kept the spirit and spice of her recipe but streamlined the ingredients to keep things cheap and cheery. Amchoor, dried mango powder, is awesome, but lemon juice is cheaper, easier to come by and still provides a tart thrill.

Serve chana masala with brown basmati rice or with naan or chapati, gorgeous Indian flatbreads.

Serves 6 to 8.

2 tablespoons canola or coconut oil
2 medium onions, minced
3 cloves garlic, minced
1 serrano, minced (optional but terrific)
1 tablespoon cumin
1 tablespoon coriander
1/2 teaspoon ground cayenne
1 teaspoon turmeric
1 tablespoon amchoor or the juice of 1 lemon
2 teaspoons paprika
2 tomatoes, chopped or 1 15-ounce can tomatoes
1 cinnamon stick
4 cups home-cooked chickpeas or 2 15-ounce cans chickpeas, plus reserved chickpea broth
sea salt to taste
optional garnish -- a handful fresh coriander, chopped coriander and/or a 2-inch piece of fresh ginger, chopped into matchsticks

Heat oil in a large soup pot over medium-high heat. Add minced onions and garlic. Add minced chili, if desired. Cook, stirring, for about 10 minutes, or until the vegetables soften and turn into a golden paste.

Stir in coriander, cumin, cayenne, turmeric and paprika.

Add tomatoes, cinnamon stick, amchoor or lemon juice.

Stir in chickpeas and 1/2 cup of chickpea broth or water. Reduce heat to low.

Cover and simmer for 20 minutes. Remove cover and give mixture a stir. The sauce should be thick enough to coat the chickpeas. If it seems too soupy, continue cooking, uncovered for another 5 minutes or so.

Season with sea salt to taste, garnish with chopped coriander or ginger. Or both.

Covered and refrigerated, chana masala keeps for several days and the flavors are even richer the day after you make it.
This post originally ran on October 10, 2012.
REAL LIFE. REAL NEWS. REAL VOICES.
Help us tell more of the stories that matter from voices that too often remain unheard.