On Thursday, while most of Washington was watching former FBI Director James Comey's testimony on Capitol Hill, Sen. Dean Heller (R-Nev.) indicated he would support an emerging deal that, in the course of repealing Obamacare, would eventually cut off new federal matching funds for the law's Medicaid expansion.
Those matching funds, which enable states to open up the government insurance program to those whose incomes are below or just above the poverty line, are hugely consequential. Thirty-one states have taken the money, and, as a result, 11 million to 12 million newly eligible people have gotten health insurance.
Without those funds from Washington, most states would likely restore the narrower eligibility for Medicaid ― effectively wiping out the coverage gains, leaving millions of low-income Americans with worse access to health care and more exposure to crushing medical bills.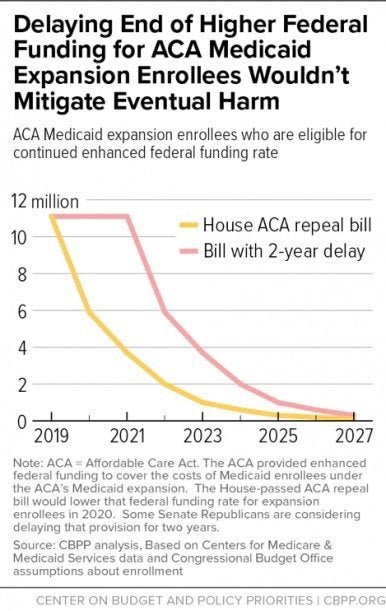 The American Health Care Act, the bill that passed the House in early May, would stop funding new expansion enrollees in 2020, which means ― thanks to the constant churn of people in and out of the program ― that states now receiving expansion funds would lose most of them within two years, according to the Congressional Budget Office.
Precisely how the Senate would alter the House proposal isn't clear, partly because negotiations are still underway and partly because GOP senators are writing their legislation in private and without formal committee hearings. But the basic idea under discussion, as senators, aides and lobbyists have confirmed, is to introduce some sort of seven-year timeline ― either postponing the date when expansion funds stop, reducing the expansion funds over a period of time or both.
"I support seven, I support seven," Heller said on his way into a Capitol Hill meeting, according to an account by The Hill's Peter Sullivan. "So do a number of us, including [Sen. Rob] Portman [R-Ohio] and others who have been working on this."
Heller's endorsement, such that it is, is politically significant because he is probably the most vulnerable Republican incumbent seeking reelection in 2018 and Nevada is among the 31 states that have taken the extra federal money.
In April, during a contentious town hall meeting, Heller spoke about the importance of protecting access to health care and noted that "we have 200,000 people here in the state of Nevada that now have access." A few weeks later, after the House passed its bill, Heller issued a statement that he couldn't support the House bill because, among other reasons, "we cannot pull the rug out from under states like Nevada that expanded Medicaid."
It's the same argument that Sen. Shelley Moore Capito (R-W.Va.) once made. Appearing on CNN in March, in response to a question about whether Medicaid expansion funding would be part of final legislation, Capito said, "It'd better be."
Capito has talked about the importance of Medicaid expansion in West Virginia, where an estimated 175,000 have gotten coverage from it, and the critical role the program plays in combating the state's opioid addiction crisis. But Capito has indicated she, too, supports the seven-year phase-out.
In fact, according to several reports, she is among those who have crafted the deal. One of her collaborators is Portman, whose state also expanded Medicaid and who, like Heller and Capito, spoke out repeatedly against the House bill's treatment of the Medicaid expansion.
Portman has described the proposal as offering a "significant glide path," as if slowing down the withdrawal of federal funds represents a major change to the House bill. But a handful of states have "trigger" provisions in the legislation authorizing Medicaid expansion in which eligibility reverts to pre-expansion levels as soon as they stop receiving that extra money from Washington. And even in the other states, the ultimate effect would be the very same if the only change to the House bill was the timing of the cut.
"Delaying or phasing in the cost shift to the states under the AHCA would not stop the eventual end of the expansion and steep reductions in Medicaid enrollment," a recent briefing from the nonpartisan Center on Budget and Policy Priorities notes. "The bill still would reverse the historic gains in health coverage and access to care that have been made under the expansion."
Of course, slowing down the Medicaid expansion cut would mean more spending in the Senate bill, relative to its House counterpart, because the federal government would be supporting insurance for more people for a few years. Republicans would have to find the money to cover that, either by cutting spending elsewhere or allowing some of the Affordable Care Act's tax increases, which the House bill phases out, to remain in place longer.
That wouldn't go down well with conservatives, who want to end everything about Obamacare as quickly as possible. But for Portman, among others, pushing some or all of the Medicaid expansion cuts into the future means pushing the pain of those cuts past the years in which they will be up for re-election.
Which isn't to say they are not still subject to political pressure. One reason senators from expansion states spoke out against the House bill back in March, when President Donald Trump, House Speaker Paul Ryan (R-Wis.) and other GOP leaders were promoting it aggressively, was the furious reaction it generated among constituents.
Senate Majority Leader Mitch McConnell (R-Ky.) and his allies are doing their best to avoid a repeat by minimizing public scrutiny until a deal is in place and then voting as quickly as possible, which is the strategy House GOP leaders used to get legislation passed. McConnell's strategy may be working, in part because Comey and related controversies are soaking up all of the attention in Washington.
Opponents of repeal could still turn their attention back to health care and change the course of the debate. But they are running out of time.
Popular in the Community