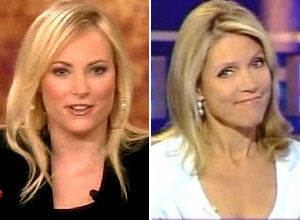 While Elisabeth Hasselbeck is out on maternity leave this fall, "The View" will be replacing her with Meghan McCain and "terrorist fist jab" former Fox News anchor E.D. Hill.
Earlier this week, McCain tweeted about special announcements coming up but gave no indication what they were.
"Going to LA next week to film something so crazy and amazing, I promise all will be revealed but SO EXCITED and SURPRISED to be asked!!" said one tweet. "And then I have another very special announcement coming up in September, gonna be a busy few weeks/month," said the follow-up. Both tweets have since been deleted.
While the Post describes McCain as "the divisive daughter of Sen. John McCain," it's Hill that may prove to be a more controversial choice of co-host.
"ABC has also confirmed that former Fox News Channel anchor E.D. Hill has been lined-up as a guest host, since Hasselbeck isn't due back to work until mid-October," Shen writes.
Popular in the Community