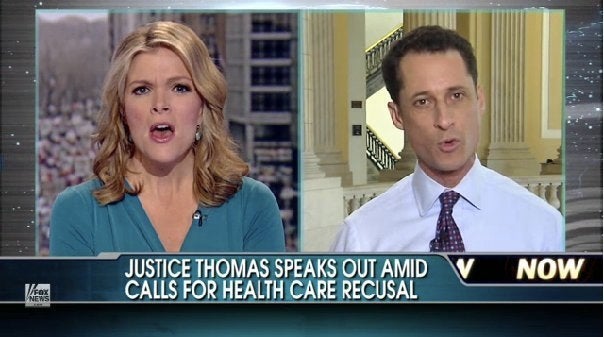 Any time Fox News' Megyn Kelly and Rep. Anthony Weiner get together, sparks seem sure to fly. Weiner's Wednesday appearance on "America Live" was no exception to this rule, as the two got into a fiery shouting match over Supreme Court Justice Clarence Thomas.
At issue was Justice Thomas' ability to judge any constitutional challenge to President Obama's health care law, since his wife, Virginia, works for a lobbying firm that is advocating against the law. Weiner and Kelly tussled over whether this fact means that Thomas has to recuse himself. Weiner said that he did; Kelly said that he didn't.
These points, though, nearly got lost in the verbal tennis match between the two. It was a frenzy of interruptions, dropped sentences, grimaces, eye-rolling, sarcasm and raised voices. A typical exchange went like this:
WEINER: "You're doing an interview, so let me respond to your question."

KELLY: "Why don't you just do a soliloquy."

WEINER: "This is the way interviews work. You ask questions and I get to answer."

KELLY: "Oh, thank you. That's helpful."

WATCH:
The last time Kelly and Weiner chatted was in December, when they battled over President Obama's tax deal with Republicans
Related
Popular in the Community