The legislative body called on Peña Nieto to demand that Trump publicly apologize for the insults he's lobbed at Mexico, a list that notably includes the 2015 speech where Trump described the country's migrants as criminals and "rapists."
The resolution also asks Trump to back off from his promise to build a giant wall along the U.S.-Mexico border that he expects Mexico to pay for.  
Though Mexico City elected officials can't stop Trump from entering the country, the declaration adds to the storm of criticism Peña Nieto has received for extending the invitation.
Deputy Mauricio Toledo of the left-wing Party of the Democratic Revolution (PRD) offered the proposal Wednesday morning, in response to the surprise news the night before that Peña Nieto had invited Trump to visit. The conservative National Action Party (PAN) joined the PRD in supporting the resolution, as did two smaller parties.   
"We can't let a person like Donald Trump perpetually insult the Mexican people," Toledo told the city legislature. 
Toledo called on the Peña Nieto administration to seek assurances that Trump won't develop "a fascist, and above all racist relationship" with Mexico and the rest of Latin America, according to a press statement.
The PRD spearheaded a similar resolution back in March, asking the Peña Nieto administration to prohibit Trump from entering the country. That resolution also sailed through with support from the PAN.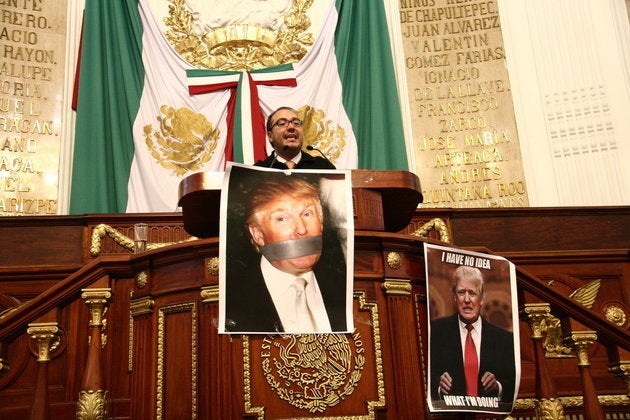 On Wednesday, Peña Nieto defended his decision to invite Trump, saying on Twitter that he "believes in dialog to promote the interests of Mexico and, principally, to protect Mexicans where they are."
Trump is widely reviled in Mexico. A poll conducted in June by Mexico's El Financiero showed that only 2 percent of Mexicans viewed Trump favorably.
Calling all HuffPost superfans!
Sign up for membership to become a founding member and help shape HuffPost's next chapter