MIAMI ― As Hurricane Irma rapidly approached Florida's southern coast, Ron Book, the chairman of the Miami-Dade County Homeless Trust, and the Miami-Dade Police Department made an unprecedented decision: They chose to detain homeless people ― some against their will ― to protect them from the storm.
The Baker Act ― the informal name given to Florida's Mental Health Act of 1971 ― allows police and government officials to involuntarily detain individuals who may have a mental illness or could pose a significant threat to themselves or others. The law requires "clear and convincing evidence" that individuals detained under it are in danger.
It is rarely used, in part because of the legal and constitutional concerns it raises, and Miami had never before invoked it ahead of a hurricane. But Irma was different. Forecasters warned that it was the most powerful hurricane to ever form in the Atlantic Ocean, and it carried the potential to devastate the Miami coast. Book, who has led the homeless trust for more than a decade, felt he had no choice.
"I'm not going to be like Houston's mayor, telling people to write their Social Security numbers on their arms with a Sharpie," Book told HuffPost on Monday, after the worst of Irma had passed through Miami. "My responsibility is to do everything I can to save the lives of the people we're charged with getting off the streets."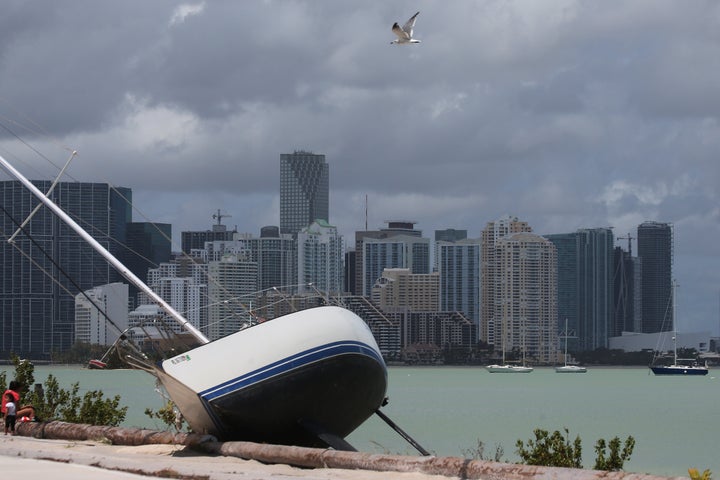 Miami-Dade police ultimately used the Baker Act to arrest six people in the days before Irma began to batter the south Florida coast Saturday night and into Sunday morning, Book told HuffPost. Twelve others, he said, were in handcuffs before ultimately agreeing to go willingly to one of the 42 shelters the county had opened to house Irma evacuees.
That Miami invoked the Baker Act is a sign of how desperate the situation felt as Irma approached, and how far the city and its officials were willing to go in an effort to protect Miami's homeless population from Irma's wrath. But that it needed to be used may also point to a need to review how states and cities help their homeless residents ahead of natural disasters like Hurricane Irma.
The Homeless Trust assisted police in seeking out homeless individuals through Friday night, Book said. Even after that, Miami-Dade police continued to sweep the streets until Sunday afternoon, when the county pulled patrols off the streets for safety reasons.
Overall, police, nonprofit groups and mental health professionals succeeded in taking more than 500 homeless people to shelters, Book said.
But Miami-Dade County had more than 1,100 people sleeping on the streets in August, the Homeless Trust found as part of annual count of the city's homeless population, meaning many people likely remained on the streets throughout the storm.
"Were there 600 left on the streets? I don't know," Book said. "But there were a lot we left behind, a lot we couldn't get to or just ran out of time."
In all likelihood, the number wasn't that high, as some were likely able to seek out shelters on their own in the days before the storm. North of Miami, for instance, a homeless man on Ft. Lauderdale Beach said Wednesday that he would make his way to the nearest shelter ahead of the storm, rather than riding it out in a vacant building as he had before.
Homeless people with prior criminal records were also given shelter from the massive storm. Carl Farmer, a 53-year-old man who is homeless and lives in Hallandale, was released from prison in February after serving a two year sentence for manslaughter. During the 2015 incident, Farmer fatally punched a man he was drinking with after the man "kicked me in the nuts," he told HuffPost. Farmer said he is part of a prison-monitoring program, and officers came to pick him up by the sea wall where he spends his time fishing for his food.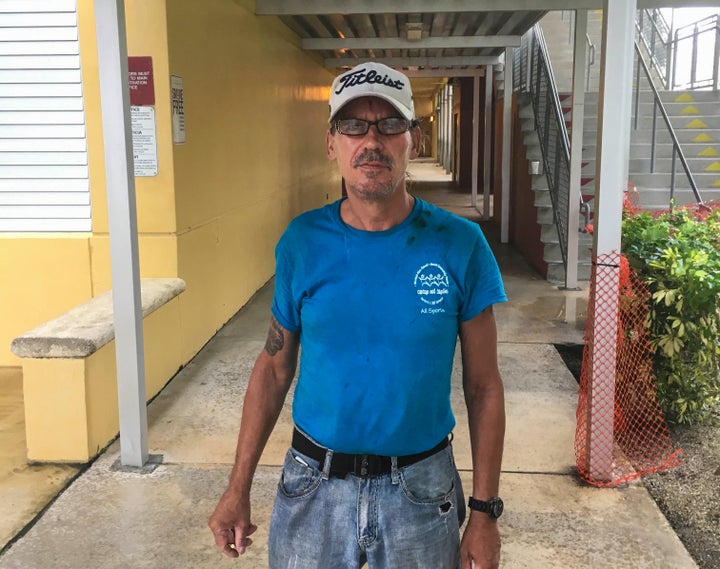 "Two cops came by the sea wall and picked me up," Farmer said. "They said, 'I'm gonna save your life right now, you comin' or what?' They told me to put my bike in the back of their SUV and that they'd take me to a shelter."
He said four officers at the shelter in Miramar knew him. Others at the shelter who spoke to Farmer, and were made aware of his criminal history, seemed unconcerned with his presence.
In Miami, the six individuals arrested under the Baker Act were taken to Jackson Memorial Hospital for evaluations, Book said. The law allows them to remain in custody for 72 hours, while any further detention would require a court order in most circumstances. Miami-Dade courts were closed on Monday, and it was unclear whether the six detained individuals had been released as of Monday afternoon, Book said.
Public defenders and civil rights advocates have raised concerns about the Baker Act and its potential to lead to rights violations for individuals detained under it. Some legal advocates said invoking the Baker Act points to an overall lack of long-term planning in helping the homeless during times of crisis. The federal government recommends procedures for disaster preparation that are "inclusive" of homeless people and groups that work with them.
Use of the Baker Act is "indicative of a broader problem in not including homeless people in our broader disaster relief and evacuation plans," said Kirsten Anderson, the litigation director at Southern Legal Counsel, a Gainesville, Florida-based nonprofit that defends the rights of the homeless and other vulnerable populations. "We have a high homeless population in Florida. They have very unique disaster needs, and there are unique obstacles faced by those people in planning for disasters. Communities need to plan for those needs. Clearly we need other tools in the tool box."
Book, however, said he felt its unprecedented invocation in Miami was necessary as a last-ditch effort to protect people who could not protect themselves from a storm of historic strength. He stressed that his organization had longstanding contacts with most of the homeless people it sought out in the days before the storm. Mental health professionals, meanwhile, accompanied police in carrying out the sweeps, according to the Associated Press.
"I believe use of the Baker Act was not only the right thing to do, but was the humanitarian thing to do," he said. "People would have died had we not been as aggressive as we were out there. And we may yet find loss of life."
Book's only regret, he said, was that his organization ran out of time to take even more homeless people to area-wide shelters.
"There were others we could have gotten to," Book said. "But we learned a lot. There's a lot we'll do better next time there is a storm of this magnitude approaching our area, and I would urge other communities to use this as a tool."
"It's about saving lives," he said. "I'd absolutely do it again."
Related
Popular in the Community